John McCain passed through Tampa today, stopping at the 65,000 seat Raymond James stadium.
It was closed.
But wait! There was a rally in a field across the street setup for him with an overflow area for the burgeoning crowds of Red State Floridians.
The overflow area was empty.
While it is all part of an overall metro area with maybe 4,000,000 people (if you cast the net wide enough), Tampa is the Big City with a population of 400,000 and geographically at the center of the population cloud. Sarasota is a more residential town an hour south of Tampa with a population of 52,000 and little to nothing to the east, diminishing density to the south and nothing but water to the west.
~1,200 people showed up in Tampa for McCain. 15,000 showed up in Sarasota for Obama. This is at best 8% of the turnout for the event compared to the Obama rally in Sarasota on Thursday.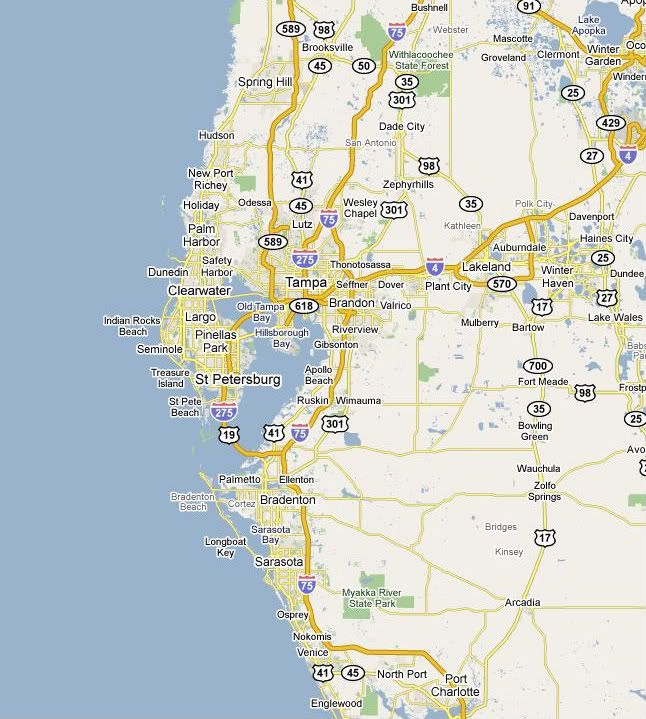 Dana Milbank with the Washington Post was there:
McCain's rally was in a field across the street, where there were all of 1,100 people awaiting the candidate, a disastrous showing for an election-eve event in this big, Republican town. A vast, fenced off overflow area went unoccupied.
Jonathan Martin at Politico notes:
Touching down in Tampa for the first event in a grueling, seven-stop last day, John McCain got a reminder of one of the problems that has dogged his candidacy for months: the enthusiasm gap.

In one of Florida's largest and perhaps most politically important areas, only about 1,000 people stood outside the Bucaneers stadium to greet the GOP nominee.

As Adam Smith noted, it was 1/15th of the crowd President Bush had four years ago in the same city.
The Boston Globe puts a polite spin on it:
McCain told a modestly attended outdoor rally Monday: "With this kind of enthusiasm, this kind of intensity we will win Florida and we will win the election."
Sure, I can see how folks could be unable to take a couple hours off work (really 13 minutes, but who's counting). It's not like they're going to see the next president talk or anything.