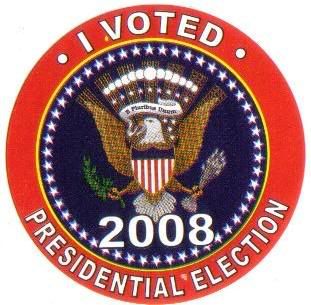 And gosh but it felt good!
At 101 Washington Street, Sarasota, Florida, my neighbor and I cast our votes for Barack Obama today. Just east of the intersection there is a spot where four cars can park on the side of the street, all three of the others parked in front and behind us also had Obama stickers on them.
The experience was very smooth and the staff and volunteers was very helpful. Christine Jennings – two more for you. Gay Marriage constitutional amendment? Two "no"s for you.
Tomorrow Obama is giving a speech here in Sarasota. I will be going to volunteer prep tonight and will fill you all in on the event tomorrow. If Sarasota goes Blue, Florida goes blue. If Florida goes blue, we all can party hearty next Tuesday night.
VOTE!