Milwaukee Journal Sentinel Breaking News E-mail


Gay marriages to resume as Supreme Court rejects appeals

The U.S. Supreme Court has turned away appeals from Wisconsin and four other states seeking to prohibit same-sex marriages, paving the way for an immediate expansion of gay and lesbian unions.

NY Times Breaking News E-mail


Supreme Court Clears Way for Gay Marriage in 5 States

The Supreme Court on Monday denied review in all five pending same-sex marriage cases, clearing the way for such marriages to proceed in Indiana, Oklahoma, Utah, Virginia and Wisconsin.

The move was a major surprise and suggests that the justices are not going to intercede in the wave of decisions in favor of same-sex marriage at least until a federal appeals court upholds a state ban.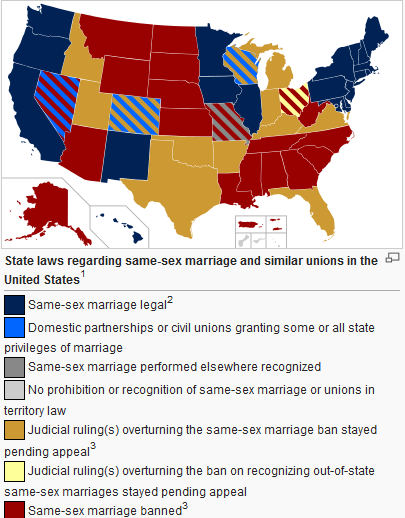 This just got upended
UPDATE: What it looks like now


This morning the Court issued additional orders from its September 29 Conference. Most notably, the Court denied review of all seven of the petitions arising from challenges to state bans on same-sex marriage. This means that the lower-court decisions striking down bans in Indiana, Wisconsin, Utah, Oklahoma, and Virginia should go into effect shortly, clearing the way for same-sex marriages in those states and any other state with similar bans in those circuits.
Over 30 states now must allow same-sex marriage.
More news items below …
From Equality on Trial: Supreme Court declines to decide marriage equality issue at this time, denying all seven petitions


Today's list includes denials of review in several cases, including the seven marriage petitions. The appeals court decisions will remain binding in those circuits. There were two cases from the Tenth Circuit (from Oklahoma and Utah), two from the Seventh Circuit (Indiana and Wisconsin), and three from the Fourth Circuit (all three from the Virginia case.) Meanwhile, several states within those circuits have similar same-sex marriage bans. The final appeals court decisions striking these bans will be binding precedent in cases challenging the bans from those other states.
From TPM: SCOTUS Denies Appeals On Gay Marriage From 5 States


The justices on Monday did not comment in rejecting appeals from Indiana, Oklahoma, Utah, Virginia and Wisconsin. No other state cases were currently pending with the high court, but the justices stopped short of resolving for now the question of same-sex marriage nationwide.

The court's order immediately ends delays on marriage in those states. Couples in six other states – Colorado, Kansas, North Carolina, South Carolina, West Virginia and Wyoming – should be able to get married in short order. Those states would be bound by the same appellate rulings that were put on hold pending the Supreme Court'sreview.

That would make same-sex marriage legal in 30 states and the District of Columbia. […]

Two other appeals courts, in Cincinnati and San Francisco, could issue decisions any time in same-sex marriage cases. Judges in the Cincinnati-based 6th Circuit who are weighing pro-gay marriage rulings in Kentucky, Michigan, Ohio and Tennessee, appeared more likely to rule in favor of state bans than did the 9th Circuit judges in San Francisco, who are considering Idaho and Nevada restrictions on marriage.

It takes 4 justices to decide to take a case. There was no indication how the justices voted in these cases.