This is a part of a series of posts analyzing the 2010 midterm elections. This post will analyze some interesting tidbits of the 2010 Utah Senate and Gubernatorial elections. Specifically it will look at some hints of increasing Democratic strength in this blood-red state.
(Note: Edited pictures are derived from the NYT).
Salt Lake County, 2004
Utah is commonly considered as one of the most conservative states in America, and for good reason; Democrats are essentially nonexistent in the state. Some Southern states will occasionally vote (or used to occasionally vote) for a conservative Democrat. Not Utah; its Republicans are rock-hard Republicans.
Here is how Utah looked like in the 2004 presidential election: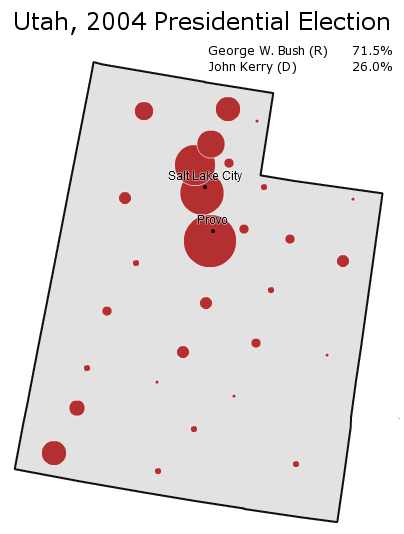 More below.
President George W. Bush dominated the state; he got almost three times as many votes as Senator John Kerry did. Bush did quite well in the mountainous west of the United States; normally Utah is still very Republican, but not quite this much.
Take a look at Salt Lake County, the most populous part of the state. Almost four in ten voters in 2004 lived in Salt Lake County.
Bush got a pretty powerful number of votes from the area, taking 59.4% of the vote. The margin wasn't quite as good as elsewhere in the state (where he won more than 71.4% of the vote); the rest of Utah was much more conservative than Salt Lake County in 2004. Nevertheless, Bush had no reason to complain; getting three-fifths of the vote in a major metropolitan area is something Republicans rarely do.
Salt Lake County, 2008
In 2008 Senator Barack Obama did much better than Senator John Kerry in 2004. Naturally he also did better in Utah. Indeed, Utah moved quite a bit more to the left in 2008 than the rest of the nation.
Nevertheless, Republican Senator John McCain still won a very comfortable victory in this very conservative state:
The most noticeable difference here is what happened to Salt Lake County; the county turned from a Republican fortress into Obama territory. Republicans fell from 59.4% of the vote to 48.1% of the vote. Salt Lake County's enormous shift Democratic accounted for much of Obama's improvement in Utah.
Salt Lake County, 2010
It's the 2010 midterm elections where things get really interesting. 2010 was the best Republican year in a generation; Republicans won up and down the map. Democratic areas turned Republican; Republican areas turned blood-red.
In a situation such as this, one would expect Salt Lake County to revert back to its strongly Republican voting patterns in 2004 (or vote even more Republican, given that 2010 was a more Republican year than 2004).
In fact, this is very much what didn't happen. Let's take a look at the two most important statewide Utah elections in 2010. Here is the 2010 Utah gubernatorial election: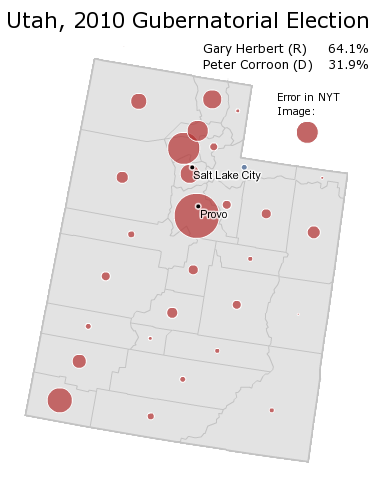 Republican candidate Gary Herbert took a bare majority – 51.0% of the vote – of Salt Lake County.
Republicans did even worse in the statewide senate election:
Republican candidate Mike Lee got 49.0% of the vote in the county; he failed to win a majority of voters.
All in all, it seems that things are moving the Democrat's way in the most populous county of Utah.
There is also something else very interesting about Utah: the state moved very little to the right in 2010, despite the huge Republican wave. Republican candidates didn't win more than 70% of the vote in 2010, unlike Bush in 2004. Their performance was very similar to that of McCain's. The Senate race is particularly remarkable; Senator Mike Lee only improved 0.8% upon McCain's performance, despite a double-digit shift in the national vote towards the Republican Party.
Conclusions
It's always hard-to-say that a particular area is trending one way or another. Salt Lake County moved strongly leftwards in 2008, and resisted the 2010 Republican wave. One the other hand, Republicans have lost Salt Lake County in the past (although very rarely while winning more than 60% of the vote). One could argue that this phenomenon is not anything really new, although I am less than convinced.
The evidence is less strong that Utah as a whole is shifting Democratic. While the state as a whole also resisted the 2010 Republican wave, one could argue that Bush overperformed. Republicans have often in the past won Utah with around 60-65% of the vote; on the other hand, they have relatively rarely taken more than 70% of the vote in the state. The evidence is more mixed that Utah as a whole is trending Democratic, compared to the evidence that Salt Lake County is trending Democratic.
What does this all mean?
Probably very little. Even if Democrats regularly won Salt Lake County by double-digits, Utah would still be a solidly Republican state. Democrats would still lose statewide elections. They might regularly be guaranteed a Democratic congressman from Utah coming from Salt Lake City, but on the other hand Republicans could still fairly easily gerrymander the state so that they controlled all the seats. And Democrats already improbably hold a seat in Utah, so in real life they would actually gain no seats in Utah.
All in all, a Utah in which Republicans went from winning by 30 points to winning by 15 points would still be pretty impossible for Democrats do win.
But it does say something about the state of American politics when Republicans are having trouble winning an urban city in the most conservative part of America.
–inoljt