The United States is now voicing support for a gradual shift in power in Egypt. Speaking in Munich, Secretary of State Hillary Rodham Clinton, asserted the importance of supporting the country's recently appointed Vice-President, General Omar Suleiman, and his reported attempts to work out a compromise with opposition groups. Hosni Mubarak would remain President, at least as a figurehead, if not more, until September.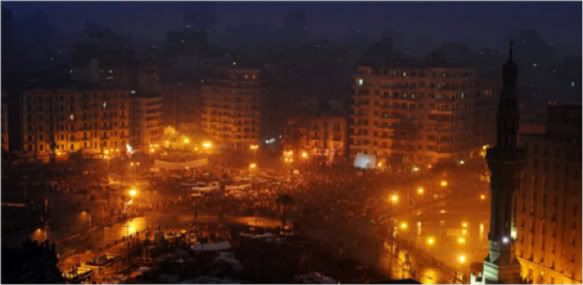 Photo: Protesters continue their occupation of Tahrir Square.

New York Times/Hannibal Hanschke/European Pressphoto Agency
The New York Times reports that protesters, who are now in the twelfth day of their occupation of Tahrir Square in Cairo, have given the statement a cool response. Leaders of opposition groups continue to insist that, as an opening act in the arrival of true democracy to Egypt, Mr. Mubarak must leave office.
Is the United States correct in this approach? Myself, I'm concerned that we may be seen as not being true to our values, and as too accommodating of a regime that has lost all legitimacy in the eyes of the majority of the people of Eqypt.