NY Congressman Anthony Weiner announced moments ago that a package containing white powder and a threatening letter was received today at his Queens, NY office.
We have all been watching the cork leave the shaken bottle of political madness over the past few months and particularly the last few days. We can only hope that all of this finds a way to defuse through less dramatic means than it did fifteen years ago.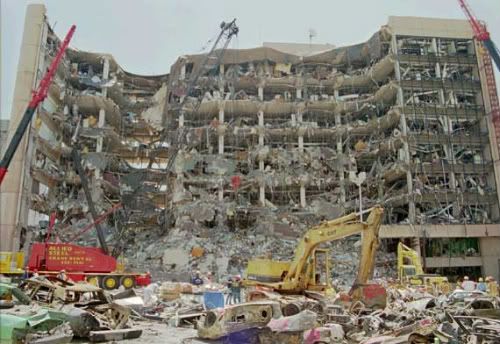 [UPDATE 2] From WKRN.com:
NASHVILLE, Tenn. – A Nashville man says he and his 10-year-old daughter were victims of road rage Thursday afternoon, all because of a political bumper sticker on his car.

Mark Duren told News 2 the incident happened around 4:30p.m., while he was driving on Blair Boulevard, not far from Belmont University.

He said Harry Weisiger gave him the bird and rammed into his vehicle, after noticing an Obama-Biden sticker on his car bumper.

Duren had just picked up his 10-year-old daughter from school and had her in the car with him.

"He pointed at the back of my car," Duren said, "the bumper, flipped me off, one finger salute."

But it didn't end there.

Duren told News 2 that Weisiger honked his horn at him for awhile, as Duren stopped at a stop sign.

Once he started driving again, down Blair Boulevard, towards his home, he said, "I looked in the rear view mirror again, and this same SUV was speeding, flying up behind me, bumped me."

Duren said he applied his brake and the SUV smashed into the back of his car.

He then put his car in park to take care of the accident, but Weisiger started pushing the car using his SUV.

Duren said, "He pushed my car up towards the sidewalk, almost onto the sidewalk."

Police say Harry Weisiger is charged with felony reckless endangerment in the incident.
The next few days will no doubt bring with them much discussion of this topic. What remains to be seen is whether it will make any difference.
Richard Cohen at the Southern Poverty Law Center has this today on the life of Rep John Lewis, which brackets the context for the violence bubbling past he surface today. I repost it in total, because I don't think the SPLC would mind spreading their messages.
Earlier this month, my colleagues and I at the Southern Poverty Law Center were privileged to stand with U.S. Rep. John Lewis at the Civil Rights Memorial as he led a bipartisan congressional delegation in laying a wreath in honor of those who lost their lives in our country's epic battle for equality.

The ceremony was held on the eve of the 45th anniversary of "Bloody Sunday," that Sunday back in March of 1965 when Lewis and other civil rights advocates were beaten and tear-gassed by baton-wielding state troopers as they crossed the Edmund Pettus Bridge in Selma, Ala., on a march in support of voting rights.

The pictures of the bloodied marchers pricked the conscience of the nation. Thousands of people of all races and faiths flocked to Selma and joined Lewis, Dr. King, and the people of the Black Belt of Alabama as they resumed the march for justice. As Dr. King explained, "If the worst in American life lurked in [Selma's] dark street[s], the best of American instincts arose passionately from across the nation to overcome it."

On March 25 – 45 years ago today – the marchers reached the state capitol in Montgomery. Their courage, their example, inspired the introduction and passage of the Voting Rights Act of 1965, legislation that transformed our nation.

This past Sunday, Lewis was involved in another march. Along with other members of Congress, he walked up to Capitol Hill to cast a vote for health-care reform, another important piece of legislation with the potential to transform our nation.

But once again, Lewis was confronted with the ugly stain of racism. Angry "tea party" protesters shouted racial slurs at him and Rep. Andre Carson of Indiana. Another black congressman, Rep. Emanuel Cleaver of Missouri, was spit on. Rep. Barney Frank, an openly gay congressman, was the target of anti-gay epithets.

Lewis said that the protesters at the Capitol reminded him of the angry mobs that confronted him during the ugly days of civil rights movement in the 1960s.

The question now is whether America will respond as it did 45 years ago when it saw the pictures of the racism at the Edmund Pettus Bridge.

Will people of good faith – of all races and faiths – stand with Rep. Lewis and reject the politics of hate? Or will the angry mob, fueled by racism and demagoguery, continue to swell?

Will "the best of American instincts," to use Dr. King's words from 45 years ago, once again arise "passionately from across the nation to overcome" the hate and fear that threatens to engulf us?
My mother was 8 months pregnant on Bloody Sunday, my step-father was 45 years old and marching in Selma. I was born while the scars from that day were literally still fresh. Thirty five years after the marchers reached Montgomery my daughter was born, and today she turns ten.
What progress have we made?
UPDATE: Little Green Footballs (yes, LGF) reports that Eric Cantor's office was not the target of a gunshot, in contradiction to Mr. Cantor's claim.
A Richmond Police detective was assigned to the case. A preliminary investigation shows that a bullet was fired into the air and struck the window in a downward direction, landing on the floor about a foot from the window. The round struck with enough force to break the windowpane but did not penetrate the window blinds. There was no other damage to the room, which is used occasionally for meetings by the congressman.