Iranian Supreme Leader Ali Khamenei gave a speech today. The content boils down to: "I'm worried. I'm not sure what to do. Pay no attention to that man behind the curtain."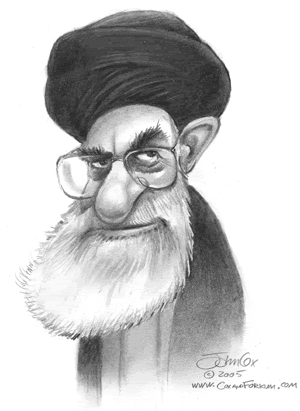 Analysis from Al Jazeera:
Robert Fisk, from the UK's Independent newspaper

It was a threatening speech, he basically said: 'Enough is enough – from now on, no more street protests.'

And he didn't give any quarter to the million people we saw [protesting] on Sunday. He didn't even say: 'We need a dialogue.' Nothing.
Farzad Agha, an Iran analyst

He doesn't seem to say anything in particular which shows that he is extremely worried. It looks like everything is fine, we have the ability to deal with it.
Ali Younes, writer and Middle East analyst in Washington, DC

But the real catalyst for this massive turn out of protests is actually dire economic conditions and the bleak future Iranians are facing.

Under president Ahmedinejad, inflation rose to 24 percent, unemployment numbers increased and Iranians saw their lot was not improving, despite last summer's surge in oil prices and huge increase in oil revenues.

Ahmedinejad had promised before he was elected that he will improve the economy.

He did not.