(cross-posted at kickin it with cg)
A 97 year-old blogger, Maria Amalia López from Spain passed away Wednesday in the northern province of La Coruna.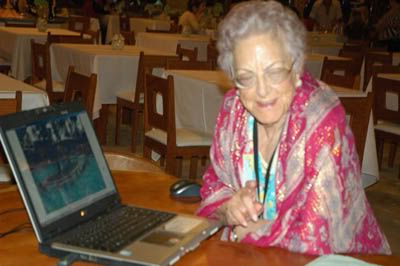 With hits from around the world, Lopez started blogging in December of 2006 at amis95.blogspot.com
Charming readers with a homely mix of memories and chat, one of her entries reads "My grandson gave me this blog when I was 95 on December 23 2006 and my life changed, since that day I've had 1,570,784 visits from bloggers from 5 continents who have cheered up my old age."
Writing about everything from her first-hand experiences on historic events during the Spanish Civil War, years of dictatorship under General Francisco Franco to her opinions about current Spanish politics – people described her funny and accessible. Lopez, who dictated her entries to her grandson Daniel because she suffered from cataracts, became a nationally loved figure in Spain. As her fame spread, Lopez became an unlikely campaigner for digital rights for older people, and even took tea with the Jose Luis Rodriguez Zapatero, the Spanish Prime Minister.
In one of her last posts, in February this year, she wrote: "When I'm on the internet, I forget about my illness. The distraction is good for you – being able to communicate with people. It wakes up the brain, and gives you great strength." Lopez became the world's oldest blogger on the death of 108-year-old Australian Oliver Riley in June 2008. Twitter's oldest microblogger is the 104-year-old Briton Ivy Bean, who keeps her 14,600 followers entertained at twitter.com/ivybean104.
A banner on Lopez's site read "Rest in Peace," with nearly 500 messages mourning her death and includes the following message from her family:
María Amelia López Soliño passed away last Wednesday May 20th at 6 a.m.

María Amelia rest in peace where she always wanted to, in Pedra de Abalar, in her town of Muxia (Galicia) where she was born and where she spent the best moments of her youth.

Her family, our family, we want to thank all of you those 880 blog's days that became very successful, and all these sanples of love and support that made her happy and were vital support to enjoy more than ever her last years.

The truth is that this is the most difficult post that I have ever written. I already knew that I should write it one day and here I am.

I'm not sad at all. I do not know why, but I'm not. Life does not last 150 years, and grandmother gave us many health scare. But life is for living and she always lived with intensity. And when somebody dies at 97 years old having lived its live with intensity from the beginning to the end we should not be sad.

I could start and nonstop because he the occasion worth it the chance, but I have thousands of things on the top of my head … and I'm not able to sort them. So I prefer you to speak, hers "blogueriños" (as she used to call her bloggers friends).

Wherever grandmother could be, she will read all the comments, she won't leave one without read, that's for sure! Some will makes her laugh, others learn new, and she will get mad with the "bad language" … but happy reading all of them.

This blog is just finishing here but it will in another format wherever she is. It will be a different format, which still we cannot read. But make clear that sooner or later all of you end up reading.

Enjoy life and grandparents

A kiss and a big hug from

Mary Amelia and Family

We love you Grandma!!!
En paz descanse blogueriños.