A Cooperative Strategy for the 21st Century
I attended a meeting today between the US Maritime Tri-Services (Marines, Navy and Coast Guard) and members of the public in Raleigh, North Carolina. Conversations with the Country is an ongoing conversation between the Tri-Services and the public, and the experience proved to me again that our forces deserve our support – and an administration that serves them better.
As is often the case when talking to Marines it left me feeling like joining up (I have a nagging feeling I may have volunteered for the Corps during General Conway's session, won't know until I get my induction papers…).
Over the past two years, citizens like you have played a key role in the development of the "Cooperative Strategy for the 21st Century." Signed for the first time by the service chiefs of all three sea services, the strategy draws the Navy, Marine Corps, and Coast Guard more closely together than ever before.

While the formal strategy document was released in October 2007, our conversations with the public continue in cities nationwide.
The day was full of sessions on military history, building forward-looking strategies and the state of the three services.
Each session was rich with information and open question and answer between the admirals and generals presenting and the hundred or so attendees from business, government and academia. It was an impressive display of open and interactive government, and perhaps a lesson for a certain vice-presidential candidate. Among the things I learned is that our sea services have only three icebreakers (two of which are over thirty years old and not up to the task, but we could afford to replace them if we leave Iraq one week early), which makes establishing US presence in the opening Arctic Sea problematic.
General James Conway – 34th Commandant of the US Marine Corps – gave a particularly impressive and frank presentation of the state of the Corps, current challenges and successes and long term plans. General Conway is certainly intimately aware of foreign affairs and knows how to demonstrate leadership.
Major General James L. Williams, Commanding General 4th Marine Division, lead a detailed discussion of realities in the field for our Marines. As someone on the ground and intimately involved with the Anbar Awakening, Major General Williams described in detail the negotiations with local Sunni leaders in 2005 which created peace in the region. "We didn't need surge troops in Al-Anbar, by then we were reducing forces there. We needed those troops in Baghdad."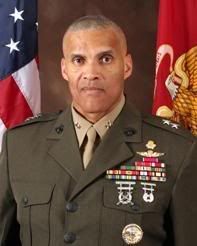 In short, I came away with a very good feeling that the commanders of our maritime forces are competent, intelligent and capable folks. I'm glad we have people like these in charge.
Perhaps Senator McCain should call these folks before he tries to handle tough questions such as the leadership and geographical location of our NATO allies.