A look at two individuals who were on their way to careers in veterinary medicine (Rebecca Skloot) and law (Joshua Redman) … when fate intervened (after the jump) …..
Regular readers know that I am a sucker for back-stories: that the tale behind the headlines is often just as interesting. And especially when it comes to career choices … that those who had a plan wind-up taking a turn in a different direction. There are innumerable examples; here are two forty-something individuals whose work I enjoy for tonight's lesson.
—————————————————————————————————–
Ever since she was young, Rebecca Skloot had a dream of becoming a veterinarian. As part of the process, while in high school she took a basic biology course (physically taught in an Oregon community college classroom) …. where one lecture was to change her life.
It culminated in her writing the 2010 best-selling non-fiction book The Immortal Life of Henrietta Lacks – about the African-American woman who died from cervical cancer in Baltimore in 1951, yet who lives on in a very real sense. The healthy cells taken from her body died in a few days (as everyone else's do). Yet her cancerous cells have proven to be "immortal": benefiting scientists/researchers the world over, many, many times. Her cells were named HeLa – using the first two letters from her first and last name. Before 2010, though, many public sources incorrectly listed her name as Helen Lane, and little was known about her.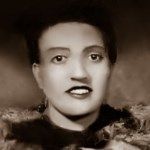 I enjoyed this story via Audio Books and some of you reading this probably have read the book in some format, too. For those of you who have not: it will make for a fascinating read (Oprah Winfrey has an option to bring the story of Henrietta Lacks to the silver screen). I cannot adequately cover the subject matter here: suffice it to say, the book covers medical treatment for the indigent, obtaining permission (or lack thereof) from patients, and the exploitation her family felt at the (relatively) few attempts that the press and researchers who explored her subject left them with.
Different people knew different aspects of the life of Henrietta Lacks – but it was Rebecca Skloot who pulled-together the pieces of the jigsaw puzzle (including spending much time with Henrietta's daughter Deborah Lacks) … helped by both her science and writing background.
Her story began in 1988 (thirty-seven years after the death of Henrietta Lacks) as a sixteen year-old Rebecca Skloot sat in a biology class taught by "Donald Defler, a gnomish balding man" …. and then came the 1st (of 2) events that changed her life:
He grinned and spun to face the board, where he wrote two words in enormous print: HENRIETTA LACKS. Henrietta died in 1951 from a vicious case of cervical cancer, he told us. But before she died, a surgeon took samples of her tumor and put them in a petri dish. Scientists had been trying to keep human cells alive in culture for decades, but they all eventually died. Henrietta's were different: they reproduced an entire generation every twenty-four hours, and they never stopped. They became the first immortal human cells ever grown in a laboratory. Then, matter-of-factly, almost as an afterthought, he said, "She was a black woman." He erased her name in one fast swipe and blew the chalk from his hands. Class was over.
While the other students filed out (and probably gave it no more thought), that sixteen year-old student had to find out more and followed her teacher to his office:
"Where was she from?" I asked. "Did she know how important her cells were? Did she have any children?"

"I wish I could tell you," he said, "but no one knows anything about her."
Then (sensing her interest) he added,

"But if you're curious," he told me, "go do some research, write up a little paper about what you find and I'll give you some extra credit."

At that point I was planning to be a veterinarian – something I'd been determined to do since I was a small child. I had no intention of becoming a writer. I looked for information about Henrietta but didn't find anything, so I didn't write that extra credit paper. But I never forgot about her – in fact, I was a bit obsessed by her.

From time-to-time, she did try to find out more: but could only find snippets here, differing dates of death there, most sites referred to her as "Helen Lane", etc. After getting her first computer, she did find some articles in the 1970's – but these reflected the downside of the story. Ebony and Jet magazine articles noted that her family felt taken-advantage of; that her husband felt that the scientific community made money off her with neither consent nor compensation. Yet still she could not find common denominators or identifiers.
More than a decade after that high-school class, she was a student at Colorado State University, working towards a biology degree that would enable her to apply for veterinary school. And here is the second life-changing event … which occurred (in of all places) a creative writing class. The assignment: "Write for 15 minutes about something someone forgot" … for which she wrote about Henrietta Lacks … and some time later, when she was about to apply to veterinary school:
My writing teacher pulled me aside and said, "Do you realize you're a writer? And do you know there's such a thing as a science writer?" He told me he thought the world needed more people who understood science and could convey it to the public.

"You know", he said, "You don't have to go to vet school just because that's what you always planned to do – you could get an MFA in writing instead".

I told him I'd never even heard of an MFA and had never for a moment thought of giving up on my dream of becoming a vet.

Then he said these essential words: "Letting go of a goal doesn't mean you've failed, as long as you have a new goal in its place. That's not giving up, it's changing directions, which can be one of the best things you ever do in life".
Suffice it to say, she did pursue that MFA and after achieving success as a writer: she finally did tackle that project: to tell the story of Henrietta Lacks. And she did so "on spec" – with neither a book contract nor cash advance in hand. There are scientific aspects to the book, yet it reads more like a detective story: tracking down leads here, archives there, etc. (including a 90+ year-old doctor at Johns Hopkins) over the course of a decade.
Perhaps the focal point of the book was Rebecca Skloot's relationship with Deborah Lacks, Henrietta's daughter. It was sometimes warm, sometimes contentious, often complicated … yet it was vital to putting the pieces of the puzzle together. Deborah became convinced that fate brought this white woman to finally tell the story of her mother's life:
Deborah believed Henrietta's spirit lived on in her cells, controlling the life of anyone who crossed its paths. Including me.

"How else do you explain why your science teacher knew her real name when everyone else called her Helen Lane? She was trying to get your attention."

This thinking would apply to everything in my life: when I married while writing this book …. it was because Henrietta wanted someone to take care of me while I worked.

When I divorced …. it was because she'd decided he was getting in the way of the book.

When an editor who insisted I take the Lacks family out of the book was injured in a mysterious accident …. Deborah said that's what happens when you piss Henrietta off.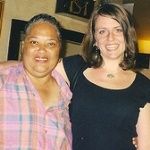 The result was a NY Times best-seller, ranked by more than sixty critics as one of the best books of 2010. Her creative writing teacher John Calderazzo described her thusly:
"A nonfiction writer who through her coursework learned a great deal of 'content' – the nuts and bolts of cell biology – and then used her story-telling and reporting skills to create a book with wide appeal. The book is part medical thriller, muckraking journalism, and a meditation on the collision between science and personal rights."
Rebecca Skloot founded the Henrietta Lacks Foundation – to help the Lacks family as well as others in financial need whose ancestors helped scientific research without their knowledge. She has written for science-oriented publications (Discover and Popular Science) as well as general interest ones (NY Times Magazine and Oprah Winfrey's O magazine).
And when the book was about to be published: she tracked-down her high school biology teacher (long-since retired) who neither remembered her, nor that fateful moment in class. Afterwards, she sent him a copy of the book with this note:
"Dear Mr. Defler, here's my extra credit project. It's 22 years late, but I have a good excuse: No one knew anything about her."
—————————————————————————————————–
In 1991, a summa cum laude graduate of Harvard University was accepted by Yale Law School, but deferred enrollment for one year – what would be referred to as a "gap year" in today's parlance – in order to help his friends move into a high-rent Brooklyn home. As someone with a musical background, he became a working performer, yet had every intention of enrolling in law school … until he entered a competition that changed his career plans.
Interestingly, Joshua Redman was someone who seemed predestined to be a musician in the first place. He was born in 1969 as the love child of the jazz tenor saxophonist Dewey Redman and a Bay Area dancer Renée Shedroff and was exposed to many kinds of music at the Center for World Music in Berkeley, where his mother studied South Indian dance. In addition to jazz musicians, he was also influenced by the Beatles, Aretha Franklin, the Temptations, Earth, Wind and Fire, Prince, the Police and Led Zeppelin. And he graduated from Berkeley High School's class of 1986, after having been a part of its award-winning Jazz Ensemble for all four years.
Despite all of that, he focused more on academics than music. In part, this was because by the time of his birth, his father had moved to New York and was playing with Ornette Coleman. Redman's only contacts with his father was hearing his records around the house, and during infrequent visits to town.
"It was a very unique relationship," says Redman, who was raised by his single mother. "I didn't grow up with him, and we went through periods when we were speaking a lot, and periods when we weren't speaking a lot. Periods when I think we both felt very close, and periods when we didn't".
During that year off from study, he found himself in-demand in the Big Apple's jazz scene; jamming with musicians such as Brad Mehldau, Roy Hargrove, Christian McBride, Pat Metheny, Charlie Haden, and Billy Higgins … as well as his father Dewey (father-son in the studio, below).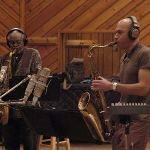 And then … he entered a prestigious event that year, the Thelonious Monk International Jazz Competition – named after the legendary (and eccentric) pianist …. and came in 1st place. Seemingly overnight he landed a recording contract with Warner Bros., was soon on the cover of most jazz magazines and was in-demand as a session musician. That law school enrollment … was allowed to lapse.
In his nearly twenty-five year career, Joshua Redman has been nominated for two Grammy awards and traveled the world performing. He performed on his father's 1992 album Choices and Joshua's own 2002 recording Elastic showed more of an electronica sound. Following the death of his father Dewey in 2006, he has carried on the family name well.
Having mentioned earlier the wide range of influences he heard growing up: it's no wonder he has recorded or toured with many different musicians. Some of the famous names in the jazz world he has worked with include Dave Brubeck, Chick Corea, Herbie Hancock, Branford Marsalis and Clark Terry.
But he has also worked with classical musicians (conductor Sir Simon Rattle and Yo Yo Ma), soul and R&B (Stevie Wonder, The Roots and Meshell Ndegeocello) plus the rock/blues world (Dave Matthews, B.B. King). One has heard snippets of his work on the Weather Channel during its "Weather on the 8's". Joshua Redman has several summer tour dates – from San Luis Obispo to NYC and Albany, NY to Washington D.C., Seattle … and elsewhere.
Finally, just this past spring he traveled to Burma as a representative of the International Rescue Committee – seeking to help people whose lives and livelihoods are shattered by conflict and disaster to survive, recover, and gain control of their future.
"I mostly visit developed countries," Redman explains. "I fly into a city, I go to my hotel room for an hour, I go on stage to play my gig and I'm out of there. This has been an eye-opening adventure for me. And the first time in a very long time … I haven't brought my saxophone."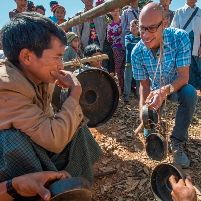 I told you his tastes were eclectic … so let's close tonight's diary with a live performance that this would-be attorney made (in 1997) with the Rolling Stones on their tune Waiting on a Friend – and below you can see Joshua Redman handle the solos, beginning just after the 3-minute mark.