I post a weekly diary of historical notes, arts & science items, foreign news (often receiving little notice in the US) and whimsical pieces from the outside world that I often feature in "Cheers & Jeers".
OK, you've been warned – here is this week's tomfoolery material that I posted.
ART NOTES – works by Margaret Neumann in an exhibition subtitled Inscapes – inspired by the poet Gerard Manley Hopkins's concept of the distinguishing characteristics that define individuality – are at the Boulder, Colorado Museum of Contemporary Art through June 7th.
HAIL and FAREWELL to the decorated Bay Area police officer Ed Tracey – no, not yours truly (I'm quite a bit older) – but a Hong Kong native of whose career I was alerted to (by West Coast friends) several years ago, and seemed to be an example of law enforcement at its best – who has died from cancer at only age 45 …… next, to the soul singer Percy Sledge – whose song Take Time to Know Her was my favorite of his – who has died at the age of 74 ….. and to the founder/producer of the long-running TV music show "Austin City Limits" on PBS, Bill Arhos – who has died at the age of 80.
HAVING SEEN ONE MYSELF back in 1999, I am still quite envious of the Italian geologist Carlo Dellarole, who in the past sixteen years has witnessed eleven total solar eclipses – and he will be in the USA on August 21, 2017 – when that solar eclipse's "belt of totality" will stretch cross-country, from Oregon to the Carolinas.
THURSDAY's CHILD is Lutece the Cat – a Missouri kitteh who disappeared from his family during a move seven years ago – but now about to be reunited, due to his microchip.
EVEN THOUGH I realize the Grateful Dead chose Chicago as the site of their final three shows because (a) that was the site of their final show twenty years ago before the death of Jerry Garcia, and (b) it is centrally located in the North American continent …… still, it seemed odd that there would be no final S.F. Bay Area shows. Well, they have rectified the situation by adding two shows in Santa Clara, before the final shows at Soldier Field.
YUK for today – here is the address label on a piece of mail received at my local Humane Society …. and just look at the second line:

Donald Rumsfeld …………… call your office.
BRAIN TEASER – try this Quiz of the Week's News from the BBC.
SCIENCE NOTES – Australia's Great Barrier Reef faces many challenges … and none more threatening than the crown-of-thorns starfish which scientists are trying new ways to combat.
FRIDAY's CHILD is Paddy McCourt the Cat – a Scottish kitteh who is being hailed as (an unwitting) hero after meowing to be let out of the house at 1:30am … thus allowing a man to detect a fire started by vandals (which threatened a gas main pipe).
ONE INTERESTING OBITUARY of the recent death of the televangelist Robert Schuller goes into detail as to how he rose (applying business principles to religion, embracing economies of scale and customer focus) and how he fell (poor succession planning, and a failure to react to dynamic new competitors).
LEST YOU THINK this something limited to US worshippers of Ayn Rand … a Toronto business reporter says that Canadian PM Stephen Harper's desire to have balanced-budget and debt-ceiling laws are just as loopy – and also aimed at destroying government.
SEPARATED at BIRTH – two TV stars: televangelist pastor Joel Osteen and "Home Improvement's" Tim Allen.
…… and finally, for a song of the week ………………………… I have not taken a look at Great American Songbook composers in some time, so let's remedy the situation with someone deserving more notoriety. Vernon Duke had, in some ways, a career modeled upon that of George Gershwin, with works in musicals, symphonies, ballet, oratories and even poetry. Yet his name has faded: with works often not in print, nor any anthologies of note. His versatility is probably part of the answer, as well as an inability to break-through in the post WW-II return to recordings. Suffice it to say, you'll recognize some of his songs from that era, and those who perform them to this day.
He was born Vladimir Dukelsky in 1903 in the old Russian Empire (what is today Belarus) and studied at the Conservatory in Kiev (where one of his classmates was the future star pianist Vladimir Horowitz). His family fled the post-revolution chaos in 1919, with the family eventually settling in New York City. He eventually befriended George Gershwin, who convinced him to adopt an American-sounding name. He did adopt Vernon Duke for his popular music, yet decided to keep his given name for his other works (which probably also partly accounts for his lack of notoriety today). He worked in Paris and London for part of the 1929's, before returning to the US in 1929 … where he was to achieve his greatest fame on Broadway, composing four songs that are considered part of the Great American Songbook.
The first of these came in 1932 with April in Paris (with lyrics by Yip Harburg, of "Over the Rainbow" fame) in the production of Walk a Little Faster. Count Basie has a noted instrumental version of this, with the coda repeated twice (per the Count's instructions to his band, which you hear on the recording).
While principally a music composer, Vernon Duke did add his own lyrics to his composition Autumn in New York – from the play Thumb's Up in 1934. Following the death of George Gershwin in 1937, he was asked to complete Gershwin's last score, from the film Goldwyn Follies, written by Ben Hecht.
His greatest commercial success came with the 1940 Broadway musical Cabin in the Sky – that featured an all-black cast, starring Lena Horne, Eddie "Rochester" Anderson and Ethel Waters. Staged by George Balanchine, Vernon Duke wrote the music (with lyrics by John La Touche) and the signature tune was one that Ethel Waters sang, Taking a Chance on Love – which is a staple of jazz singers to this day.
Meanwhile, under his given name, he wrote music for other fields. In 1934 he wrote music for the ballet Jardin Public (from a scenario by André Gide), a concerto entitled Dédicaces plus a 1938 oratorio The End of St. Petersburg and a 1946 Third Symphony.
World War II saw him join the Coast Guard, where he became an officer overseeing their music program. He can be said to have "discovered" a young Sid Caesar perform one of his foreign-language double-talk monologues – and Vernon Duke hired him for a comic role in a Coast Guard musical, "Tars and Spars."
However, Vernon Duke did not regain the fame he had achieved before the war: never having another major Broadway hit. He did continue and, once again, in varied fields. He collaborated on a 1952 musical Two's Company with the poet Ogden Nash, in 1962 published his own first book of poetry ("Epistles"), and in 1966 composed "Anima Eroica (An Ode to St. Brigitte)" for soprano solo, two flutes, oboe, clarinet and piano. He was also the founder of the Society for Forgotten Music – an organization dedicated to reviving interest in neglected classical composers and compositions.
Vernon Duke died during an operation for lung cancer in January, 1969 at the age of 65. He was inducted into the Songwriters Hall of Fame the following year, but his true legacy lies in the number of musicians who have performed his works. Among those who have recorded Vernon Duke-written tunes are Eddy Arnold, Nat King Cole, Judy Garland, Peggy Lee, Dinah Shore, Billie Holiday, André Previn, Tony Bennett, Benny Goodman, Rosemary Clooney, Andy Williams, Charlie Parker, Doris Day, Thelonious Monk, Barbra Streisand, Liza Minnelli and Dionne Warwick. A diverse group, to be sure.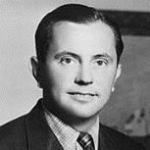 Of all of his work, my favorite song is I Can't Get Started – with lyrics by Ira Gershwin – that was first sung by Bob Hope (to Eve Arden) in the Ziegfeld Follies of 1936. It has become a jazz standard, with cover versions by Bunny Berigan and Frank Sinatra, plus the bassist Charles Mingus (who wrote "Started Melody" based upon Vernon Duke's song) – with some more recent renditions by Jamie Cullum and Rod Stewart. And below you can hear Ella Fitzgerald sing it.
I've flown around the world in a plane

I've settled revolutions in Spain

The North Pole I have charted

But I can't get started with you

Around the golf course I'm under par

And all the movies want me to star

I've got a house, a showplace

But I get no place with you

You're so supreme, lyrics I write of you

Scheme, just for a sight of you

Dream, both day and night of you

And what good does it do?

In 1929, I sold short

In England I'm presented at court

But you've got me downhearted

'Cause I can't get started with you