I post a weekly diary of historical notes, arts & science items, foreign news (often receiving little notice in the US) and whimsical pieces from the outside world that I often feature in "Cheers & Jeers".
OK, you've been warned – here is this week's tomfoolery material that I posted.
ART NOTES – an exhibition entitled Ansel Adams: Early Works is at the Long Island Museum in Stony Brook, New York through August 2nd.
HAIL and FAREWELL to the Emmy-winning actor who was the head of the legal firm in the NBC series L.A. Law, Richard Dysart – who grew-up in central Maine – who has died at the age of 86 ….. and to the humorist, advertising man and satirist Stan Freberg – whose 1961 album Stan Freberg Presents the United States of America (a history lesson in songs and sketches) Time magazine opined may have been "the finest comedy album ever recorded" – who has died at the age of 88.
CHEERS to the musical group Rising Appalachia – whose concert tour has recently commenced, and in which they will be travelling by Amtrak to their venue's cities.
BRAIN TEASER – try this Quiz of the Week's News from the BBC.
THURSDAY's CHILD is Wonky the Cat – a deaf kitteh (suffering from cerebellar hypoplasia) … yet is 'competing' to become the "meower" of San Antonio, Texas.
ATTENTION, READERS – posted a few months ago in this space was this year's quiz from King William's College (a prep school located on the UK's Isle of Man) – with said quiz known as its General Knowledge Paper officially.
It consists of 18 groups of 10 questions – the first section on events 100 years ago, and the last on events of 2014. Each group has a common theme (though perhaps not immediately recognizable) that helps if you can answer at least one of that group's questions – and is among the most difficult general knowledge quizzes on earth (quite British literature-laden, as you might well imagine) in part to being very cryptic.
At this link is the 2014-15 year's quiz if you didn't have a chance to take it.
Well, now the answers are available at this link – and yours made a 50% improvement over my blistering 2013-2014 total … of 2 (out of 180) correct. That's right: I am up to 3(!) correct for 2015!
FRIDAY's CHILD is Cleo the Cat – an Edmonton, Alberta kitteh who went missing in Ontario six years ago … but located on the street and eventually reunited due to her ear tattoo.
POLITICAL NOTES – in a tough election year, a lefty has held on to the leadership post of the regional parliament in the southern, more conservative Spanish region of Andalusia – and at only age forty, Susana Diaz may have a future in national politics.
CONGRATULATIONS to the winners of the NCAA men's hockey championship, Providence College – with two goals in the final period to defeat Boston University 4-3 last night.
HAPPY 75th BIRTHDAY to one of my favorite musicians, the pianist Herbie Hancock – who, while best known as a jazz musician: has also had recordings in the field of rock, funk, hip-hop …. and who performed a Mozart piano concerto with the Chicago Symphony Orchestra at age 11 (in 1951).
FATHER-SON? – a young Newt Gingrich and New Zealand-born film star Jemaine Clement ("Men in Black 3").
…… and finally, for a song of the week ………………………… a look at my favorite solo piano tune of all time, recorded fifty-six years ago this month.
After leading a legendary swing-era big band in the 1930's-40's, Duke Ellington had started to become much less relevant by the mid-1950's – due to the increasing popularity of modern jazz (and the difficult economics of maintaining a big band, post-WWII). But due to a legendary Newport Jazz Festival concert in 1956, his fortunes had started to rise once again. In 1958, his orchestra was invited to perform at an October arts festival in Leeds, England organized by the Earl of Harewood (whose brother Gerald was a major jazz devotee). Ellington was persuaded to perform – for the first time in Britain in 25 years – by the Canadian-born wife of the noted English music writer Stanley Dance – whose clinching line was that Queen Elizabeth would be attending.
And at a post-festival reception at the Leeds Civic Hall, it was Ellington to whom the Queen and Prince Philip spoke with the longest – answering the question of when his orchestra had last performed in Britain with the words, "1933, your Majesty … years before you were born" – and having been advised beforehand of his wit, Elizabeth II merely smiled in mock protest. Later, Duke and his songwriting partner Billy Strayhorn were also feted by the mayor of Leeds.
Ellington was so delighted at the reception he and his orchestra received that, upon his return to New York, he composed The Queen's Suite (six pieces that totalled twenty minutes in length) and had his orchestra record it in the spring of 1959 at his own expense. Only one vinyl record was made of it, which Ellington had shipped to Buckingham Palace.
Having heard parts of it performed at subsequent concerts, critics and the public clamored for a public release but Duke would not hear of it. "It was written for her and there is no point dedicating something to the Queen of England and then just publicly releasing it". It was not until after the death of Duke Ellington in 1974 that this suite (along with two others) was released on an album available to the public.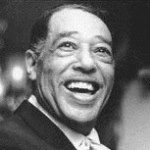 The signature piece of the suite (and the one that was most often performed publicly was The Single Petal of a Rose which (as the author David Bradbury described it) was "a serene Debussy-like piano solo". Unlike the rest of the suite, it was actually composed during the orchestra's stay in Britain – and at a party given by some of Ellington's London friends, he named the tune after noticing that a petal had fallen off one of the roses placed upon the piano. And while I describe it as my favorite solo piano piece of all time: on the April 1959 recording, Ellington did enlist the help of bassist Jimmy Woode halfway through the piece.
And below you can listen to it.