I post a weekly diary of historical notes, arts & science items, foreign news (often receiving little notice in the US) and whimsical pieces from the outside world that I often feature in "Cheers & Jeers". For example: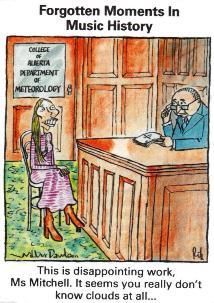 OK, you've been warned – here is this week's tomfoolery material that I posted.
ART NOTES – nearly 70 works of art that depict the evolution of the careers of Diego Rivera and Frida Kahlo are at the Detroit, Michigan Institute of Arts through July 12th.
HAIL and FAREWELL to the original drummer in Lynyrd Skynyrd, Bob Burns – who left the band in 1974 due to exhaustion from touring – who has died (in a car crash) at the age of 64 ….. next, to the wife of the late Reagan press secretary (who was shot just over thirty-four years ago), Sarah Brady – who became a gun control advocate along with her husband – who has died at the age of 73 …. and finally, someone recognized as the world's oldest living person, Japanese citizen Misao Okawa – who has died less than a month after celebrating her 117th birthday. With her death, there are now only four women who are still alive ….. and have three documents (with an identical date of birth) … who were born before 1900.
GET WELL to the legendary musician Joni Mitchell – and here is a recent Facebook meme, that her own Facebook page shared widely.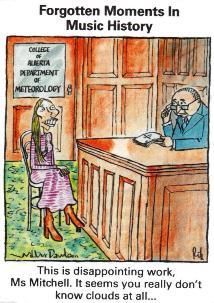 POLITICAL NOTES – while he is credited with ending the 1994 genocide in Rwanda and introducing good governance, its president Paul Kagame has not only failed to develop a successor but also thwarted anyone attempting to stand in line (and his aides are seeking to have the 2017 presidential term-limit … not apply to him).
THURSDAY's CHILD is Loretta the Cat – a pregnant kitteh who had been shot and abandoned along New York City's Brooklyn-Queens Expressway … yet rescued by a NY City councilman and is now recuperating.
SPORTING NOTES – while its growth in North America and Europe may have stalled, the sport of golf in the Middle East has taken-off this century, with Morocco nearly quadrupling its number of courses during this time.
BRAIN TEASER – try this Quiz of the Week's News from the BBC.
FRIDAY's CHILD is Chester the Cat – a British Columbia freight company kitteh who wound up being transported to Washington state … but was able to be identified by his microchip …. actually, it turns out, her microchip.
TIME MARCHES ON – wine producer Fattoria Casabianca in Tuscany has created the first certified vegan Chianti … and without raising prices.
CHEERS to the Nigerian president Goodluck Jonathan – even though he lost his re-election bid – for conceding defeat and arranging for a peaceful transition of power, which historically was not a given in that nation's politics.
SEPARATED at BIRTH – Stage/film star Matthew Broderick and TV/film star Jon Cryer.
…… and finally, for a song of the week ………………………… a singer-songwriter with a nearly fifty-year career is John Prine – who began as a folksinger and has dabbled with country and even a touch of rockabilly over time. He songs run from poignant to humorous to satire and while his records never been big sellers, he won the respect not only of his peers but also elders at an early age.
Born in Chicagoland in 1946, he learned guitar with the approval of his grandfather, who had played with Merle Travis. Following a two-year stint in the Army (stationed in Germany) he settled in Chicago, with a day job as a letter carrier while attending Open Mic shows at a nightclub. In response to a dare, he performed and soon became a regular; befriending another future star (Steve Goodman). Interestingly, his first favorable critical review came not from a music critic but instead from … film critic Roger Ebert, who saw him perform in Chicago.
His work came to the attention of Kris Kristofferson who helped him land a contract that brought him to Memphis (as a twenty-five year old) to record his first album in 1971. And though it took several more recordings to achieve some modest financial success, his self-titled first album resulted in favorable reviews and some songs of note. These included Sam Stone (about a Vietnam vet with substance abuse), Far From Me as well as Angel of Montgomery – perhaps his most popular tune.
His sophomore outing had more of a bluegrass focus, while 1973's Sweet Revenge had a more rocking sound. In 1974, a song that he co-wrote (uncredited) with Steve Goodman was You Never Even Call Me by My Name – which David Allan Coe had a hit with on the country charts.
His highest-charting album (albeit denting only the Top 100 album charts) was 1975's Common Sense – produced by the Stax Records guitarist Steve Cropper – with He Was in Heaven Before He Died as its signature tune. 1978 saw one of his most critically-acclaimed albums, Bruised Orange – produced by his good friend Steve Goodman – with the All-Music Guide's William Ruhlmann citing its Sabu Visits the Twin Cities Alone song as "perhaps the best depiction ever written of life on the road in the entertainment business".
The dawn of the 1980's saw a decline in the fortunes of many folksingers and John Prine was no exception; losing his Asylum Records contract. He founded his own label, Oh Boy Records – with his first release being Aimless Love in 1984. That same year, he lost his friend Steve Goodman to leukemia, and to-this-day John Prine includes Steve Goodman material in his live performances. In 1986 he released German Afternoons – with his humorous tune Let's Talk Dirty in Hawaiian – earning a Grammy nomination in the Best Contemporary Folk Album category.
He broke-through in 1991 with his highest-grossing album, The Missing Years – produced by the late Heartbreakers bassist Howie Epstein and featuring guest spots by Epstein's bandleader Tom Petty, plus Bruce Springsteen and Bonnie Raitt – and which this time won the Grammy for Best Contemporary Folk Album.
In 1998, he was working on an album of duets when he was diagnosed with cancer on the right side of his neck, and the surgery to remove the cells left his voice with a bit more gravel in it. That album In Spite of Ourselves features Prine singing in duets with Emmylou Harris, Trisha Yearwood, Lucinda Williams and Patty Loveless (among others).
2005 saw the release of Fair & Square – which included the song Some Humans Ain't Human, which says that just when things are looking up, "Some cowboy from Texas starts his own war in Iraq" … which at this link you can hear. This album earned John Prine his second Grammy Award in the Best Contemporary Folk Album category.
Throughout his career, John Prine has received praise from a number of star musicians. In 2009, Bob Dylan said, "Prine's stuff is pure Proustian existentialism. Midwestern mindtrips to the nth degree. And he writes beautiful songs". In his autobiography, Johnny Cash said that when writing, he would listen to his favorite songwriters for inspiration: "Rodney Crowell, John Prine, Guy Clark, and the late Steve Goodman are my Big Four". And from Pink Floyd bassist Roger Waters – "His is just extraordinarily eloquent music – and he lives on that plane with Neil Young and Lennon."
Musicians who have covered his material include Bette Midler and Joan Baez (Hello in There), Bonnie Raitt, Dave Matthews, Gretchen Wilson, Carly Simon and Tanya Tucker (Angel from Montgomery), Johnny Cash and Al Kooper (Sam Stone), Tom T. Hall, Lynne Anderson, Jimmy Buffet and the Everly Brothers (Paradise), The Nitty Gritty Dirt Band (Grandpa Was a Carpenter), Amos Lee (Christmas in Prison) and Willie Nelson (The Twentieth Century is Almost Over, partly co-written with Steve Goodman, years earlier).
John Prine was inducted into the Nashville Songwriters Hall of Fame in 2003, there is an excellent compilation album of his music, a 2010 live album of note, and that same year a tribute album was recorded by several younger Nashville performers.
Two years ago, he revealed that he had operable lung cancer – unrelated to the earlier skin cancer – that he seems to have weathered.
And just late last year, the Grammys announced that John Prine's 1971 debut album has been added to the Grammy Hall of Fame of recordings.
Later this month, he begins a tour with Leo Kottke to begin with, then continues with Amanda Shires. At age 68, living in Nashville and apparently in good health, his career shows no signs of slowing down.
Of all of his songs, my favorite remains his 1973 satire Dear Abby – of the sorts of letters that the late advice columnist Dear Abby used to print (her daughter now runs the column).
I gotta admit …when the original Dear Abby died in 2013 ….. this song came to mind, and below you can hear John Prine perform it at the BBC.
Dear Abby, Dear Abby…

You won't believe this

But my stomach makes noises whenever I kiss

My girlfriend tells me …it's all in my head

But my stomach tells me … to write you instead

Signed, Noise-maker

Noise-maker, Noise-maker…

You have no complaint

You are what you are and you ain't what you ain't

So listen-up Buster, and listen-up good

Stop wishing for bad luck and knocking on wood

Dear Abby, Dear Abby…

Well I never thought

That me and my girlfriend would ever get caught

We were sitting in the back seat just shooting the breeze

With her hair up in curlers … and her pants to her knees

Signed Just Married

Just Married, Just Married…

You have no complaint

You are what you are and you ain't what you ain't

So listen-up Buster, and listen-up good

Stop wishing for bad luck and knocking on wood

Signed …… Dear Abby