I was pleased to see that Google dedicated a "Google Doodle" kicking off Black History Month to Langston Hughes, born on Feb. 1, 1902 in Joplin, Missouri, by animating his poem "I Dream a World."
I dream a world where man

No other man will scorn,

Where love will bless the earth

And peace its paths adorn

I dream a world where all

Will know sweet freedom's way,

Where greed no longer saps the soul

Nor avarice blights our day.

A world I dream where black or white,

Whatever race you be,

Will share the bounties of the earth

And every man is free,

Where wretchedness will hang its head

And joy, like a pearl,

Attends the needs of all mankind-

Of such I dream, my world!
My introduction to Langston Hughes wasn't his poetry, at first. My mom would read his "Jesse B. Semple" stories to me, and as soon as I could read, I read them over and over, because they were "real" black people. When I got older, old enough to be hanging out in Harlem bars, I read them again. They still rang true.
From the Poetry Foundation biography


Hughes reached many people through his popular fictional character, Jesse B. Semple (shortened to Simple). Simple is a poor man who lives in Harlem, a kind of comic no-good, a stereotype Hughes turned to advantage. He tells his stories to Boyd, the foil in the stories who is a writer much like Hughes, in return for a drink. His tales of his troubles with work, women, money, and life in general often reveal, through their very simplicity, the problems of being a poor black man in a racist society. "White folks," Simple once commented, "is the cause of a lot of inconvenience in my life." Simple's musings first appeared in 1942 in "From Here to Yonder," a column Hughes wrote for the Chicago Defender and later for the New York Post. According to a reviewer for Kirkus Reviews, their original intent was "to convince black Americans to support the U.S. war effort." They were later published in several volumes.

A more recent collection, 1994's The Return of Simple, contains previously unpublished material but remains current in its themes, according to a Publishers Weekly critic who noted Simple's addressing of such issues as political correctness, children's rights, and the racist undercurrent behind contraception and sterilization proposals. Donald C. Dickinson wrote in his Bio-Bibliography of Langston Hughes that the "charm of Simple lies in his uninhibited pursuit of those two universal goals, understanding and security. As with most other humans, he usually fails to achieve either of these goals and sometimes once achieved they disappoint him. . . . Simple has a tough resilience, however, that won't allow him to brood over a failure very long. . . . Simple is a well-developed character, both believable and lovable. The situations he meets and discusses are so true to life everyone may enter the fun. This does not mean that Simple is in any way dull. He injects the ordinary with his own special insights. . . . Simple is a natural, unsophisticated man who never abandons his hope in tomorrow."

A reviewer for Black World commented on the popularity of Simple: "The people responded. Simple lived in a world they knew, suffered their pangs, experienced their joys, reasoned in their way, talked their talk, dreamed their dreams, laughed their laughs, voiced their fears-and all the while underneath, he affirmed the wisdom which anchored at the base of their lives. It was not that ideas and events and places and people beyond the limits of Harlem-all of the Harlems-did not concern him; these things, indeed, were a part of his consciousness; but Simple's rock-solid commonsense enabled him to deal with them with balance and intelligence. . . . Simple knows who he is and what he is, and he knows that the status of expatriate offers no solution, no balm. The struggle is here, and it can only be won here, and no constructive end is served through fantasies and illusions and false efforts at disguising a basic sense of inadequacy. Simple also knows that the strength, the tenacity, the commitment which are necessary to win the struggle also exist within the Black community." Hoyt W. Fuller believed that, like Simple, "the key to Langston Hughes . . . was the poet's deceptive and profound simplicity. Profound because it was both willed and ineffable, because some intuitive sense even at the beginning of his adulthood taught him that humanity was of the essence and that it existed undiminished in all shapes, sizes, colors and conditions. Violations of that humanity offended his unshakable conviction that mankind is possessed of the divinity of God."
Hughes wrote a play based on a combination of Jess Simple stories: Simply Heavenly, in 1957 starring Claudia McNeil.
The writers, poets, playwrights, painters, actors, dancers, and philosophers of the Harlem Renaissance have been covered in numerous books and in documentary productions.
The Harlem Renaissance was the name given to the cultural, social, and artistic explosion that took place in Harlem between the end of World War I and the middle of the 1930s. During this period Harlem was a cultural center, drawing black writers, artists, musicians, photographers, poets, and scholars. Many had come from the South, fleeing its oppressive caste system in order to find a place where they could freely express their talents. Among those artists whose works achieved recognition were Langston Hughes and Claude McKay, Countee Cullen and Arna Bontemps, Zora Neale Hurston and Jean Toomer, Walter White and James Weldon Johnson.

During this period Harlem was the Mecca to which black writers, artists, musicians, photographers, poets, and scholars traveled.

W.E.B. Du Bois encouraged talented artists to leave the South. Du Bois, then the editor of THE CRISIS magazine, the journal of the NAACP, was at the height of his fame and influence in the black community. THE CRISIS published the poems, stories, and visual works of many artists of the period. The Renaissance was more than a literary movement: It involved racial pride, fueled in part by the militancy of the "New Negro" demanding civil and political rights. The Renaissance incorporated jazz and the blues, attracting whites to Harlem speakeasies, where interracial couples danced. But the Renaissance had little impact on breaking down the rigid barriers of Jim Crow that separated the races. While it may have contributed to a certain relaxation of racial attitudes among young whites, perhaps its greatest impact was to reinforce race pride among blacks.

For me, the heart and soul of that crew will always be Langston Hughes. My parents were two of those young black bohemians. Though they were immersed in the arts, they were also inextricably entwined with and engaged in radical politics. Communists, socialists, free-thinkers, anarchists, and those with burgeoning "race pride" fueled by Marcus Garvey-intermingled, argued and debated.
Most of what I have read on Langston focuses on his artistry and race. Not enough on his journeys through politics. In Socialist Joy in the Writing of Langston Hughes, Jonathan Scott writes:
One of the first appreciations of Hughes's poetry was penned by a Cuban essayist and translator, José Antonio Fernández, and published in the Cuban press. And, as I learned from a Russian émigré, the saga of Jesse B. Semple was required reading in the old Soviet common school curriculum. In fact, a great diversity of Hughes's writing has been translated into Russian and Spanish. According to Hughes scholar Richard Jackson, when Hughes died in 1967 "his writings had been translated more than those of any other living American poet." That Hughes spent several years living and traveling in Latin America and the Caribbean, as well as in the Soviet Union, explains much of this. Indeed, his lifelong interest in the Bolshevik Revolution and in Latin American and Caribbean music and poetry, exemplified in the work he did as a professional translator and anthologist, has made Hughes a household name around the globe. To put it simply, in U.S. society, where the main cultural export to the rest of the world is anticommunist action movies, the dynamic and undeniable ties among Hughes, the Bolshevik Revolution, and Latin America and the Caribbean go a long way in explaining why so little has been written about these connections in the U.S. academy.
Other than his politics, in recent years there have been heated discussions between his biographers, and debate about whether of not Hughes was gay. I don't know that anyone has proved it one way or the other, but the particular crowd of artistic folks who came together in those days wouldn't have given a damn. I grew up in a artistic/political household where it was never an issue, though granted, in parts of the more conservative church community it was hypocritically bad-mouthed.
Living in a world constrained by the racism of white society has given black writers a unique observation post, as outsiders who live also within that same world. Hughes was an acute and acerbic observer. "The Ways of White Folks," is a classic collection of his perspectives.
Here's a review from the blog Stuff White People Do:
In the stories collected in The Ways of White Folks, first published in 1934, Hughes deploys a variety of styles and moods to dramatize and analyze common white behaviors. In the opening story, "Cora Unashamed" (which was Masterpiece-ified by PBS in 2001), Hughes examines, from a black maid's perspective, a respectable white family's destructive allegiance to sexual propriety. "Slave on the Block," in which a couple of socialites adopt a handsome black man as their pet Negro, satirizes some of the more condescending tendencies of the wealthy white patrons of the black arts during the 1920s, when the Negro was in vogue.

In other stories, Hughes steadily unveils his characters' destructive tendencies, diagnosing specific symptoms of their pathological dedication to racial divisions. A white sailor visits one of his favorite black prostitutes but then leaves, unable to acknowledge what seems to him a horror, his own child. A small southern town refuses to acknowledge the genius of one of its own, a black musician returning from a journey to Europe who shouldn't be playing that music, and who shouldn't be dressing so well and then talking to white women, to our women.

In "Passing," a light-skinned man writes a subtly anguished, delirious letter to his black mother, who has agreed to silently pass him by on the street because he's passing for white. In "Father and Son," a proud, patrician Southerner with a kept black maid refuses to acknowledge the humanity of their "black" son, who in turn willfully refuses to suppress his own pride and promise. In all of the stories, tensions and conflicts rise to a boiling point as Hughes deconstructs the absurdities of the fiction that is "race."
There are of course other sides to Langston Hughes, and for those of you with children in your lives, you don't have do like my mom, and give them Jessie Semple. Tony Medina, inspired by Hughes, has written a wonderful book for children.
Love to Langston is a book of poems for children written by the author in the voice of Langston Hughes (how he would imagine him). The poems were not written by Langston Hughes himself. The author, Tony Medina, explains why he created this collection in homage to the famous Harlem poet:

Langston Hughes' Selected Poems was one of the first poetry books I ever read. The cover had a photo of Langston sitting in front of his typewriter, looking over his shoulder with a slight, hesitating grin. It was the first brown face I had ever seen looking out a me from the cover of a book – a face that reminded me of my face and the faces of my family."
Fourteen original poems offer young readers an exciting glimpse into the life of Langston Hughes, one of America's most beloved poets. Each of Medina's engaging poems explores an important theme in Hughes' life – his lonely childhood, his love of language and travel, his dream of writing poetry. Extensive notes at the back of the book expand upon the poems, giving a broader picture of Hughes' life and the time in which he lived. With stunning illustrations by R. Gregory Christie, Love To Langston brings Langston Hughes to life for a new generation of readers.
There are too many biographies of Hughes, and books on his work for me to list here. I hope you will visit, or re-visit his work.
For those of you who are in New York City, or planning to visit, take a trip uptown to the Schomburg Center.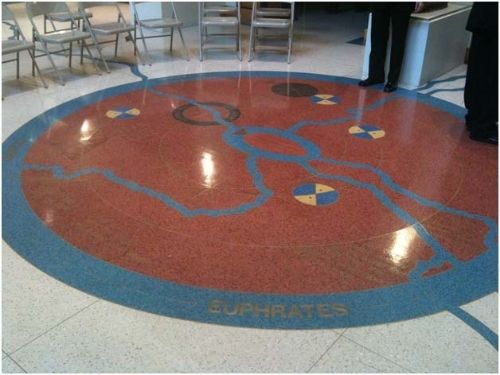 On May 22, 1967, Hughes died from complications after abdominal surgery, related to prostate cancer, at the age of 65. His ashes are interred beneath a floor medallion in the middle of the foyer in the Schomburg Center for Research in Black Culture in Harlem. It is the entrance to an auditorium named for him. The design on the floor is an African cosmogram entitled Rivers. The title is taken from his poem "The Negro Speaks of Rivers". Within the center of the cosmogram is the line: "My soul has grown deep like the rivers"
It is a fitting end to this piece, to hear Langston Hughes speak of the genesis of that poem.



I've known rivers:

I've known rivers ancient as the world and older than the

flow of human blood in human veins.

My soul has grown deep like the rivers.

I bathed in the Euphrates when dawns were young.

I built my hut near the Congo and it lulled me to sleep.

I looked upon the Nile and raised the pyramids above it.

I heard the singing of the Mississippi when Abe Lincoln

went down to New Orleans, and I've seen its muddy

bosom turn all golden in the sunset.

I've known rivers:

Ancient, dusky rivers.

My soul has grown deep like the rivers.
Cross-posted from Black Kos