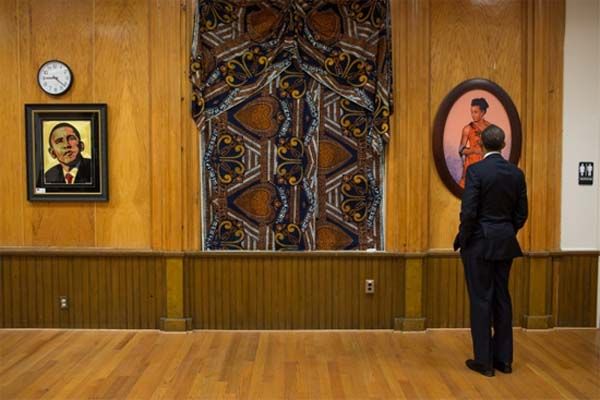 President Barack Obama views a portrait of First Lady Michelle Obama before

a church service at Metropolitan African Methodist Episcopal Church in Washington, D.C.,

on Inauguration Day, Sunday, Jan. 20, 2013. (Official White House Photo by Pete Souza)
From Seneca Falls, Selma and Stonewall: Guided by the ancestors
When I heard these words spoken by President Obama at his second inaugural
We the people declare today that the most evident of truth that all of us are created equal — is the star that guides us still; just as it guided our forebears through Seneca Falls and Selma and Stonewall
and the echo of those same words in the invocation delivered by Myrlie Evers-Williams
we celebrate the spirit of our ancestors, which has allowed us to move from a nation of unborn hopes and a history of disenfranchised votes, to today's expression of a more perfect union…

we ask for your guidance toward the light of deliverance and that the vision of those who came before us and dreamed of this day, that we recognize that their visions still inspire us. They are a great cloud of witnesses unseen by the naked eye, but all around us, thankful that their living was not in vain.


I was moved.
As a person who practices an African-diasporic belief system that incorporates a respect for the ancestors upon whose shoulders we stand, these words resonated in my soul. As a person who also feels deeply about history, and its importance to today and the future, I was also struck by all the historical symbolism invested in this second inauguration.
When I went to look for a photo of the POTUS delivering his address, I stumbled across one from the Sunday morning before the inauguration. I hadn't noticed in the news that Sunday morning the Obama's had attended church at the Metropolitan African Methodist Episcopal Church. The church, which celebrates its 175th anniversary this year, was decorated in African Kente cloth.
A church whose history I know well.


Metropolitan, built by free blacks and former slaves as a connectional church for the African Methodist Episcopal denomination, is an important landmark of American history. Frederick Douglass, whose funeral was held at Metropolitan, often worshiped at the church. The memorial service for Booker T. Washington and the Washington funeral services for Rosa Parks were also held there.
Though so many of the historical references have focused on the Rev. Dr. Martin Luther King Jr., and the March on Washington, the "Seneca Falls" mention by the President immediately brought Frederick Douglass into my minds eye, though most listeners who recognized that historical note probably thought about Lucretia Mott, and Elizabeth Cady Stanton, and the early suffragists.
Because I teach about Seneca Falls as part of a women's studies class, I have paid particular attention to Douglass' role. At that convention "A heated debate sprang up regarding women's right to vote, with many including Mott urging the removal of this concept, but Frederick Douglass argued eloquently for its inclusion, and the suffrage resolution was retained."
Later, a faction of that movement would betray the battle for black men to get the franchise. Racism reared its ugly head. Ida B Wells, a crusader for suffrage, and against lynching is reported to be the person who pushed Douglass to write one of his greatest speeches.
It was during the Chicago World's Fair of 1892, also known as the Columbian Exposition, that Frederick Douglass began writing The Lesson of the Hour: Why Is The Negro Lynched. Two events conspired. The Columbian Exposition was lily white and gave no mention and accorded no honor to a single African American man or woman. Frederick Douglass was enraged and despondent that the rights and justice so sorely fought for during the Civil War, and aspired to during Reconstruction, were being overridden by an epidemic of mob violence, racism and color prejudice. While in Chicago, he also met the brilliant, brave and black anti-lynching crusader and journalist Ida B. Wells who told Douglass first hand of the vicious lynchings taking place throughout the South. Miss Wells encouraged and rekindled in Douglass the fire to write one last, great speech. He did and, at age 76, one year before his death, delivered The Lesson of the Hour: Why Is The Negro Lynched, a powerful, passionate and incisive speech which describes the persistent causes of racism and color prejudice in America–and proposes a solution: justice!
That speech, The Lessons of the Hour, was delivered at a time when black men were being lynched, black families were terrorized, and robbed of their rights to vote. We don't lynch these days, but under the new jim crow young black men die in the streets and rot in our prisons. Efforts to disenfranchise blacks (and others) are being mounted, north and south.


Our first black President is already a part of a long chain of history. When I see him, standing alone, gazing at Michelle's portrait at Metropolitan AME, I wonder if he too hears and feels the echos of Douglass' words. No matter he holds the highest office in our nation, to bigots he is no different from any other black man that they despise and fear.
Our enemies have known well where to strike and how to stab us most fatally. Owing to popular prejudice it has become the misfortune of the colored people of the South and of the North as well, to have as I have said, the sins of the few visited upon the many. When a white man steals, robs or murders, his crime is visited upon his own alone. But not so with the black man. When he commits a crime the whole race is made to suffer. The cause before us is an example. This unfairness confronts us not only here, but it confronts us everywhere else.



I think of the birthers, and TeaPublican bigots, and blackface mockers, the racism in the media, and stereotyping of black men in general and the POTUS in specific and Douglass could be speaking today.
Douglass closed his long speech with references to the Declaration of Independence
But, my friends, I must stop. Time and strength are not equal to task before me. But could I be heard by this great nation, I would call to mind the sublime and glorious truths with which, at its birth, it saluted a listening world. Its voice then, was as the tramp of an archangel, summoning hoary forms of oppression and time honored tyranny, to judgment. Crowned heads heard it and shrieked. Toiling millions heard it and clapped their hands for joy. I
t announced the advent of a nation, based upon human brotherhood and the self-evident truths of liberty and equality. Its mission was the redemption of the world from the bondage of ages. Apply these sublime and glorious truths to the situation now before you. Put away your race prejudice. Banish the idea that one class must rule over another. Recognize the fact that the rights of the humblest citizen are as worthy of protection as are those of the highest, and your problem will be solved; and, whatever may be in store for it in the future, whether prosperity, or adversity; whether it shall have foes without, or foes within, whether there shall be peace, or war; based upon the eternal principles of truth, justice and humanity, and with no class having any cause of compliant or grievance, your Republic will stand and flourish forever.


The same refrain echoed in the words of Dr. King, in the protests in Selma and at Stonewall. We heard them in the President's address.
Through blood drawn by lash and blood drawn by sword, we learned that no union founded on the principles of liberty and equality could survive half-slave and half-free. We made ourselves anew, and vowed to move forward together.

…
We, the people, declare today that the most evident of truths — that all of us are created equal — is the star that guides us still; just as it guided our forebears through Seneca Falls, and Selma, and Stonewall; just as it guided all those men and women, sung and unsung, who left footprints along this great Mall, to hear a preacher say that we cannot walk alone; to hear a King proclaim that our individual freedom is inextricably bound to the freedom of every soul on Earth.

Guided by the ancestors.
Alafia/peace
cross-posted from Black Kos Tuesday's Chile