Today, Myrlie Evers-Williams will become the first woman and the first layperson to deliver the invocation at a presidential swearing-in ceremony. Just as the use of Martin Luther King Jr's bible is symbolic of the civil rights struggle in this country, Mrs. Evers-Williams is herself a living legacy of that struggle, which continues.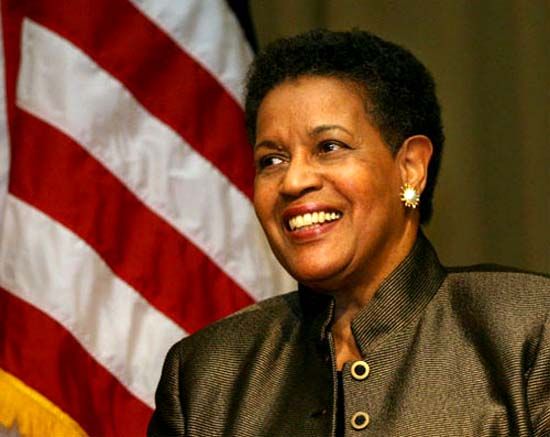 Far too many young Americans do not learn this history, nor make connections to the past as part of where we are today and what the future holds for us as a nation.
For me there is a particular significance in her selection, since too often the role of women in the struggle has been overlooked. She represents the endurance and courage of black women-wives, sisters, daughters, and mothers-of all women who are a bedrock of strength to carry on in the face of adversity.
Though news stories about Evers-Williams selection often refer to her simply as the widow of slain civil rights activist Medgar Evers, who was assassinated on June 12, 1963, her widowhood is not the sum total of her being, nor of her life before and after that date almost 50 years ago.
Her courage in confronting racial hatred and pursuing justice for the almost 60 years since she became involved in the struggle for civil and human rights is a powerful example for us all.
Her life story starting from her birth on March 17, 1933, mirrored those of many black women of her time.
Myrlie Louise Beasley is the daughter of James Van Dyke Beasley, a delivery man, and Mildred Washington Beasley, only sixteen years old when Myrlie was born on March 17, 1933, in her maternal grandmother's home on Magnolia Street in Vicksburg, Mississippi. Myrlie's parents separated when she just a year old; her mother left Vicksburg and had decided that Myrlie was too young to bring with her. Since her maternal grandmother worked all day in service, leaving her no time to raise a child, Myrlie was raised by her paternal grandmother, Annie McCain Beasley, and an aunt, Myrlie Beasley Polk. Both women were respected school teachers and they inspired her to follow in their footsteps. Myrlie attended the Magnolia school, took piano lessons, and performed songs, piano pieces or recited poetry at school, in church, and at local clubs.

Myrlie graduated from Magnolia High School [Bowman High School] in Vicksburg in 1950. During her years in high school, Myrlie was also a member of the Chansonettes, a girls' vocal group from Mount Heroden Baptist Church in Vicksburg. In 1950, Myrlie enrolled at Alcorn A&M College, one of the only colleges in the state that accepted African American students, as an education major intending to minor in music. Myrlie is also a member of Delta Sigma Theta sorority. An incident on her first day on campus altered her plans; Myrlie met and fell in love with Medgar Evers, a World War II veteran several years her senior. The couple married on Christmas Eve of 1951. They would move to Mound Bayou, have three children, Darrell Kenyatta, Reena Denise, and James Van Dyke. In Mound Bayou, Myrlie worked as a secretary at the Magnolia Mutual Life Insurance Company.
Many years have passed since she was that young Myrlie. She has important lessons to share with us all that go beyond the tragedies she has faced in her life.
To understand her strength and determination, it is well worth listening to her speaking to a group of young people. My apologies-there is no transcript. But during the course of her address she speaks of the time period in her life when she ran for the position of head of the NAACP. Something that was not particularly welcomed from certain quarters, since she was female.
She won by one vote.
We are taught to think of her as Medgar Evers' widow, but I would like to speak about her also as "the woman who saved the NAACP." Far too many people have forgotten (if they ever knew it) that during the early '90s the NAACP was in deep trouble. It was failing financially, mostly due to mismanagement.
An article in The New Crisis, "Only for You, Myrlie Evers-Williams, Only for You" by Robin M. Bennefield, documents what occurred:
Myrlie Evers-Williams is a woman of her word. Her wedding vow to her first husband, Medgar, promised to go the last mile of the way with him. So she could not rest until his murderer was brought to justice, 30 years after she and her children had found him lying in his own blood on their front steps. Her second husband Walter, battling prostate cancer with just two weeks to live, made her promise to save the organization her husband died for. After three years as chairman of the NAACP, Myrlie Evers-Williams kept that promise too…

At the time, the NAACP was 5 million dollars in debt, and membership had dwindled.


Her background as a college administrator and corporate executive would help her at the NAACP She managed a $1 billion budget and 7,000 employees as commissioner of the Los Angeles Board of Public Works. "She has exemplified an incredible indomitable spirit," says C. Delores Tucker, NAACP Special Contributions Fund Committee member and longtime friend of Evers-Williams.

That spirit is the reason Tucker and others believed Evers-Williams was the only one who could reinvent the NAACP. "I never wanted to do it," Evers-Williams says. She dismissed the thought when longtime friend and fellow board member Joe Madison first suggested she run for chair. Finally, she took the challenge seriously when Williams, her husband of 18 years, told her she had no choice. The former longshoreman, labor and civil rights activist had not more than three weeks to live. "I told him that I just couldn't leave him. . and he said, `There are two last things I need you to do for me-run and win."'

On February 18, 1995, she worried about Williams as she took the podium to calm an agitated crowd inside the New York Sheraton hotel meeting room, where the election for chairman was about to take place. NAACP members stormily refused to leave the board meeting after Gibson called an executive order to clear the room of reporters and members. Evers-Williams addressed to the members: "In the interest of unity would you please leave so that we can conduct our business. Give the process a chance to work." Then the chant began:"Only for you, Myrlie, Only for you, Myrlie."

"At that moment, I felt a strong sense of responsibility" says Evers-Williams. "They had put their trust in me to lead the organization out of the morass that it was in."

Shortly after winning the election her husband Walter Williams died.
In the year following her election, cash balances increased by more than $1 million, the debt reduced by $665,000 and expenses reduced by $6.75 million. More
than $2 million in contributions, revenue, and renewed support flowed into the reorganized and audited bank accounts.
During these times of increased voter disenfranchisement, and efforts to destroy historical civil rights gains which were spearheaded by the NAACP (among others), we need the NAACP more than ever. Though she left the helm in 1998, it was on her shoulders that a new, financially stable and vital NAACP was born to carry on to this day, and into the future.
Thank you, sister.
I wonder how many of us can imagine trying to organize, be a wife and mother under conditions of terrorism. For me one of the greatest failures of this nation has been the fact that white terrorists like the Klan were allowed to wage war on black folks with impunity.
Reading Evers-William's words about the life she and her family led should give all of us pause. Imagine training your children to deal with the possibility of being firebombed or shot.
As leaders of the movement, the Evers's were high-profile targets for the terrorist acts of pro-segregationists. Their lives grew complex with the necessity of elaborate subterfuge and intrigue. Medgar drove around Mississippi in various disguises, always taking a different route home to confuse anyone following him, and frequently switched vehicles several times during the course of one trip for the same reason. He and Myrlie used codes when speaking on the telephone, and they taught their three children to throw themselves to the floor upon hearing any strange sound outside as a means of protecting themselves from sniper attacks. Myrlie even rehearsed what steps she would take if her husband was shot in her presence. "It was a time when we never knew if we would see each other again when he left home – so we had an agreement with each other that we would never part in anger," she recalled in Emerge.

As the Movement and the violence continued to intensify, Medgar was haunted by the foreboding that his life was nearly over – a premonition that Myrlie shared. "We lived with death as a constant companion 24 hours a day," she told Marshall. "Medgar knew what he was doing, and he knew what the risks were. He just decided that he had to do what he had to do. But I knew at some point in time he would be taken from me." During the spring of 1962, threats against the Evers family peaked due to Medgar's organization of a boycott of downtown Jackson's white merchants. Their home was firebombed one night while he was away at a meeting: Myrlie doused the flames with a garden hose, terrified all the while that snipers were waiting for her in the shadows outside.
Though she stands as a symbol for her determined pursuit of justice, in the case of Klan terrorist Byron De La Beckwith, what is a tragedy is the fact that it took over 30 years for that justice to take place.
For more of the history I suggest reading For Us The Living.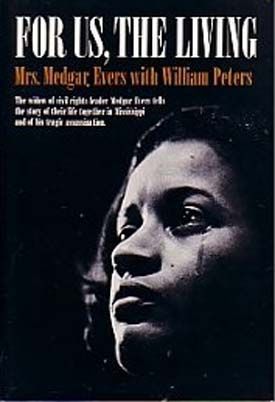 "Somewhere in Mississippi lives the man who murdered my husband." Myrlie Evers said this in 1967 when her brave book was first published. In 1994, at long last after three controversial trials, justice was served when the killer was convicted and given a life sentence.

At thirty-seven Medgar Evers, field secretary for the Mississippi NAACP, died in a horrifying act of political violence. Outside his home, in the summer of 1963, he was gunned down by a midnight assassin. This memoir by an extraordinary woman tells a moving story of her courtship and marriage and of her husband's unrelenting devotion to the quest of achieving civil rights for thousands of black Mississippians.

Readers of Myrlie Evers's story will note an aching piece of irony. Her husband's tragic martyrdom quickened the pace of justice for black people while withholding it from him for thirty years.
Tomorrow she will take the national stage for a brief moment in time to deliver an invocation to the nation. There is much we can learn from her beyond those brief words, whatever they may be.
She has mentioned a spiritual that is one of her favorites.

If I can help somebody, as I pass along,

If I can cheer somebody, with a word or song,

If I can show somebody, how they're traveling wrong,

Then my living shall not be in vain.
Lyrics by Alma B Androzzo

Truly, her life has not been in vain.
cross posted from Daily Kos