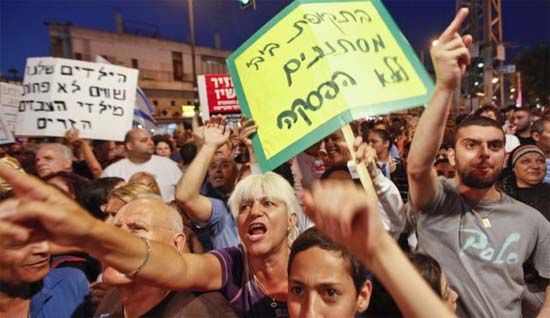 I rarely write anything about Israel. Nor do I get involved in I/P debates. That does not mean I have no interest in that part of the world-I simply spend most of my international focus elsewhere. But for many years I have followed the fate of Ethiopian Jews in Israel. So when I stumbled across a mention of Eritreans in Israel in a stray headline, I was curious, and followed up. One link led to another-almost all of them either in The Jerusalem Post, Haaretz, British or Canadian papers:
Racist Riots in Tel Aviv Show A New Level of Intolerance in Israel
Israelis attack African migrants during protest against refugees
Tel Aviv mobs attack black migrants
I found this photo slide show
http://www.flickr.com/photos/a…
There were some strong op-ed pieces decrying the violence.
Wednesday night saw the culmination of weeks of national and local incitement against the African refugee/asylum-seeker population in Israel. Hundreds of local residents and settlers from the West Bank settlements rampaged through south Tel Aviv neighborhoods attacking Africans and smashing African businesses.

A Congolese activist was thrown to the ground and beaten after leaving her house to try and talk to demonstrators. The woman, a well-known activist back home in the Congo, who had held talks before she had to flee the country with Nelson Mandela, said she "felt lucky to have escaped with her life" after being set upon by a crowd of dozens. Earlier in the evening at the start of the demonstration MK Miri Regev (Likud) said "the Sudanese were a cancer in our body." And MK Danny Danon (Likud), head of the "Deportation Now" movement, called for the immediate removal of all Africans from Israel. This is the latest in a long line of incitement by our elected officials, including Interior Minister Eli Yishai, MK Michael Ben- Ari (Habayit Hayehudi) and extreme settler leaders including Baruch Marzel. Human Rights groups have begun working on whether there is a case for incitement against them.

Approximately 60,000 asylum seekers have entered Israel since 2005. 80 percent of the asylum seekers are from Eritrea and 5-10% come from across Sudan. Since 2005, less than 20 have received refugee status. Huge pressure has been placed on poor neighborhoods in south Tel Aviv and peripheral cities in the South of the country, where the communities are religious, conservative and very wary of a large foreign community suddenly living alongside them.

I found some video on youtube, but almost no mention in U.S. headlines.



African immigrants drive a car whose windows were shattered by Israeli protesters taking part in a rally against the government's handling of the flow of African migrants into Israel, in Tel Aviv on May 23, 2012
I am aware that in many countries around the world there is unrest, push-back against immigrants (with or without papers) which carries with it racist or ethnocentric baggage. No one in the US can ignore our own boondoggle and increasing right-wing attacks on brown people here-documented, undocumented or simply U.S. citizens who happen to speak Spanish. But that does not mean I can ignore what is happening in Israel, nor should I. My parents spent many years contributing to planting trees there when I was a child.
And so I read with dismay the words of frightened people there.
'Why did they smash our businesses? We're scared.'
I was heartened to find Israeli's speaking out against this.

Incitement in Tel Aviv 'should disturb every Jew'


senior policeman Moshe Mizrahi warns against inciting hatred at anti-Immigrant Tel Aviv rally.

During the event, Likud MK Danny Danon, chairman of the "Deportation Now" movement, called the migrants "a national plague" and said that "we must deport them immediately before it's too late." He added that "the State of Israel is engaged in a war against an enemy state composed of infiltrators." Fellow Likud MK Miri Regev described the illegal migrants as a "cancer." "This is really disturbing to any Zionist and Jew," said Mizrahi. "It is populism of the lowest kind. They are exploiting the real distress of residents. And I say this without [trying to minimize] the urgency of finding a solution to the migrant problem, which is severe." He added that "these same Knesset members belong to the helpless government that abandoned the residents of south Tel Aviv. Now they are fueling the flames instead of focusing on the role they were elected to carry out, finding a tangible solution to the problem."

Attempting to portray migrants as rapists and thieves is also a dangerous distortion of the facts, Mizrahi argued, saying that Sudanese and Eritrean migrants were not mentioned once during a series of violent crimes carried out by Israelis earlier this month.

I wasn't surprised to see that some members of the Knesset (Israeli Parliament) were ranting and spewing hate. Why should I be? We have our own hate-spewers in Congress. There as here, progressives are calling for investigations.

Peace Now Calls for 'Incitement' Probe of Anti-Violence MKs


The leftist Peace Now organization is accusing three MKS of incitement for attending a protest against illegal immigrants in south Tel Aviv.
The U.S. has issued an opinion, but covered in Israel, not here. I found links to U.N. reports as well.
US criticizes Israeli approach to asylum seekers
The report, entitled 2011 Country Reports on Human Rights Practices, stated that though the government has ceased the practice of immediately returning African asylum seekers arriving via Egypt, it "continued to deny many asylum seekers individual refugee status determinations, which impacted their ability to work or receive basic social services, including health care."

Citing United Nations High Commissioner for Refugees (UNHCR) data, the report says that out of 4,603 new asylum applications submitted during 2011, the government rejected 3,692, approved one and 6,412 remained pending. The US also viewed negatively government officials' use of the term "infiltrators" to refer to asylum seekers, as well as officials who directly associated asylum seekers with the rise in crime, disease and terrorism. Interior Minister Eli Yishai was specifically flagged as an instigator.
This was not a first incident. This footage is from last year.
Levinsky Park, December 11, 2011
Then I found this documentary. It is not short.
Racism Report: Africans in Israel
Report for the African Refugee Development Center (ARDC) to the United Nations Committee on the Elimination of Racial Discrimination (CERD) – submitted January 30, 2012
And finally I found one of our own-a blogger who had both video and narrative which was extremely disturbing.
Thoughts on an attack by a Jewish mob
Two days ago, my girlfriend and I were attacked by a mob of proud Jews in south Tel Aviv. Still trying to understand why.

I went to a demonstration led by MK Michael Ben-Ari two days ago (Tuesday), and was joined by my girlfriend, Galina. Ben-Ari, a Kahanist, was inciting the crowd against the African refugees in a distinctly anti-Semitic manner, peppering his talk with incessant references to excrement and urine. At some point, Galina couldn't take it any longer, and shouted something back. Within minutes we were surrounded by an angry mob of about 20 people, composed mostly of women, who hurled curses at her. Someone pulled out a tear gas canister and waved it at her face.

Racist and sexual slurs filled the air repeatedly. Time and time again, people expressed the wish she would be raped by Sudanese, and asked her if she was bedding them. A boy, between 10 and 11 years old, screamed at her point blank that what she needs is a "nigger's cock." David Sheen videotaped much of it. For my part, I was busy trying to pull her out of there, and pushing away the hands in her way – there were plenty of them. There was also spitting. At a certain stage, when Ben-Ari and his travelling circus went on their way, a cop wended his way to Galina, and whispered to her that the police were pulling away, and she should, too.
He is no outsider. His bio is interesting.


I am Yossi Gurvitz, a 40-year old journalist, blogger and photographer.

I write for several Israeli publications, including the influential financial daily Calcalist and the Nana portal. In the past, I've been deputy editor of Nana News, and with Itamar Shaaltiel edited its 2006 Knesset elections section.

I was raised as an Orthodox Jew, graduated from a Yeshiva (Nehalim), but saw the light and turned atheist at about the age of 17. After the mandatory three years in the military, much more strictly enforced in 1988 than now, I studied history and classics, earning a BA degree, and studying three additional years towards an MA, but abandoned the project in favor of earning my living as a journalist. [It seemed a good idea at the time.]

I will be reading him. I hope you will too.
Will be interesting to read your comments, thoughts-especially from those of you who are more familiar with this situation than I am.