This is the second part of two posts analyzing Virginia's 2009 gubernatorial election. The previous part can be found here.
When Democrats nominated State Senator Creigh Deeds, they nominated a rural, moderate Democrat designed to win the small towns and rural regions of western Virginia. In an ideal situation, Mr. Deeds would have carved out a coalition similar to former Governor Mark Warner's.
In 2001, Mr. Warner won a 5.13% victory over Attorney General Mark Earley, based largely upon rural support in western Virginia.
Mr. Warner is famous among Democrats for this achievement (remember, this was just two months after 9/11). He went on to become a successful and very popular governor; in 2008, Mr. Warner ran for Senate and won double his opponent's vote. Since Mr. Warner, no other Democratic candidate has ever built a coalition similar to his.
More below.
Below is Virginia's political lean during the 2001 gubernatorial election:
These maps indicate the results of a hypothetically tied election, which is useful to determine the political lean of each county (i.e. whether a certain place voted more Democratic or Republican than the state as a whole). For example, last year Indiana voted for President Barack Obama – but relative to the country as a whole, it leaned Republican.
For comparison, here is the correlating map for Creigh Deeds (if Mr. Deeds had tied Mr. McDonnell), which I mapped in my last post: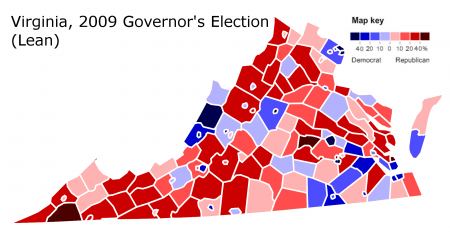 As the maps indicate, Creigh Deeds failed miserably at recreating the rural Warner coalition. Despite being a rural candidate, Mr. Deeds did far worse in rural western Virginia.
Instead, Mr. Deeds appears to have done best in urban Virginia: Northern Virginia, Richmond, and the Norfolk-Virginia Beach metropolitan area. Rather than repeating Mark Warner's coalition, the performance of Creigh Deeds appears far closer to that of President Barack Obama's: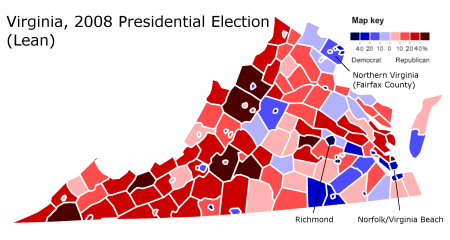 Mr. Obama won through a urban-suburban alliance, compared to the urban-rural alliance of Mr. Warner.
Here is Mr. Obama's performance without the lean: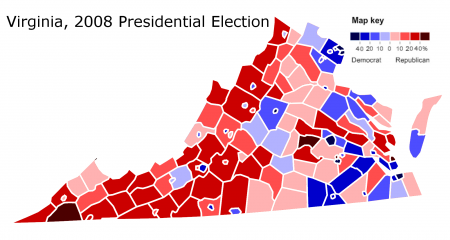 To be fair, I would prefer the Obama coalition to the Warner coalition: suburban strength is more lasting than votes built upon dying small towns.
Nevertheless, it is discomfiting to note the extent to which a candidate like Creigh Deeds – a rural, moderate Democrat who distanced himself from Mr. Obama – replicated the president's performance. For better or for worse, it seems, Democratic candidates will from now on be attached hip-to-hip with Mr. Obama.
(Note: All statistics are derived from http://www.uselectionatlas.org/ ).
–Inoljt, http://mypolitikal.com/