This is the last part of a series of posts analyzing the swing state Pennsylvania. The previous parts can be found here.
Conclusions
For many decades, Pennsylvania constituted model of Democratic strength based upon working-class votes. Today that is changing, especially in the southwest. For the moment, nevertheless, the swing state Pennsylvania remains Democratic-leaning. This is more because of an unusually strong Democratic machine than any natural liberalism in Pennsylvania.
In 2008 Democrats won Pennsylvania by double-digits, amassing a coalition based upon poor blacks in Philadelphia and Pittsburgh, rich whites in the Philadelphia suburbs, and working-class votes outside Appalachia. It is a strange-looking combination, but it works.
More below.
Republicans built their strength upon small towns and exurban communities in "the T," along with working-class votes in the southwest.
For decades, Republicans have been strengthening in western Pennsylvania, while weakening in eastern Pennsylvania. This map indicates these changes.
Although it doesn't look like it, the 2008 Democratic candidate (who won by 10.32%) actually did better than the 1992 candidate (who won by 9.02%).
From all this, the best news for Democrats would be the blue shift Philadelphia's suburbs have undergone. Republicans will take heart in the Appalachan southwest's even stronger movement right.
I have previously opined that these changes benefit Democrats on the whole. Indeed, this whole series of posts has inclined toward a theory of continuing Democratic strength in Pennsylvania. I will conclude this chain of posts, therefore, with a map Republicans will like – the 2008 Pennsylvania results by municipality. This illustrates how President George W. Bush almost won Pennsylvania in 2004.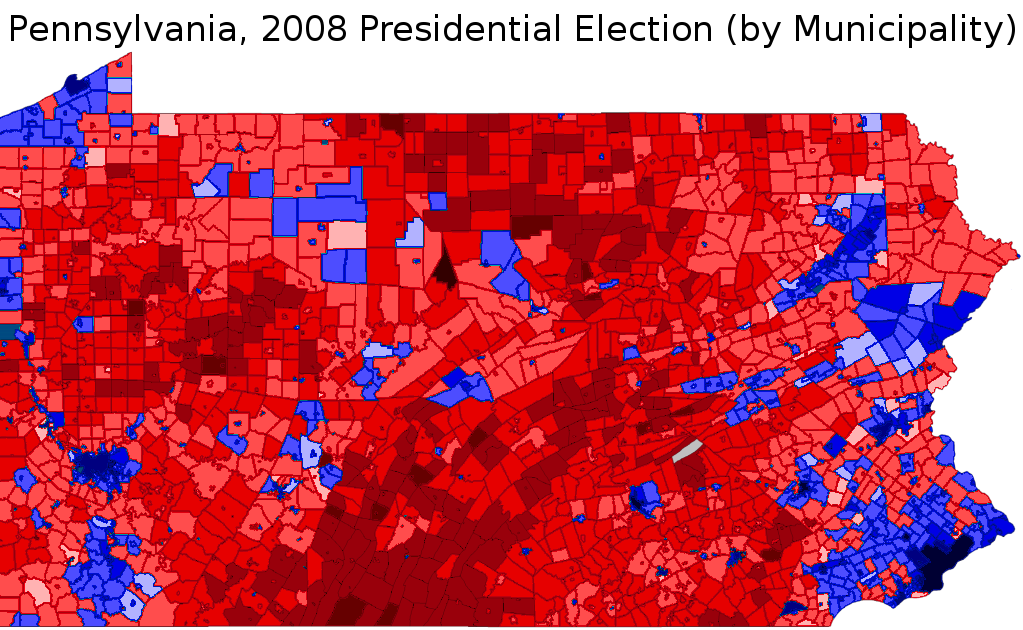 –Inoljt, http://mypolitikal.com/