The scramble to fill Indiana Senator Evan Buh-Bayh's (D – INO) still cheek-warm seat in the nation's most vaunted deliberative body has taken a turn toward the campy, the Mellen-campy.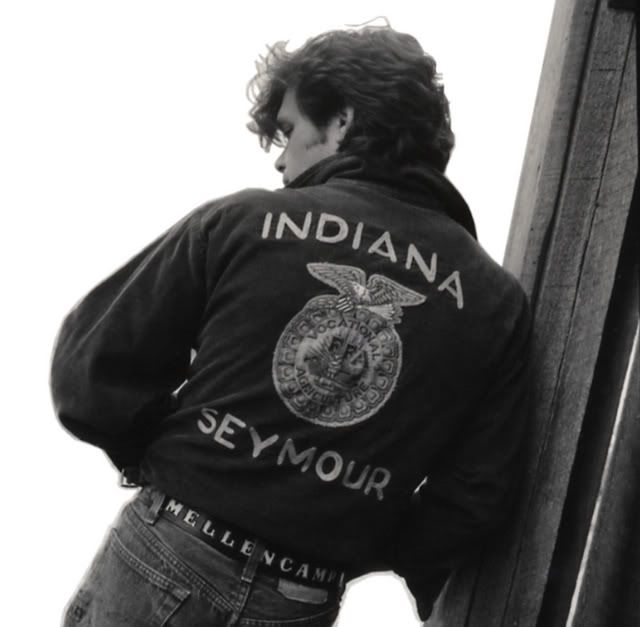 There's a fast-moving, fast-growing movement to draft Rock And Roll Hall of Fame member John Mellencamp to play a full-time gig in the United States Senate.
John Mellencamp would certainly present a fresh political face, but in the Hoosier state he's not just some dude suckin' on a chili dog outside the Tastee Freeze — he's the epitome of Local Boy Makes Good:
John Mellencamp, previously known by the stage names Johnny Cougar, John Cougar, and John Cougar Mellencamp, (born October 7, 1951) is an American rock singer-songwriter, musician, painter and occasional actor known for his rootsy, organic brand of heartland rock that is infused with catchy pop hooks and evocative, introspective lyrics about such hot-button subjects as politics, racism, poverty and mortality. Mellencamp has brought together rock, folk, country, blues and R&B into his eclectic body of work.

He has sold over 40 million albums worldwide and has amassed 22 Top 40 hits in the United States. In addition, he holds the record for the most tracks by a solo artist to hit number-one on the Hot Mainstream Rock Tracks chart, with seven, and he has been nominated for 13 Grammy Awards, winning one.

Mellencamp is also one of the founding members of Farm Aid, an organization that began in 1985 with a star-studded concert in Champaign, Illinois to raise awareness about the loss of family farms and to raise funds to keep farm families on their land. The Farm Aid concerts have remained an annual event over the past 25 years, and as of 2010 the organization has raised over $36 million to promote a strong and resilient family farm system of agriculture.
It's been awhile since Johnny Cougar last changed his moniker, so Mellencamp would appear to have a considerable edge when it comes to name recognition. Disclosure: In High School, my group of friends dubbed him John Melon-Cougar-Balls. Sure, we made fun of the name game, but it's fairly clear that the evolution of Mellencamp's name is evidence of a man who is proud of who he is, and where he comes from.
Name recognition aside, John Nichols over at The Nation thinks Mellencamp has other bonafides working in his favor as well:
Forget the blah-blah-blah about celebrities in politics. We crossed that bridge decades ago.

The question is whether this celebrity makes the right connections with this state.

Mellencamp certainly has the home-state credibility. Few rockers have been so closely associated with a state as Mellencamp with Indiana.

Mellencamp has a history of issue-oriented political engagement that is the rival of any of the Democratic politicians who are being considered as possible Bayh replacements.

And Mellencamp has something else. He has a record of standing up for disenfranchised and disenchanted working-class families in places like his hometown of Seymour, Indiana.

In other words, he's worthy of the consideration that has led to talk of a "Draft John Mellencamp" movement. In fact, he might be just enough of an outlier to energize base votes and to make independent voters look again at the Democratic column.

Mellencamp's not making any campaign moves.

He's a savvy player who has been around power politics for a long time — he counts Bill Clinton as a pal — and he's smart enough (and humble enough) to know that the leap from rock star to senate candidate is a long one.

But John Hall, the songwriter and leader of the band Orleans, is now a two-term Democratic congressman from New York.

And the Republicans have run more than a few actors for jobs like senator, governor and even president.

Notably, President Ronald Reagan's 1984 reelection campaign wanted to use the song "Pink Houses" at campaign events. And John McCain's 2008 presidential campaign did indeed use it, even as Mellencamp explained that the Arizona senator might not fully "get" the point of the song about working families living on the backroads of America.

So Mellencamp has already crossed some partisan and ideological lines.

That's more than can be said for most Senate prospects — be they Democrats or Republicans.
How serious is this? Probably not very, but it's enough to have garnered a Bush Doctrine-esque pre-emptive stike from the poo-flinging buffoons over at FOX and Friends:
Wednesday morning, Fox News' Steve Doocy wanted his audience to know that Mellencamp "certainly is liberal."

"Really very liberal, according to one report I read this morning he has come out publicly: 'Hillary Clinton, Barack Obama not liberal enough for me, I want more,'" Doocy continued.

In April of 2008, after Mellencamp agreed to perform at campaign events for Clinton and Obama, his publicist, Bob Merlis, said, "Neither candidate is as liberal as he would prefer, but he's happy to contribute what he can."
Whether or not Buh-Bayh's abrupt announcement to forgo reelection was a cheap, bitter haymaker that left Democrats in the lurch, or a well played gambit to keep a drooling Mike Pence (R – Douche) at bay is a matter of some debate amongst the chattering class. Who knows, maybe Pence has other ambitions? In any event, the Draft Mellencamp movement is an interesting one to watch, as its populist undercurrent says a lot about both the anti-incumbency climate and social networking facets of American politics today.
Ain't that America?