I can't put this in to words.
Hispaniola has been rocked by a 7.0 earthquake.
I felt the effects here in D.R. .
Friends in Haiti (facebook because phones are down) are saying it's very very bad.
I copied one of the messages but withheld the name for privacy reasons.
You'll just have to trust me on this one.
there was this crazy earth quake here hospital and hotel are to ground zero. people are screaming covered in white dust. death screams in the streets haiti has been hurt.
I hope the editors add more to this story and use this as an openthread on this catastrophe.
I already volunteered to go.
I'm not sure if I'll be posting updates or not so I don't know where this dairy might be headed.
Pray for Haiti.
[Editor]
JONATHAN M. KATZ – 1:40pm ET Jan. 13, 2009 Officials fear more than 100K dead in quake
President Rene Preval said he believes thousands were killed in Tuesday afternoon's magnitude-7.0 quake, and the scope of the destruction prompted other officials to give even higher estimates. Leading Sen. Youri Latortue told The Associated Press that 500,000 could be dead, although he acknowledged that nobody really knows.
– Haiti earthquake: dozens feared dead as buildings collapse
Recent earthquakes near Haiti
Time Magnitude Location

2 hours ago 5.5 Haiti region Map

2 hours ago 5.9 Haiti region Map

2 hours ago 7.0 Haiti region Map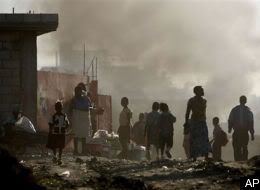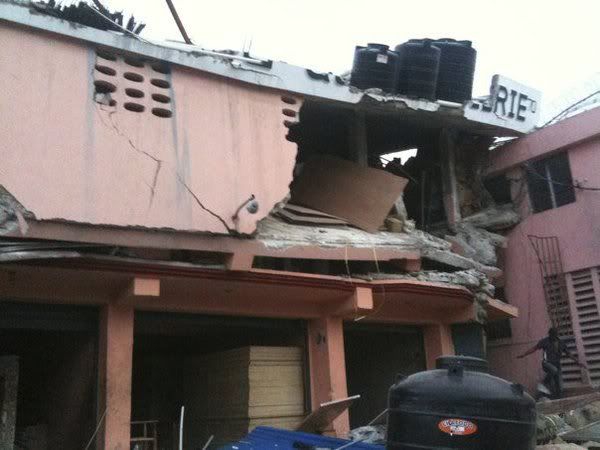 Obama says thoughts are with Haiti, offers aid
WASHINGTON – President Barack Obama said his thoughts and prayers were with the people of Haiti, where a strong earthquake hit on Tuesday, and that the U.S. stood ready to help the island nation.

White House officials said Obama also had asked aides to make sure U.S. personnel at the embassy in Port-au-Prince were safe. There are fewer than 20 U.S. military personnel in Haiti, largely working with the embassy there.

Officials also said Obama told them to start preparing in case humanitarian assistance was needed.

The State Department, the U.S. Agency for International Development and U.S. Southern Command have started to coordinate.

…

Former President Bill Clinton, the U.N. special envoy for Haiti, said his office and the rest of the U.N. system were monitoring the situation. He pledged relief, rebuilding and recovery assistance to Haiti.
Immediately after the first quake – that is the dust of Port-au-Prince.
CNN