Image thanks to Fogiv
I've scored a precious "work from home" day and thought I'd keep my old buddy CNN running in the background as they ramp up to tomorrow. Prominent on my IGoogle frontpage is my faithful "Bush Countdown" counter that I clearly remember installing, with great despair, when it was a thousand something. One day, four hours and 42 minutes when I checked in this morning, the day I had waited over a thousand days for, and CNN doesn't seem to give a damn.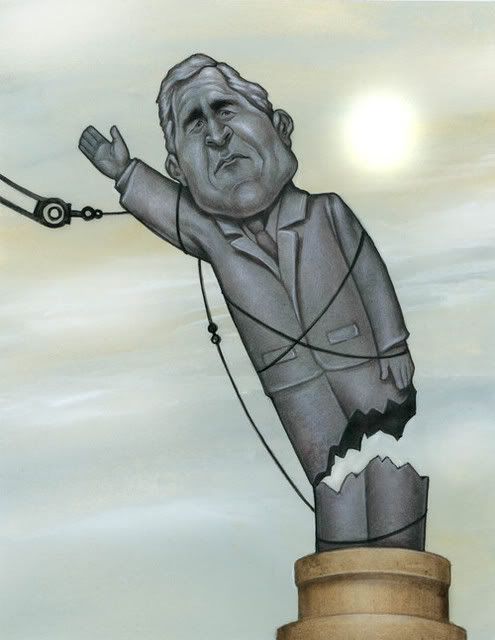 CNN and I have been constant companions even longer than that — I had moved over from the broadcast networks somewhere between 9/11 and "Shock and Awe" — and I had come to depend on CNN to relate to me the "mood of the country". I've noticed over the years how, as public opinion goes, so goes CNN. They slavishly adored GWB and faithfully disseminated White House talking points until the country turned on him post-Katrina. I clearly remember the ass shellacing they gave John Murtha a few months before for daring to publicly question the war.
but ever since Katrina, CNN and I have been pretty much on the same page as far as George W Asshat was concerned. Until this weekend, until today. I can only assume the rest of the country is out of synch with me too — all tightly focused on hope and change and history being made and moving forward. But I'm not ready to move forward just quite yet.
I get the part where tomorrow is perhaps the most significant moment in the life histories of many African Americans because of the skin color of our new president. I think it's historic too, of course, but somehow all that singular focus of today leaves me wanting.
Where, for example, is the scathing bug-eyed retrospective on the horror that is President 22%? How about this, network news — can I just get a 10 minute scroll of everything the Bush Administration screwed up to the nth? You can leave out the minor blunders, the missteps and the global embarrassments, and just stick to tangible damages done.
And where's the focus on the gigantic collective sigh we are all gearing up for, when 78% of us can finally unclench our jaws and rest with both eyes shut. Can we please pull down a statue or knock down a wall or something? Maybe I'm just more invested in the toppling of the Bush Regime because I have to be at the front of the line of people who thought this was a really bad idea the longest. Hell, there are kids close to puberty who were born after I started saying "I told you so."
Myself, I haven't been faithfully watching my Bush Countdown counter because I couldn't wait for the first African American president, or the first president in half a century to inspire youth, or the first president in as long with small children, or the return of a presidency that could be confused for liberal. I'd be knocking back a couple cold ones and wearing a shit-eating grin today if just about anyone was being sworn in tomorrow. (except maybe John McCain)
So, what gives? Where's my pound of flesh, CNN? Where are the survivor stories? Shouldn't part of each hour be devoted to interviews of regular Americans talking about how they somehow managed to make it to today, clinging to hope, daring to dream, counting down the days, hours and minutes until the world's largest elected asshole was off to Texas for good? Shouldn't there be a CNN Twitter page titled "How much I loath W?
Come to think of it, can we now ban the use of a single "W" and assume the worst about anyone who uses it, like we do with swastikas? Can we erase "Crawford, Texas" from all maps to help us forget? How much do I hate George W Bush? I'm trying to wrap my mind around that but words fail me.
I've been planning tomorrow in my head for so many years, constructed perfect January 20, 2009s and then tore them up and started over, and nothing ever seemed to do the day justice. Fireworks? Shaving my head? A three day drunk? I've got nothing here.
So tomorrow I'll be going into work. I've been promised we'll take time out to watch the swearing in and perhaps an hour or so before and after. Thankfully I'll be surrounded by folks who hate the chimp as much or more than me. It won't be enough, but then, nothing could be. Nothing legal anyway.
Anyone out there remember back to when it was still fun to just make fun of him?
I'm rambling. I'm incoherent. It's over.
Waiting for the Red Cross to show up with a blanket and a cup of something warm.