Here he is. Our Dear Leader. The Messiah. Time Person of the Year. And the coolest person in the history of humanity. I mean, when was the last time we had a president who sent text messages!?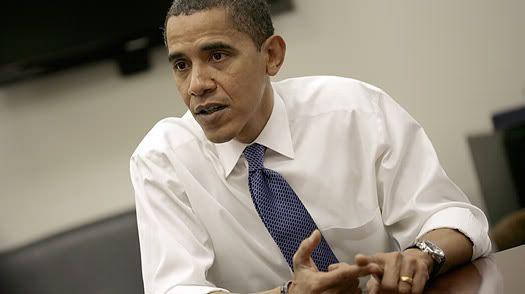 For some reason, this sounds familiar.
Obama wants to reach out to evangelicals.
Obama invites a high-profile homophobic preacher to a major event.
Sound familiar? It should. Because it happened in 2007. Obama invited ex-gay minister Donnie McClurkin to participate in his Gospel Concert Tour in South Carolina. After an uproar among LGBT Democrats and other liberals, Obama threw the gay community a bone, adding gay youth minister Andy Sidden to the tour. Apparently, having both a homosexual and a homophobe made him a big tent Democrat. No pander here at all.
I took the McClurkin episode as a misstep by political rookie and I've never held it against him. Politicians aren't perfect. But Obama's decision to invite right-wing evangelical minister Rev. Rick Warren to give the invocation at the inauguration suggests that I was wrong.
During the primaries, I repeatedly said creating a new governing majority-as Obama insisted he would do-would exclude those on the margins. I also said that given how die-hard MoveOn.org liberals, centrist Democrats, and Republicans (Obamacans) were flocking to Obama, at some point he would start making governing decisions that would leave somebody out. I also said that Obama is a mere mortal. I should not be-and frankly am not-surprised by his decision. While I'm relieved that Obama is turning out to be more of a pragmatist than an ideologue, I'm not happy about his actions.
Why is this such a big deal? Two reasons. First, if you haven't spent much time on the blogosphere since the election, you might not realize that anti-gay initiatives in Arizona, Arkansas, California, and Florida, supported disproportionately by black voters, opened up a big rift between LGBT activists and African-American activists on the left.
One of the tactics employed by the anti-marriage equality campaign in California was the use of Obama's words in robo calls, implying that he supported Proposition 8. In reality, he came out in opposition to that and other anti-gay initiatives, but that didn't stop the anti-gay lobby from using his name to peddle their hate. Among those on the right who distorted Obama's views on Proposition 8 was none other than the beloved Rick Warren.
Given the electoral defeats dealt the LGBT community on Election Day and the strife that followed, this is not the time for President-Elect Obama to be sending mixed messages.
Second, by embracing Rick Warren, Barack Obama is passing on an opportunity to showcase the Christian left. In elevating Rev. Warren-and make no mistake, this is the biggest platform of Rev. Warren's career-he is, in effect, saying that the evangelical right is better at Christianity than the Christian left. Kyle at Right Wing Watch put it best:
Presumably, the purpose of Obama's evangelical outreach was to try and make evangelicals comfortable with progressive Democratic positions by demonstrating that such views can be rooted in faith, not attempting to make evangelicals comfortable with the party by abandoning those positions for the sake of appeasing a key part of the electorate.

Yet, by tapping Warren for this high-profile role in his inauguration, this is exactly what Obama is threatening to do. After all, Warren has made it explicitly clear that, for all his work on poverty and HIV, it is the social issues like choice and marriage that are non-negotiable and define his worldview, proclaiming that it is "wishful thinking" on the part of Democrats if they think that evangelicals "are going to drop the other issues … they're not leaving [their] pro-life" or anti-gay views behind them.
So why did Obama do this? Because he could. There are no consequences for offending LGBT Democrats. We have no other place we can go. Barack Obama had to have known that he would take some heat for the decision. With this single move, he gets to a) show that he is "inclusive" and b) show that he will not be controlled by the gay lobby.
Once again, the gay and lesbian community is reminded that we should be grateful for being tolerated and that we should not expect any politicians, even the Democrats we support with money and votes, to take "risky" position on our behalf. We have to accept that sexual prejudice is still legitimate in our culture and our elected officials should not be expected to do anything to fight it.
Obama, as it turns out, is just another typical Washington politician. Surprised? No. Disappointed? Yes.