Not a great week for this vagabond Brit to return to the progressive online community. After three months living out of suitcases, I return to find that everything has fallen apart since I've been away.
1. War escalates in Afghanistan.

2. The Senate pass a heavily watered down health care reform bill.

3. Obama has to confront the reality that the Copenhagen talks on climate change and man made emissions are heading nowhere.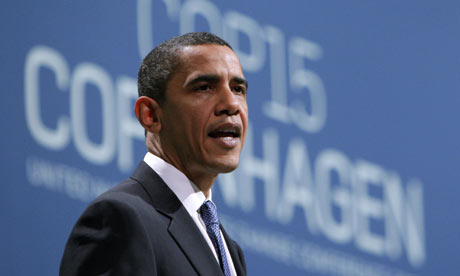 Jeesh. I'll be careful next time I move. There's lots to be said about all these things, and having experienced this meme in the British media, I'm sure you're all getting in the neck too. The line goes like this (I've seen it in the Guardian Blog today)…
waaa…waaaa waaaa… poor Obama he can't be expected to save the world…..WHAT??? time out you liberal tards, 12 months ago he was the second coming, now he is only human? You IDIOTS put him on a pedestal now you see him for the what he is, the Wizard behind the curtain….fools.
But actually there's little to be said about this. The argument starts from a false premise (Obama's supporters were all quasi mystical maniacs) and then starts trampling on the battered remnants of its own straw man. I, for one, always supported Obama because of his clear eyed realism: something apparent in both his attitudes to setbacks in healthcare reform and reducing human carbon emissions. Disappointed, yes. Defeated – hell no!
Time will tell. As a long time supporter of progressive causes, this hardly strikes me as the darkest hour, whatever Chicken Little says.
But talking of furry creatures, the news that most shocked during my peregrinations is that a Moose (we call them Elks) has been responsible for murder.

A Swedish man who was arrested on suspicion of murdering his wife has been cleared, after police decided she was probably killed by an elk. Ingemar Westlund, aged 68, found the dead body of his wife Agneta, 63, by a lake close to the village of Loftahammer in September 2008. He was immediately arrested and held in police custody for 10 days.

Now the case has been dropped after forensic analysis found elk hair and saliva on his wife's clothes.

Mr Westlund told Expressen newspaper: "My family and I have been dragged through a nightmare." His wife had last been seen taking the family dog out for a walk in the forest. When she failed to return her husband went out to look for her. Although the murder investigation was dropped five months ago, details have only just emerged and the police plan to hold a news conference next week to explain what happened.

The European elk, or moose, is usually considered to be shy and will normally run away from humans. But Swedish Radio International says the animals can become aggressive after eating fermented fallen apples in gardens.
So not only can Mooses be homicidal, they can also – rather like elephants – develop a habit for psychoactive chemicals in fermented apples.
Whatever next?
In a week when progressive politics has suffered several setbacks, it doesn't help to know our peaceable mascot can get murderously drunk.
Maybe Chicken Little was right…