Written by an American Expat who holds an M.B.A. degree living in the E.U.

My email address is: democratsramshield@yahoo(dot)com

Surely the death of the American working class dream is not news to the American 1 percent elites. The truth be known simply put they like it that way, as they surely are the architects of the GOP led class warfare against the American working class.

(The Statue of Liberty in the photo below is located in Paris, France and is believed to have become emblematic as the American dream now resides in Europe instead of America).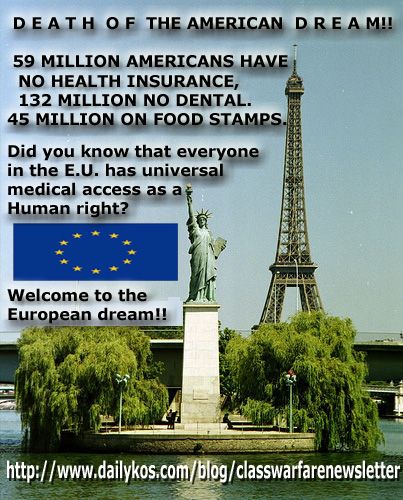 Le Monde quote: "From Near And Far, Bidding Farewell To The American Dream

By Claire Gatinois


LE MONDE/Worldcrunch

No matter what the frame of reference of the person examining it, its bottom line is unambiguous: the United States – not supposedly fusty Europe — rates lowest in terms of this relationship in the distribution of riches and social mobility. Yes, Paris Hilton's America ranks way below the Scandinavian countries, but also below France, New Zealand, Japan, the United Kingdom, and others."

———————