Many of you remember the true story of Exodus, turned into a compelling piece of fiction by Leon Uris, and great film by Otto Preminger. If any single story helped to solidify a positive pioneer image of Israel in the American mind, it was probably this.
The ship sailed with 4,515 passengers (mainly Holocaust survivors – PJ) from the port of miggets Sète, France, a fishing town near Montpellier on July 11, 1947, and arrived at Palestine shores on July 18. The British Royal Navy cruiser Ajax and a convoy of destroyers trailed the ship from very early in its voyage, and finally boarded it some 20 nautical miles (40 km) from shore. The boarding was challenged by the passengers (the ship was in international waters where the Royal Navy had no jurisdiction), and so the British soldiers used force. Three shipmates, including 1st mate William Bernstein, a U.S. sailor from San Francisco, died as a result of bludgeoning and several dozen others were injured before the ship was taken over
This morning, in a chilling echo from history, Israeli forces boarded a flotilla (again in international waters) and killed at least ten people from a largely Turkish and Scandinavian aid convoy planning to break the blockade of Gaza.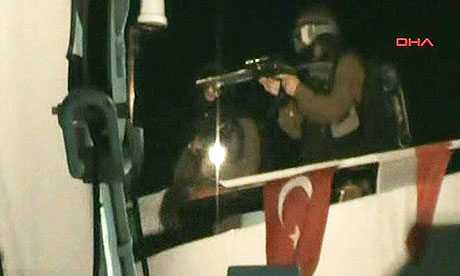 Various dignitaries (including a holocaust survivor, a member of the European parliament, and the Swedish thriller writer Henning Mankell) were on board. Turkey, the main source of the aid, is – in case anyone doesn't know this – one of Israel's staunchest allies in the region.
For my own part, the only thing I can say for certain is that the timing is not coincidental. Just as the recent Gaza incursion took place in the interregnum before Obama's inauguration, I am not surprised this attack has taken place on Memorial Day.
Despite the pathetic attempts by some to make this "All Obama's Fault", the forthcoming meeting with Netanyahu next week has been cancelled.
Personal take: whatever the ins and outs of the violence on board these ships, this is a dark day for anyone who believes in peace. Bibi seems intent on derailing any possible talks, and this bodes badly for anyone who is a long term friend of either Israel or Palestine.
UPDATE: thanks to CG for providing some balance and videos of the assault. It's quite clear from this that the commandoes did not expect resistance, and the large number of casualties were a response to unplanned for events. I don't think the shooting were a calculated act.
However, I don't think (and don't think CG is arguing) that the unarmed resistance of the boat occupants does anything to excuse the Israeli over-reaction. As Andrew Sullivan puts it:
A simple point. The violence by the activists is pretty abhorrent. These are not followers of Gandhi or MLK Jr. But the violence is not fatal to anyone and it is in response to a dawn commando raid by armed soldiers. They are engaging in self-defense. More to the point: theya r civilians confronting one of the best militaries in the world. They killed no soldiers; their weapons were improvised; the death toll in the fight is now deemed to be up to 19 – all civilians.

It staggers me to read defenses of what the Israelis have done. They attacked a civilian flotilla in international waters breaking no law. When they met fierce if asymmetric resistance, they opened fire. And we are now being asked to regard the Israelis as the victims.

Seriously.