This is the second part of a series on Communism in Western Europe; this section focuses on France in particular. The last part can be found here.





In France, the Communist Party was founded in 1920 by revolting members of its socialist party, then called the French Section of the Workers' International (Section Française de l'Internationale Ouvrière, SFIO). Their new party initially did fairly poorly, only one of the numerous parties out there. In 1928, for instance, the Communists (PCF) won 11.26% of the vote.
Nevertheless, by 1936 – the depths of the Great Depression – the Communists (PCF) were making gains. Then came WWII – the best thing that ever happened to the PCF. Out of all the parties in occupied France, the Communists fought the Nazis hardest and suffered the most for it. They earned the nickname le parti des 75 000 fusillés – the party of the 75,000 executed people – and immense popularity.
Continued below the fold.
Following the war, the PCF joined the new government led by Charles de Gaulle. Unfortunately for it, however, the U.S. government demanded a Communist-free government as a precondition for accepting the Marshall Plan. The French Communist Party was summarily booted out.
This did not prevent the PCF from channeling its wartime record into electoral success; from November 1946 to 1956, the Communists won a greater share of the popular vote than any other party. Their base lay amongst France's working class, which remained a loyal and reliable constituency, and they constituted the dominant force on the French left.




This state of affairs could not last forever, however. After 1956, the French Communists entered a slow decline. With the slow, gradual destruction of the Soviet Union's credibility in the West, the PCF – tightly linked to the USSR – reached a ceiling of support. Many French voters simply would never vote communist.
Then, in 1969, the Socialist Party (Parti socialiste, PS) was founded, sounding the death knell of the Communists. Led by François Mitterrand, the socialists quickly took over the mantle as the leader of the left. Communist voters abandoned the PCF in droves, seeking a party that could actually win a majority of the popular vote – which the Communists could not. Thus, by 1988, the PCF won a mere 3.43% of the popular vote in run-off legislative elections.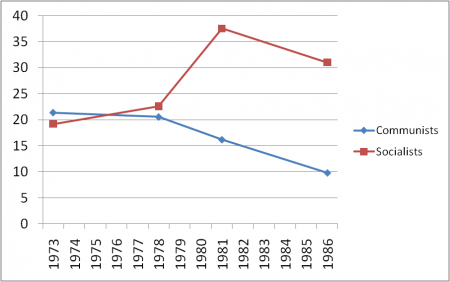 Interestingly, it was not the fall of the Soviet Union that ended the Communist Party in France, but the emergence of an acceptable alternative to the PCF. That was not the case with Italy.
–Inoljt, http://mypolitikal.com/