Ahhhh, nothing says "respect for women" quite as loudly as a photo like this, huh?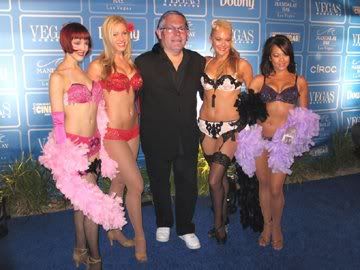 Oh, that's not really what this diary's about, but it caught your attention, didn't it?
Some of you may remember Republican Congressman Pete Sessions (TX-32), pictured above, from past controversies, like sorta-kinda-maybe suggesting that his own party should become like the Taliban, his ties to Jack Abramoff, and his undoubtedly deeply family-oriented decisions to hold multiple fundraisers at Las Vegas nightclubs. But now it seems he's mouthed off in a way that is proving beneficial to his Democratic challenger in 2010 by letting slip — in language very easy to understand — what Democrats have long known, but which I truly think the GOP believes to be one of its best kept secrets.
And that "secret" is that Republicans just plain straight up outright don't have a whole lot of regard for us wimminfolk. That should be apparent to everyone in a variety of ways on a plethora of issues, from Republicans opposing equal pay for women, to voting for gang rape, to supporting forced birth policies. But rarely does a Republican politician really come out and say it: Women are, or deserve to be, second class citizens.
Last week Pete Sessions came right out and admitted that he believes we should be treated differently by the insurance companies — we deserve to be charged more than men. Why? Well, hell, why is a smoker charged more?
In the above clip, Sessions is asked outright by New Jersey Democrat Frank Pallone, "Why should a woman pay more than a man?"
The response?
Sessions: We're all different. Why should a smoker pay more than a nonsmoker?
Okay…
Look, personally, I've got nothing against smokers. I used to be one, and I'll admit that I occasionally slip up and indulge in a cigarette (or five) while out with friends. But the fact is, habitual smokers choose (manipulated by the tobacco companies though they may have been) to indulge in a destructive habit that inevitably creates health concerns down the line. No one gets to choose whether to be born a man or a woman. Yes, women use more health services than men, but that does not give insurance companies the right to discriminate based solely on gender — an innate, uncontrollable, inborn "condition." But apparently Sessions feels that being a woman is kind of like a nasty habit that deserves to be punished with higher premiums.
From Raw Story,
"The NRCC and extreme right wing of the Republican Party are totally out of step with women," said Democratic Congressional Campaign Committee spokeswoman Jennifer Crider and former press secretary for House Speaker Nancy Pelosi (D-CA).

"First, the NRCC says that a man ought to put the first woman Speaker of the House 'in her place,'" Crider added. "I don't know what's scarier, whether NRCC Chairman Pete Sessions actually believes women are second class citizens or whether he believes it's political beneficial for the NRCC to say so."
But it's not all bad news — at least not for Sessions' Democratic challenger Grier Raggio, who has seen a bit of a monetary boost in the wake of these remarks.
Sessions' comment has, not surprisingly, touched off backlash from various circles, especially women's groups.

Now his Democratic challenger, attorney Grier Raggio, as well as the Democratic Congressional Campaign Committee, has seized the opportunity to raise money off the comment, blasting out emails to supporters attacking Sessions' comments.

The campaign sent out a plea from Raggio's mother, Louise Raggio, a well-known Texas lawyer who fought for women's rights in the state.

"When I first became a lawyer in the 1950s, Texas women could not buy or sell their own property, could not sign contracts, and could not have control over their own paychecks or open their own bank accounts without their husbands' permission," the email reads.

"We have to send a message to Pete Sessions and his allies in Congress when they try to turn the clocks back on women's rights – we can't let this stand."

As of last night, Raggio had pulled in $25,000, according to a DCCC spokesman.
I know some of you, like me, probably contribute to candidates outside of your districts. If anyone has any extra cash to throw around (which I know is a stretch in this economy), I hope you'll consider visiting Raggio's ActBlue page and showing him some support. You can learn more about him at his website and in this informative post over at The Progressive Electorate. Progressives in Texas think they have a real shot at taking Sessions down this time, and I'm sure a lot of women around the country would love to have one less Republican woman-hater in the House.
Oh, and for anyone looking for more reasons to oust Sessions, check out Sessions Watch!