Being Sarah Palin becomes a more and more awkward thing to imagine as the reality of her situation becomes more painfully evident. Even before she meanderingly announced that she was tired of being a United States Governor and then started threatening press and bloggers with legal action (oh, we'll get to that…) she was having a bad week.
Mudflats lays it out for us: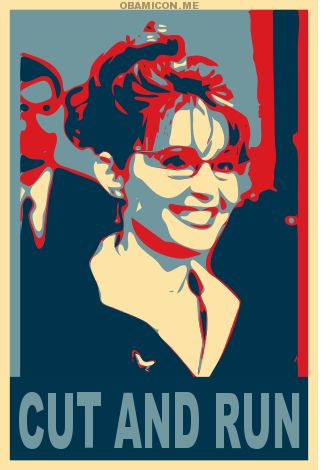 a CBS piece detailing several leaked emails in which she asked the McCain campaign to lie about Todd Palin's 7-year membership in a secessionist party. McCain strategist Steve Schmidt responded to her request saying that Todd was a member, and it was a secessionist party and he wasn't going to create an issue in the media if it didn't exist already, nor would he lie for her.

The statement you are suggesting be released would be inaccurate. The inaccuracy would bring greater media attention to this matter and be a distraction. According to your staff there have been no media inquiries into this and you received no questions about it during your interviews. If you are asked about it you should smile and say many Alaskans who love their country join the party because it speaks to a tradition of political independence. Todd loves his country.

We will not put out a statement and inflame this and create a situation where john has to adress this."
Wow, that's embarrassing. Your former runningmate's lackies having to tell you off for asking them to get the Senator to lie for you about your husband belonging to a radical secessionist group.
So to make it all better – aside from just quitting – we have our legal beagles threaten local and national commentators! Sure, that's bound to work!
Over at HuffPo AKMuckraker has this
Today (Palin Attorney) Van Flein issued a four page letter regarding the reporting of these rumors and it was sent by SarahPAC spokeswoman Meghan Stapleton to media outlets across the state.

Van Flein's letter threatening legal action specifically pointed the finger at Alaska blogger Shannyn Moore as "most notably" claiming as "fact" that Palin resigned under federal investigation.

Van Flein, asked why he singled out Moore, said it's because she went on national television and talked about it. Moore was on with MSNBC's David Shuster on Friday, the day Palin said she will resign.

"There is a scandal rumor here that there is a criminal investigation into some activities and that's been rumored for about, I don't know, probably six weeks or two months," Moore told him.
Palin's 'legal team' didn't like this spurious reporting of rumors as, um, rumors so you better watch out, Shannyn (and the other folks who put up 37,200 links to "Palin Housegate" on the Internet)!
In solidarity with my friend and fellow Alaskan blogger, may I be the next to report to the team of Palin-Van Flein, and to the entire blogosphere at large:

THERE ARE RUMORS.

There. I said it.

Sue me.
The funny thing about intimidation, soon-to-be-ex-governor Palin, is that it only works until the other person doesn't fold their cards. After that you better have something good in your hand.
OK, I call.
It sure seems to me, too, that there are rumors about whether the Palin's got an illicit advantage when building their house.
Now let's see your cards.