By bizarre coincidence, CG's timely and provocative diary about Holocaust denial and Facebook, has raised issues of free speech which are a hot button issue today in the UK.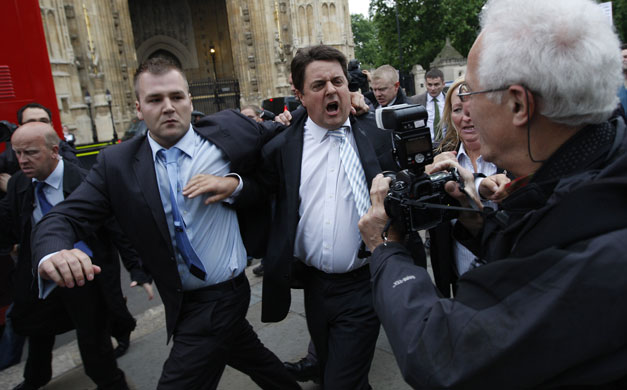 BNP leader Nick Griffin has been pelted with eggs and forced to abandon a press conference outside Parliament.

Dozens of protesters disrupted the event, which follows the British National Party winning its first two seats in the European Parliament.

Chanting anti-Nazi slogans and holding placards they surrounded Mr Griffin as he was bundled into a car.

Mr Griffin was elected for the North West region – a result condemned by parties across the political spectrum.

Mr Griffin and Andrew Brons, who was elected in the Yorkshire and Humber region, staged a press conference on College Green, opposite the Houses of Parliament.

The BNP leader began the event by holding up copies of national newspapers and talking about what he said were media lies about him and his party.
BBC video here. Guardian video here
Just for some background, Griffin is a holocaust denier and believes 'non whites' should be forcibly repatriated, as this video from a decade ago makes clear.
Was Griffin's right to free speech outside the Houses of Parliament (he has been elected to Strasbourg by the way) infringed by the Anti Fascist protesters?
In our discussions about Holocaust denial on Facebook the rights to free speech were ably and eloquently recommended. But though I disapprove of the egg throwing (a common occurence with all politicians here) I would suggest that noisy protest is a form of free speech too.
Free speech cuts both ways – the right to air an opinion, the right to protest against that opinion.
There are some specifics about the BNP's avowed racism, and the history of anti racism in the UK, which might make the nuances different, so you can see the different way this is played out in the UK on a Labourlist diary (where I blog under my real name 'Peter Jukes').
Let's see some free speech about free speech!
UPDATE: [UPDATE] Because of the bizarre way this has played out on DKOS, where I suspect it has become caught up in some covert I/P debate, I ought to stress that the BNPs main target these days are the Pakistani/Kashmiri/Bengali populations in the old mill towns of the North – that's were their votes were gathered.
As equal opportunity bigots the British fascists have moved on from Jews (30s) to Blacks and Irish (40s to 70s) to Asians (80s and 90s) to all Muslims post 9/11. They really represent a smorgasbord of hate, and currently exploit Islamophobia as their main traction to electoral success.