Not the movie. Right now the city of Fargo is in trouble. They have currently exceeded all historic levels of flooding and the Red River has not yet crested. I have been watching the situation all week. Big Ed Schultz clued me in last week when he announced that Fargo could be completely flooded by this week's end.
He may well be right. Currently the dikes are holding, but 150 homes just needed to be evacuated this morning. A dike started leaking, and to protect lives, residents were told to leave. If I was living there now, I am certain that I would be on dike watch. It is an extremely important job. As is sandbagging and laying sandbags and making food for volunteers and…so on.
The crest predictions have been updated (up) several times and Fargo and her residents are struggling to keep ahead of the mighty Red River of the North. My thoughts are with them now; as these next few days will be very exhausting, traumatic and frightening. And quite possibly devastatingly in every possible way.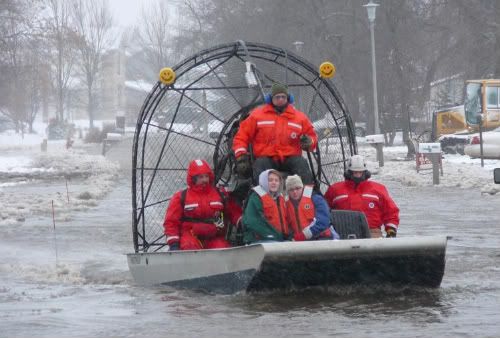 I know. I went through the very same thing twelve years ago in Grand Forks, North Dakota. Our house was very close to the river, but stood on some of the highest ground in the area, at 52 feet. We were one of the few areas that had never flooded since the city was built. Even so, we did purchase flood insurance a couple of months earlier. There was just so much snow that year.
We did know we would need to empty the basement, and we even began to worry about the main level in the days leading up to the levies breaking. We were certain that we still had days before the real trouble would begin and never really imagined that we would need to leave our house. On Friday April 18, 1997, we had planned for friends to come over and empty out the basement. We had gotten a couple of rotisserie chickens, potato salad etc; cause you feed peeps that help you in North Dakota.
At 4:00 am that morning the National Guard pounded on our door, telling us the dike has broken and we were being forcibly evacuated. We did have the Trooper and my Ranger all packed up already, so we loaded up all of our pets and checked into a motel on the edge of town. We spent a night there and were able to get back into our house to retrieve a few precious items. We waded in through streets of knee deep water and took out pictures and anything else we could carry.
By this time we could not be certain that the river would not take our home. In fact, in ways large and small, the flood took almost all of the homes in Grand Forks that spring. The river crested over 54 feet and approximately 90% of the homes received some sort of flooding. Over 50,000 people had to evacuate. The day after we were evacuated from our home, we were evacuated from our motel. Everyone was leaving town.
From there we stayed in Northwood for a few days and nights. It was there we watched the city burn. That was one of the more amazing things I have ever witnessed. The town I had primarily lived in since I was 17 years old, was completely flooded and now it's downtown was on fire. It was inconceivable, and yet I was watching it on WDAZ and CNN.
When it became apparent that we would not be able to return to our home for weeks or more, we went to stay at my ex partner's mothers house. Her mother was in Texas and it seemed perfect. Until the ex mother-in-law suddenly came home. I then decided it would be best to stay with my parents in Colorado. After being away from home for a couple of weeks, I began to head back to North Dakota. I stayed with a friend in Lincoln, Nebraska for a few days, and she followed me back to North Dakota. Kelly helped us a great deal that spring and I will always be grateful for that.
All of this in the days before cell phones (at least for us). Bonnie got home before me and we had to wait and register to get back to our home. As I said, we were very lucky. The flood reached over 54 feet. We had overland flooding in our basement but the house is a couple of feet above the ground so nothing touched the main levels. The water was a few inches below the subfloor, leaving watermarks on the joists. It shifted the house and caused extensive damage to the foundation and house. And we lost everything in the basement. Most homes have basements in Grand Forks and are used as living space. We were no exception.
I hope to finish this later. It is kind of hard to continue right now as I am worn out. I guess this may be a diary in progress…more to come?