(cross posted at kickin it with cg)
For all of us political junkies, a foreign leaders trip to Ottawa is like Diplomacy 101. Given the geography of North America, this is not surprising. Canada and the United States are neighbours living in close quarters along a relatively porous border and share about $1.5 billion worth of trade daily making the two countries the largest trade partners in the world.
Almost a tradition of sorts that a newly elected president comes to Ottawa for their first foreign trip. Ronald Reagan, George H.W. Bush and Bill Clinton made Canada their first stop, but recently wasn't this way. George W. Bush, journeyed south to Mexico for his first venture beyond his country's borders and waited nearly four years before being met in Canada's capital by hordes of angry protesters.
Air Force One landed at the Ottawa airport at approximately 10:24 am in steady snow and was greeted by Governor General Michaelle Jean, heading Obama into a day of meetings on touchy topics with Prime Minister Stephen Harper.
Under a cheering crowd of more than 1,000 people greeted Obama as his motorcade pulled up to Parliament Hill. One person carried a sign that read "Yes we CANada!"
Obama came bearing a pro-trade message to assuage Canadian concerns over protectionism; a promise of a new strategy in Afghanistan as Canada moves to pull out all its troops there by 2011; and talk of clean-energy cooperation as controversy hangs over Canada's oil-rich sands.
Harper and Obama met privately for 33 minutes, a session originally slated to last only 10 minutes. They then moved on to a meeting and working lunch with their staff. After a few hours, Obama said at a Parliament Hill press conference. "I love this country. We could not have a better friend and ally."
Both leaders welcomed efforts to strengthen both countries economies and said the two neighbours would work to strengthen the auto industry."The work that's being done by this government to stimulate the economy on this side of the border is welcomed, I've provided Prime Minister Harper with an assurance that I want to grow trade and not contract it," he said.
"We concur on the need for immediate, concerted action to restore economic growth and to protect workers and families hit hardest by the recession through lowering taxes, ensuring access to credit, and unleashing spending that sustains and stimulates economic activity," Harper said.
The news conference was short on detail, especially since Obama has caused some nervousness in Canada by promising during the presidential campaign to renegotiate NAFTA, the trade agreement linking the U.S., Canada and Mexico.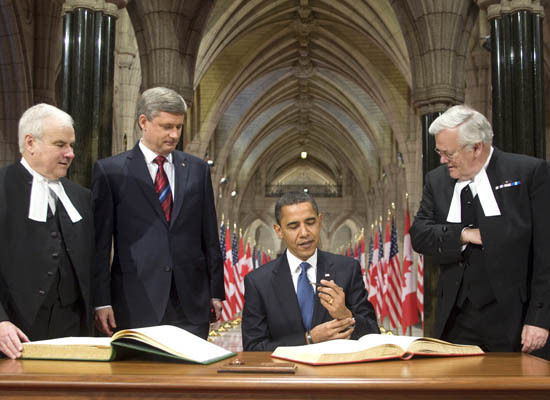 And the "Buy American" provision in the $787 billion US economic recovery plan requires that only U.S.-made iron, steel and manufactured goods be used for public works projects receiving money from the package. However, Obama has acknowledged previously that any purchases must be in line with international trade treaties, such as NAFTA. Harper said NAFTA gives both countries some leeway in domestic buying but both leaders said as economies around the world face challenges, it's important for the US and others to resist calls for protectionism.
Harper had said Obama's presidency is ushering in a new era of North American co-operation against climate change after George W. Bush's inaction held back Canada's ability to tackle greenhouse-gas emissions. In an interview with CNN yesterday, Harper insisted that Canada's climate-change policy has been hamstrung by the inaction of its largest trading partner. "In Canada, we've been wrestling for the last decade or so with our desire to try to have a regime, a regulatory regime, that would diminish our own carbon emissions. But we've been trying to do so in an integrated economy when the United States has not been willing to do so," in an interview to be broadcast in two parts yesterday and today.
The issue has become a hot-button backdrop for the visit, as environmentalists campaign against what they call Alberta's "dirty oil," fearing Harper is seeking to shelter the oil sands from emissions regulation.
Obama closed the press conference by thanking Canadians who helped in his presidential election campaign last year and joking about Ottawa's cold and snowy February weather. "I want to thank some of the Canadians who came over the border to campaign for me during the election. It was much appreciated. And I am looking forward to coming back to Canada as soon as it warms up."
Upon leaving Parliament Hill, Obama made a quick unscheduled stop in Ottawa's Byward Market, near the US Embassy. Obama was served a "beavertail", a treat that consists of a deep-fried flatbread covered with cinnamon and sugar. Obama also bought souvenir snow globes for his two daughters. Asked if he ate the 'beavertail', Obama said, "I ate a little of it. It's very large!"
Jessica Millien, 17, an employee at the Beaver Tail Hut, said she screamed for five minutes with excitement after meeting Obama in person. Asked by security to bring one outside to Obama who was standing across the street with secret service guards around him. "I gave him his tail and shook his hand and had a conversation with him," she said. "I almost fainted. He just asked me about my day and what the tails consisted of. He's a really down-to-earth guy."
Obama did not address Parliament during his six-hour visit, but met with Liberal Leader Michael Ignatieff at the airport before he was set to depart for Washington. All in all it was a productive trip and it would seem that Obama has left his 80% favourability with Canadians intact.