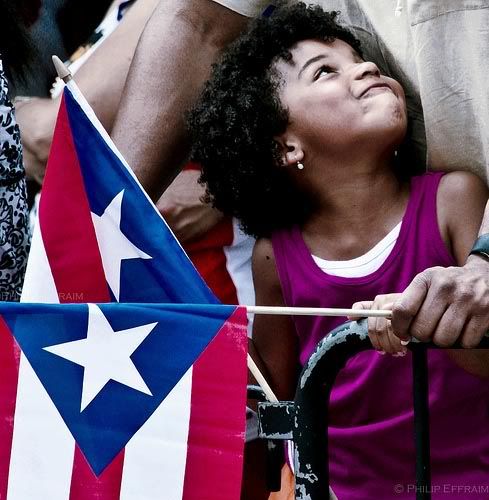 During the primary battles and on through the GE, I realized that there is a lack of understanding among many progressives across the blogosphere about Puerto Ricans; those here on the mainland and those on the island.
Lumped into the demographic category of "Hispanics" or "Latinos", Puerto Ricans here in the States tend to be a solidly Democratic voting block, but contrary to most assumptions that the entire community is clustered in the Northeast (New York, New Jersey, PA, MA, CT) the Puerto Rican diaspora has expanded over the years, and there are now growing communities in other locations. Florida is a case in point – contrary to the belief that the Spanish-speaking community of FL is solidly Cuban-American, Puerto Ricans are becoming a major force there, and helped win the state for Barack.
I would like to call attention to a new project – just launched last week, which will provide insights, news, analysis and information by and about Puerto Ricans.
The name of the site is US-PuertoRicans.org .
The brainchild of Iris Morales, the site is not only a nascent online community, but will be a resource for educators who want to teach Puerto Rican history, and it has been tested with school kids – whose favorite place on the site is Puerto Ricans on the Map. I suggest that it might provide an eye-opener as well for those of you planning targeted political campaigns, or those doing community organizing. Take a look and you may be surprised to find out how many Puerto Ricans there are in your state. I had to smile when I discovered 2,649 Boricuas in Alaska.
Iris Morales, one of my oldest friends and my dear sister-in-struggle has been working on this project for many long months and it has finally come to fruition.
Iris Morales is an educator, activist and media maker with a life-long commitment to the struggle for human rights. She is the producer/writer/director of the documentary Palante, Siempre Palante! broadcast on public television, which continues to be screened at schools and other venues. Ms. Morales works with community groups on social justice issues, is the producer of US-PuertoRicans.org and lives in New York City
I'll add that she is also an attorney, and Executive Director of the Union Square Awards .

The Union Square Awards program was established in 1998 by an anonymous donor to support innovative grassroots organizations responding to New York City's most pressing social issues and making vital contributions through their efforts to the educational, economic and cultural life of the City. The Award is made to small organizations that have not yet received substantial funding or recognition.
Many grassroots groups in the NY area have received both badly needed financial support and recognition due to the efforts of Iris and her staff.
Other featured authors on the site are:
Madalena Gomez, performance artist and activist from MA, Frank Andre Guridy, Professor of History and African-American Studies at the University of Texas at Austin, Rafael Merino Cortes, media arts, Lenina Nadal, multimedia artist, and Jose Santiago News Director, WBAI-FM, Pacifica NY, and last but not least (I hope) yours truly, Denise Oliver-Velez.
Kudos to Iris for making this happen, and I hope many of you will drop in, and pay us many visits in the future.
Pa'lante Siempre Pa'lante
Cross-posted at Daily Kos