I've been watching mornings silently unfold on this lake and over these hills snuggy against the four a.m. chill in my faded yellow, Dale Hollow hoody, perched under the rooftop canopy of a 60 foot houseboat in our favorite cove, tied to the same worn, barkless trees for twelve years. Even as nothing really changes here and as familiar as it always was, like a favorite childhood memory, this view never gets old. The huge expanse of water and trees and open sky is so absolutely still, it takes waking to a few of these silent mornings to be truly comfortable with what quiet really is.
I pine the entire year for those moments, alone;

being a very early riser has it's benefits.

.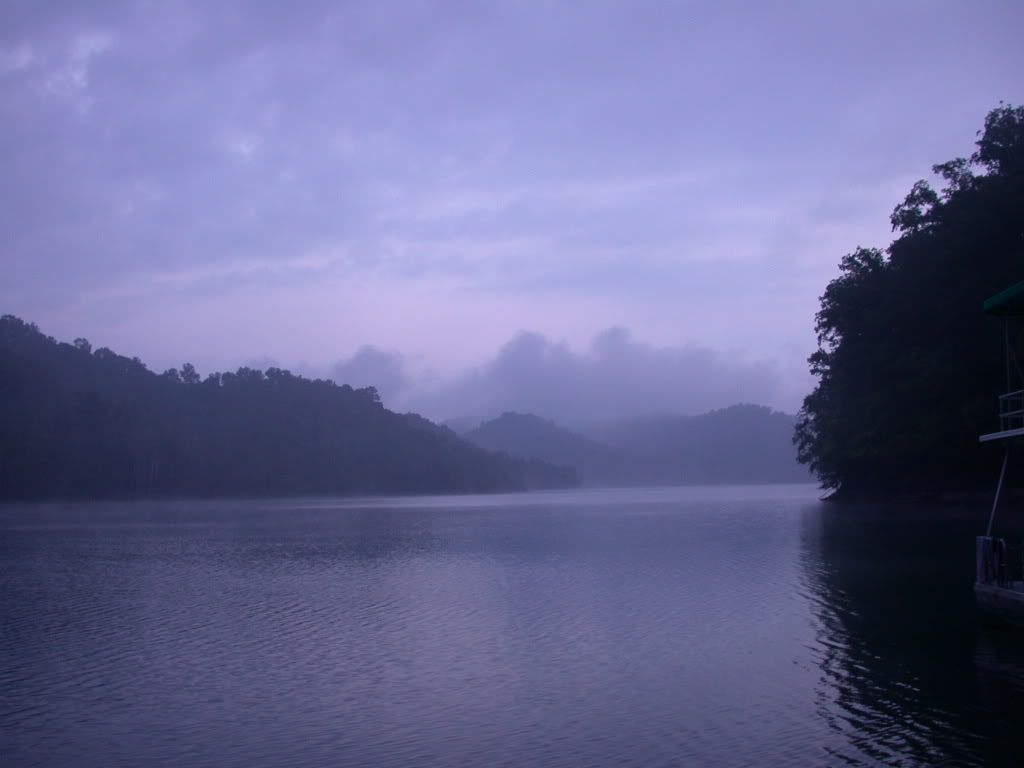 .

The only sound is the occasional sipping of that first and always best tasting morning cup of coffee, brewed in a dented, blue and white speckled enamel, campstyle percolator pot. That old coffee pot has been stared at anxiously for the blup, blup, blup of coffee to bubble up in the little glass dome for decades. Woefully small considering the number of empty cups that need filling when everyone finally wakes up, not surprisingly, not a single one of us would ever suggest buying a new one.
No, we all like things just the way they are….and just the way they've always been.

.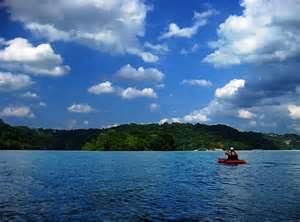 .

Ms. O. (my wife for the uninitiated) has been accompanying her parents, her brother and invited friends on this trip every summer since she can remember and she just turned fifty this year. No, we're not exactly roughing it but there's certainly nothing fancy about the accomodations on these old houseboats that were built sometime in the '70's.
It's…well, let's just call it close knit family style cozy.
Five small bedrooms, a bare bones, corner kitchen, dining table for 8 connected to an open living room, a bathroom with a tiny shower, a small t.v. with a dvd player and all the entertainment, food and drinks you've remembered to pack.

.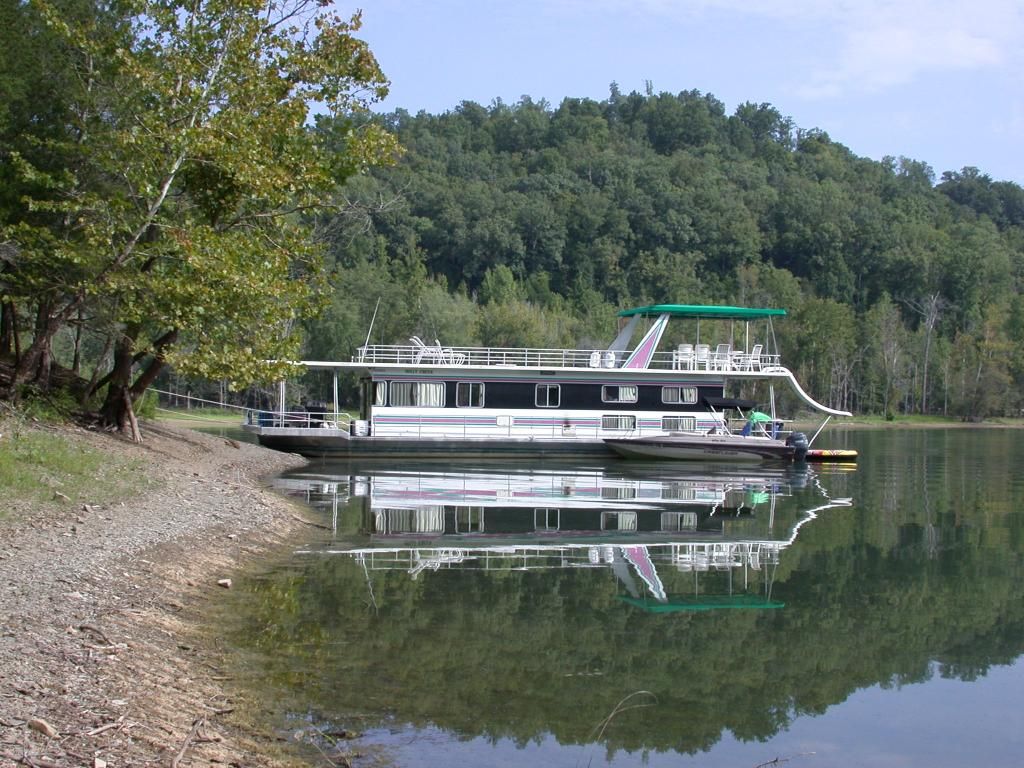 .

Planning is paramount; there are no grocery stores, no towns actually for miles, no cellphone or internet service either, only the C.B. marine radio to the Dale Hollow harbor where we rent the boat, connects us to civilzation.

.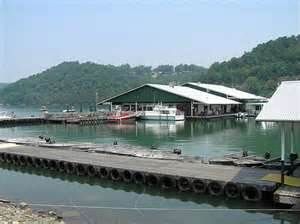 .

We are in one of thousands of inlets and coves of natural, steeply sloped, shoreline that contains 27,000 acres of water, surrounded by 24,000 square miles of mostly untouched, undeveloped land.

.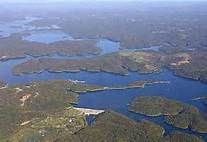 .

from WIKI:Dale Hollow Reservior
Dale, or Lily Dale, no longer exists. The community was one of those flooded to create Dale Hollow Lake, yet its name endures in the choice of the lake's name.

.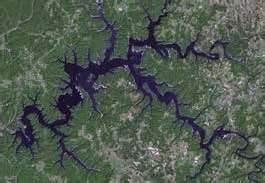 .

Dale Hollow Dam and Lake was authorized by the Flood Control Act of 1938 and the River and Harbor Act of 1946. The project was completed by the United States Army Corps of Engineers in 1943, making the lake the oldest artificial lake in Kentucky.[1] Hydroelectric power generating units were added in 1948, 1949 and 1953. The project was designed by the Corps of Engineers and built under their supervision by private contractors. The hydroelectric generators of Dale Hollow Dam are used to supply power to the surrounding countryside. The dam, powerplant and reservoir are currently operated by the Nashville District of the Corps.

.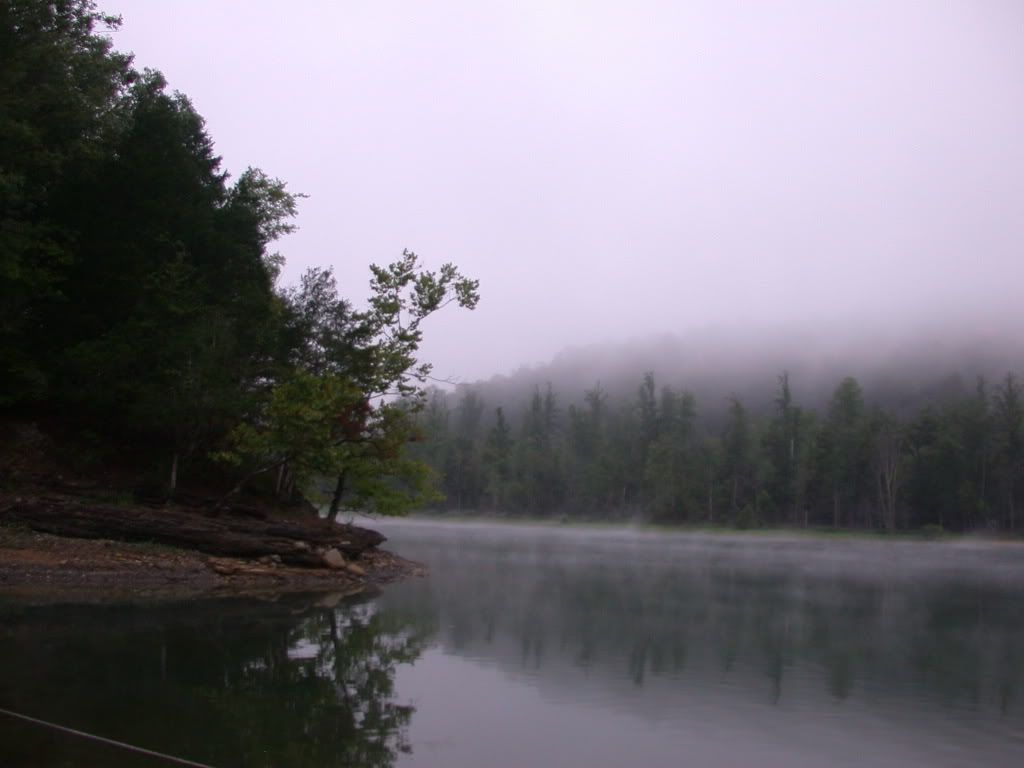 .

This isn't everyone's ideal vacation but I was hooked, lined and sinkered the very first time I was invited. I fit in immediately. It helped that I knew how to waterski because we always rent a small powerboat and a giant rubber tube too. If you're a waterskier like most of us, there isn't a site more beautiful than still water. Water still as 'glass' is why this is the cove we return to, year after year.

.




.

It's a good half hour from one of the many choppy, well traveled thoroughfares that connect the larger lakes, by midday choppy is perfect for a bumpy tube ride.

.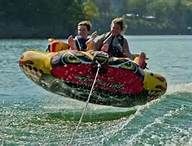 .

We explore, we hike, we spot wildlife, we float around, we read and write, play games, sing songs and play guitar, sunbathe and at sundown everyone joins in to cook dinner then watch a movie or two before retiring, usually before midnight.
March is the month I always find myself daydreaming about Holly Creek. I imagine it all again and again on these cruel cold days, feel the warm clean air on my skin, hear the clear water gently slapping the sides of the houseboat, taste the quiet 4am coffee and remember the good natured small talk and giggles with my family. I love knowing these 10 days are already crossed off the work calendar.
It's important having things to look forward to.