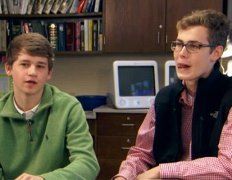 On Sunday, March 1st: easily the best three minutes of my day were spent watching part of CBS Sunday Morning, as we will see after the jump ….
My colleague BeninSC has written two diaries on the theme of being a red state resident, yet fighting-the-good-fight for all that blue state residents aspire to …. and asking for your empathy (if not necessarily your complete understanding). He did so in his own diary first, then graced us with a follow-up the next day. And while he is neither the first (nor will he be the last) to do so …… he did so in his usual, engaging style.
With that background, I have two young men for you to consider as examples of what red state residents could be … if given half-a-chance. And hold-on-to-your-hats: if I told you they are white prep school basketball players … in Waco, Texas … what odds would you place on their actions reflecting liberal … actually, just human empathy for those who are in dire circumstances, with many of them non-white?
Well, somebody forgot to tell student/athletes Hudson Bradley and Ben Martinson of Vanguard College Prep they weren't supposed to do something like this.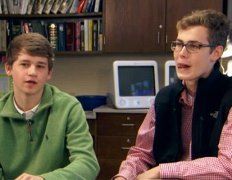 In Gainesville, Texas there is a youth correctional facility for felony offenders, where good behavior is rewarded by a spot on the basketball team. If they're not on the team, students at Gainesville are not permitted to leave the school – i.e., they can't travel to cheer on their classmates. Few parents make the trip, leaving the opposing fan section empty at many Gainesville Tornadoes games.
And for the two young men at Vanguard ….. this didn't sit well. As the video from CBS Sunday Morning shows, they decided to rectify the situation for their opponents. It is altogether possible that this video may be the best three minutes of your day, if you have not yet seen it.
I have no doubt the Gainesville players are correct that many, many years later they will remember this game … and hopefully, it will act as an extra incentive to turn their lives around.
People living in red states (in general), Southern states (in particular) and Texas (to be precise) are often painted with a wide brush. But methinks these two young men – and the classmates whom they inspired; going above-and-beyond mere cooperation – have shown that looks can be deceiving, and have done their state proud. As the Ring of Fire report states, "If a couple of high school kids can be this gracious, then certainly adults in government can do the same thing".
And should Messrs. Hudson and Ben grow-up to be Republicans? ….. well, I think I can point to them while addressing conservatives in general (and, markedly, the infamous frat house at the University of Oklahoma) and say, "More of this, please" …. without batting an eyelash.
Actually, Pete Townshend of The Who said it best fifty years ago …. The Kids are Alright.