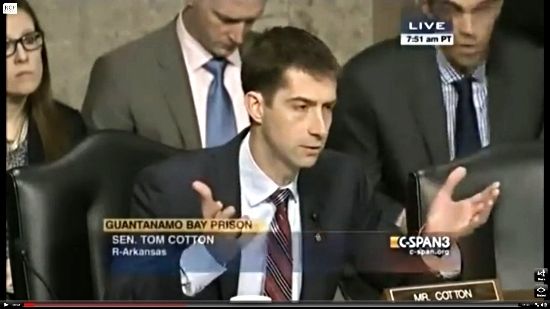 In other words, they are packaging yet another future Presidential hopeful to add to the roster of crazy they've already ginned up. Yes, I'm talking about Senator Tom Cotton (R), the junior senator from Arkansas.
Not content with having him lead the pack of 47 Senators attempting to subvert the President and Commander in Chief over Iran negotiations, (denounced by editorial boards across the nation) he just finished doing the torture photo-op tour of Guantanamo.
Arkansas Sen. Tom Cotton is touring the United States' Guantanamo Bay detention facility in Cuba Friday along with some freshmen Republican senators, according to a report.

Joining him on the trip are Sens. Joni Ernst of Iowa, Mike Rounds of South Dakota, Thom Tillis of North Carolina and James Lankford of Oklahoma.
In case, in all the fury around Cotton leading the band of 47 Senators in their drumbeats towards war with Iran, you don't remember his thoughts on Gitmo, Cotton wants it expanded-not shut.
Cotton has previously slammed President Barack Obama's call for Guantanamo's closure, saying last month that the United States "should be sending more terrorists there for further interrogation to keep this country safe."

"As far as I'm concerned, every last one of them can rot in hell," Cotton said of Guantanamo prisoners during a Senate Armed Services Committee hearing in February. "But as long as they don't do that, they can rot in Guantanamo Bay."

Let's be Kristol-clear about Cotton.
He is not only pushing for war with Iran, but his voting record on a whole bundle of issues is anti-citizen.
More cotton-mouthed b.s. below the fold
Back in January, The New Republic posted:
This Dark Horse Could Blow Up the 2016 Republican Primary
Cotton would be well-positioned to run to the right of Bush or Romney-or for that matter, almost anyone. He cast himself as an outlier even from the Arkansas Republican delegation when he voted against the Farm Bill (the "Food Stamp Bill," Cotton called it) and against disaster relief ("I don't think Arkansas needs to bail out the northeast," he said when he voted against the Hurricane Sandy Disaster Relief Bill). He voted for the Republican Study Committee Budget-sort of a Paul Ryan Budget on steroids that would eventually raise to 70 the eligibility age for Social Security and Medicare-and during the shutdown fight last year, he voted against the omnibus appropriations bill that kept the government running. During the debate over raising the debt ceiling, he called a potential national default "short-term market corrections," saying, "I'd like to take the medicine now."
Now that he is "making news" there are quite a few more profiles around.
Meet Tom Cotton, the Senator Behind the Republicans' Letter to Iran
When Cotton entered politics in 2012, winning a House seat representing his native Arkansas, things again started to turn a little bit hawkish, then a little bit unreasonable. (The Atlantic characterized his domestic record in the House as "conservative absolutism," as he voted, for instance, against emergency disaster relief.)

The hawkishness was, initially, pro-forma: in an interview after the election but before taking his seat, Cotton told the neoconservative Washington Post blogger Jennifer Rubin, "There are evil people in the world who would do evil things." He added that Iran was gaining influence and "It's important to remind the American people why we're still engaged [militarily]." Rubin, who has herself advocated attacking Iran for years, lauded Cotton as a potential ideological replacement for the Democratic hawk Joseph Lieberman.

Once in the House, Cotton's anti-Iran advocacy showed a mean streak. When, in 2013, a new Iran sanctions bill came before the lower chamber, Cotton introduced an amendment that would "automatically" punish family members of sanctions violators. "There would be no investigation," Cotton explained during the mark-up. "It'd be very hard to demonstrate and investigate to conclusive proof." Cotton wanted to punish innocent people; he called it "corruption of blood," and extended the category to include "parents, children, aunts, uncles, nephews, nieces, grandparents, great grandparents, grandkids, great grandkids."
I was appalled to hear this pretty one-sided NPR Cotton-candy "profile" piece, on my car radio. Par for the course from NPR these days.
Cross-posted at Daily Kos