From Alabama: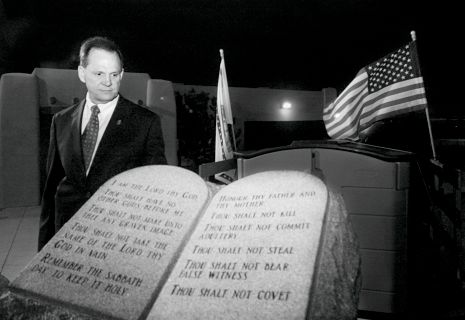 Roy Moore and his big stones
Alabama Supreme Court Justice Roy Moore standing in the courthouse door (editorial opinion from al.com):


Almost 52 years ago Gov. George Wallace made his infamous stand in the schoolhouse door at the University of Alabama to block two black students from registering for classes.

It was really all for show. Wallace knew he had no authority to stop the students. The federal courts had ruled that the time had come to integrate UA […]

… last night Alabama Chief Justice Roy Moore ordered all probate judges not to follow the federal order and instead continue to enforce the state's ban against same sex marriage. Moore threatened that any probate judge carrying out the federal court order could be impeached …

He is trying to stand in the courthouse door as surely as Wallace stood in the schoolhouse door. Shame on him.[…]

What happens next? I don't know. Moore is standing in the courthouse door. He represents the old days, the days of fear and misunderstanding and the denial of equal rights.

Bentley will gather with his lawyers today to mull his options.

I hope the governor will follow his instincts and remember to be the governor of all the people, something Wallace forgot.
From the Supreme Court of the United States:


[The ] Supreme Court denied Alabama's request to put same-sex marriages on hold pending the appeal of two cases.

Justice Thomas and Justice Scalia dissented, writing, "Today's decision represents yet another example of this Court's increasingly cavalier attitude toward the States. Over the past few months, the Court has repeatedly denied stays of lower court judgments enjoining the enforcement of state laws on questionable constitutional grounds.
Justice Clarence Thomas, a black American who benefited from the civil rights battles of the 1960s, giving cover to this century's states righters.
More below the fold …
NY Times:


BREAKING NEWS Monday, February 9, 2015 9:45 AM EST

U.S. Supreme Court Won't Stop Same-Sex Marriages in Alabama

The United States Supreme Court said early Monday that it would not stop same-sex marriages in Alabama, as gay couples gathered outside courthouses across the state.

Justices on Monday morning denied a request by the Alabama attorney general to extend a hold on a judge's ruling overturning the state's ban on gay marriage. The attorney general, Luther Strange, had asked the Supreme Court to halt the weddings until the justices settle the issue nationwide when they take it up this year.

Judge Callie V. S. Granade of Federal District Court ruled in January that the Alabama ban was unconstitutional, but she put a hold on her order until Monday to give the state time to appeal. Gay couples are lining up at courthouses seeking marriage licenses.

But in a dramatic show of defiance toward the federal judiciary, Chief Justice Roy S. Moore of the Alabama Supreme Court on Sunday night ordered the state's probate judges not to issue marriage licenses to gay couples on Monday.

According to reports early Monday, probate judges in Birmingham and Montgomery had defied Chief Justice Moore and were issuing licenses.

READ MORE

http://www.nytimes.com/2015/02…

Updates from al.com Same-sex couples get licenses in Alabama: Live updates from across the state


8:44 a.m. Shelby County Probate Judge Jim Fuhrmeister has decided to not issue any marriage licenses due to conflicting orders from the federal judge and Alabama Chief Justice Roy Moore.

8:30 a.m. Bibb County Probate Judge Jerry Pow said he is not issuing marriage licenses to any couples this morning. When asked why, he said: "I don't know whether I want to defy the Chief justice of the state Supreme Court or a federal judge."

8:30 a.m. And the marriages begin, in Jefferson County.



Madison Underwood @MadisonU

One of the first couples to get married – Olanda Smith and Dianah McCaryeo

8:32 AM – 9 Feb 2015 Birmingham, AL, United States
Chief Justice Roy Moore's "decree":


Alabama Chief Justice Roy Moore sent a letter to probate judges ordering them to refuse to issue same-sex marriage licenses when the courts open for business Monday. Moore wrote that the judges weren't bound by a federal judge's ruling Jan. 23 that the marriage ban was unconstitutional.

"Effective immediately, no probate judge of the state of Alabama nor any agent or employee of any Alabama probate judge shall issue or recognize a marriage license that is inconsistent with (the Alabama Constitution)," Moore wrote.
Still fighting against that pesky Northern Aggression.