I post a weekly diary of historical notes, arts & science items, foreign news (often receiving little notice in the US) and whimsical pieces from the outside world that I often feature in "Cheers & Jeers".
OK, you've been warned – here is this week's tomfoolery material that I posted.
ART NOTES – a multimedia overview of the island's culture in an exhibition entitled Vodou: Sacred Powers of Haiti will be at the Field Museum in Chicago, Illinois through April 26th.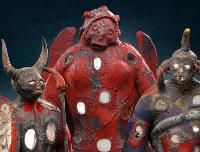 MUSIC NOTES – a new Smithsonian-Folkways box-set of recordings by Huddie 'Leadbelly' Ledbetter – featuring fifteen unreleased tracks, including one about the 1947 wedding of (then) Princess Elizabeth and the future Prince Philip – will be released in February.
HAIL and FAREWELL to the longtime Jefferson Airplane/Hot Tuna manager Bill Thompson who has died at the age of 70 ….. longtime record producer and manager of the all-female band The Runaways (which launched the career of Joan Jett), Kim Fowley who has died at the age of 75 ….. and the songwriter Ervin Drake – the composer/co-composer of Good Morning Heartache, plus It Was a Very Good Year and who was the focus of a musical profile of mine, showcasing his liberal political views and his work with the folksinger Christine Lavin at this link – who has died at the age of 95.
THURSDAY's CHILD is a Texas kitteh who had been plucked from the ashes of a house fire (that killed a retiree) … and was revived (by a volunteer firefighter) with a small oxygen mask.
LEGAL NOTES – due to his 2013 conviction being overturned (on technicalities) on charges of genocide and crimes against humanity, the 88 year-old former Guatemalan dictator José Efraín Ríos Montt has been arriving at his retrial in a wheelchair.
MUSIC NOTES – in order to celebrate their 50th anniversary, the four surviving core members of the Grateful Dead will perform three final shows: not in their birthplace of San Francisco, but instead at Soldier Field in Chicago (over the 4th of July weekend) … as that is where their final concert took place (twenty years ago in 1995) before the death of Jerry Garcia. They have recruited Phish guitarist Trey Anastasio and their last touring keyboard player (Bruce Hornsby) to complete the line-up.
SUNDAY's READ is an Op-Ed essay in the NY Times by the popular novelist Jennifer Weiner, describing her Nana entering a nursing home (in her nineties) only to encounter … mean girls …. which she thought wouldn't have existed there.
FRIDAY's CHILD is an upstate New York kitteh thrown out of a car (with her six kittens) near a prison, where a guard fed her some scraps … before being rescued by shelter employees.
CONSERVATION NOTES – A surge in illegal logging is devastating native forests in the African nation of Tanzania – with some indigenous woods on the verge of local extinction due to high demand – despite efforts by authorities to prevent deforestation, which would undermine the forests' critical role in the fight against global warming by removing carbon dioxide from the atmosphere.
IF YOU HAVE NOT YET read this politico story about the long-term difficulties of being a woman in the US Senate …. please do so.
BRAIN TEASER – try this Quiz of the Week's News from the BBC.
SEPARATED at BIRTH – Bloomberg News television anchor Mark Crumpton and the noted astrophysicist (and sometimes TV host) Neil deGrasse Tyson.
…… and finally, for a song of the week ………………………… possibly the best intro to one of rock's greatest guitarists came from Stephen Thomas Erlewine of the All-Music Guide:
While he was as innovative as Jimmy Page, as tasteful as Eric Clapton, and nearly as visionary as Jimi Hendrix, Jeff Beck never achieved the same commercial success as any of those contemporaries, primarily because of the haphazard way he approached his career. After Rod Stewart left the Jeff Beck Group in 1971, Beck never worked with a charismatic lead singer who could have helped sell his music to a wide audience.
And yet: he has built a solid career based upon the blues, rock and (beginning in the 1970's) jazz-rock … has won eight Grammy Awards …. was considered to be asked to join two famous rock bands (the Rolling Stones and Pink Floyd) …. and is always in-demand as a guest performer. Most biographies simply chalk-him-up to being a free spirit, restless for the next challenge. Not a bad trait.
Born in Wallington (southwest of London) he became a fan of rockabilly guitarists Cliff Gallup (from Gene Vincent's band) and James Burton (from Ricky Nelson's band). Later, he followed blues guitarists (such as B.B. King, Buddy Guy and Otis Rush). But perhaps it's unsurprising that his true role model (after listening as a child to "How High the Moon") was Les Paul – not just in playing style, but because they both were electronics geeks, always seeking new sounds. Les Paul made an early prototype solid-body electric guitar form part of a railroad tie … and at age 15, Jeff Beck (coming from a poor family) glued cigar boxes and a fence post together. He joined some local bands after obtaining his first guitar, and at age nineteen joined an R&B/blues outfit called The Tridents – which gained him notoriety around the London scene.
So much so that in March, 1965 when The Yardbirds needed a new guitarist to replace the departing Eric Clapton – who was dismayed at the pop direction the band was taking (rather than pure blues) – they were rebuffed by studio guitarist Jimmy Page, but who recommended Jeff Beck …. who proved a worthy replacement. Page later did join the Yardbirds (first as bassist), and when the band split in 1968, it could lay claim to having three guitar heroes pass through its ranks (though not at once). Beck was there for many of the Yardbirds' hits Heart Full of Soul, Shapes of Things and I'm a Man) before departing in early 1967, somewhat acrimoniously.
He formed the first iteration of the Jeff Beck Group that spring, with his first pairing with Rod Stewart and future Small Faces/Rolling Stones guitarist Ron Wood (although he played bass in this band). With a revolving door of rhythm section members, they recorded two notable albums: Truth (which reached the US album charts with versions of Greensleeves, Ol' Man River and Beck's Bolero – a harbinger of his future instrumental guitar songs – and also Beck-Ola – with versions of All Shook Up and Jailhouse Rock that Elvis Presley had made famous.
Sadly, the group imploded just before it was to appear at the 1969 Woodstock festival. Beck had wanted to form a band with the Vanilla Fudge rhythm section (Tim Bogert on bass, Carmine Appice on drums) …. but a car accident that Jeff suffered in 1969 ended that thought, as Bogert and Appice decided to join the band Cactus during Beck's year-long convalescence.
And so Beck formed the second iteration of the Jeff Beck Group: with vocalist Bob Tench, drummer Cozy Powell and pianist Max Middleton. They also released two albums: Rough and Ready as well as The Jeff Beck Group – known as the "orange" album for the appearance of one on the cover – which has a sterling rendition of the Don Nix song Going Down as well as a cover of Stevie Wonder's I Gotta Have a Song – a performer whose work Jeff Beck would sample more as time went on.
Beck finally did hook-up with the Bogert-Appice rhythm section, and while their one album Beck, Bogert & Appice did have its moments, including a version of Stevie Wonder's Superstition and the Ray Kennedy-written song Why Should I Care – it suffered from some leaden production, and the group split in early 1974.
It was at this time that he made a conscious decision to move away from vocal-based music towards instrumental rock. It was probably not a coincidence that this was the time of the burgeoning jazz-rock scene (and Jeff Beck joined it from the rock music side). He enlisted the help of former Beatles producer George Martin, and the result was his 1975 album Blow by Blow – for many fans, his best work. It features an arrangement of Lennon and McCartney's She's a Woman and two songs by Stevie Wonder, including Cause We've Ended as Lovers – which when performed as instrumental takes on a whole new meaning.
This was followed-up in 1976 with his album Wired – a more jazz-rock oriented album, with a low-volume rendition of the Charles Mingus elegy Goodbye Pork Pie Hat. Joining Jeff on this album is the former Mahvishnu Orchestra keyboard player Jan Hammer – and the two have worked together numerous times over the intervening years. When I had a chance to interview Jan a few years back for a DK diary (at this link) he confirmed that it is a good feeling to know that Jeff often plays a version of Jan's song Blue Wind to this day, which you can hear at this link – it's my favorite (instrumental) rocking song of his.
After the band split in 1977, Jeff Beck took the rest of the decade off … and his career has often followed an on-again-off-again pattern ever since (spending a good deal of time in his garage, modifying old Fords).
He returned in 1980 with There and Back … but it was not until 1985 that he tried his hand at an old-style rock album with vocals. Produced by Nile Rodgers, Flash featured several Rodgers songs, along with a noted reunion with Rod Stewart (more on that later). Jeff Beck's Guitar Shop closed out the decade, returning to more instrumental works.
Jeff Beck only released one album for much of the 1990's; a tribute album to his teenage idol from Gene Vincents' band (guitarist Cliff Gallup). At the dawn of the new century, he returned to the studio, releasing Who Else!, an electronica effort in You Had It Coming and his first live album in over two decades. In 2008, he released another live recording, Live at Ronnie Scott's in London.
His most recent (general) studio album was 2010's Emotion and Commotion – with songs by Yip Harburg and Screamin' Jay Hawkins, to show its breadth. That same year he released a live album from the Grammy Museum and in 2011 he released a tribute album to Les Paul – with guest performers Brian Setzer and Gary 'U.S.' Bonds.
In recent years, Jeff has been eager to showcase the talents of female musicians (often young) either by including them in his touring band or joining for special concerts. One is the Australian bass virtuoso Tal Wilkenfeld – now age 28, but whom Jeff Beck had in his band at only age 21. Someone who was not young but was noteworthy was guitarist Jennifer Batten – his first band with a second guitarist since the Yardbirds – whom he worked with for three years beginning in 1999. He has often performed with the English blue-eyed-soul singer Joss Stone – the first time when she was only age twenty. And this decade, he has often performed with the Irish singer Imelda May – who a one tribute concert was the Mary Ford to Jeff Beck's Les Paul.
Jeff Beck has a notable boxed set from 1991, has won eight Grammy Awards and has been inducted into the Rock & Roll Hall of Fame twice – once with the Yardbirds, and once as a solo artist. He was ranked as *#5* in Rolling Stone's 100 Greatest Guitarists of All Time list.
But most of all: look at the list of performers he has recorded/performed with as a guest in his 70 years on this planet. These include: Mick Jagger, Tina Turner, Morrissey, Bon Jovi, Kate Bush, Roger Waters, Donovan, Stevie Wonder, Les Paul, Nicolette Larson, Cyndi Lauper, Brian May, Stanley Clarke, Kelly Clarkson, Brian Wilson, Herbie Hancock and ZZ Top. If there is a pattern there … I fail to discern it.


Goodness … what to choose for songs? I guess I'll go with three, to illustrate three facets of his career. One is an instrumental, from the second iteration of the Jeff Beck Group (with Cozy Powell and Max Middleton). Definitely Maybe is a good representation of his instrumental style, with both power and taste. And below you can hear it.
The second is to illustrate the sort of career path he could have chosen (with a strong vocalist, and more commercial success). In 1985, he teamed up with old bandmate Rod Stewart to sing the old Curtis Mayfield tune People Get Ready – the only Jeff Beck single ever to reach the US charts. And below you can hear it.
And finally, to showcase Beck's love of the blues (as well as his in-demand status) …. three years ago, President Obama hosted a White House tribute to the blues – with such performers as B.B. King, the husband-and-wife team of Derek Trucks and Susan Tedeschi, Keb Mo, Booker T. Jones as well as Mick Jagger …… and the final song they played was Sweet Home Chicago – which was noted for the president being urged to sing the final chorus (which he finally did).
But just look at who opens the tune here … why, it is one Geoffrey Arnold Beck …… with Buddy Guy and Shemekiah Copeland (the daughter of blues legend Johnny Copeland and now a star in her own right) singing. Quite a journey for a poor English kid to make, huh? And below you can hear it.