I post a weekly diary of historical notes, arts & science items, foreign news (often receiving little notice in the US) and whimsical pieces from the outside world that I often feature in "Cheers & Jeers".
OK, you've been warned – here is this week's tomfoolery material that I posted.
ART NOTES – a photo/video exhibition entitled Comfort Women Wanted – about the 200,000 young women (known euphemistically as 'comfort women') who were systematically exploited as sex slaves by the the Imperial Japanese Army during World War II – is at the Charles B. Wang Center at Stony Brook University on Long Island, ending this weekend …. yet am posting this as the show's organizer may yet bring this to your town.
HAIL and FAREWELL to some sports heroes who have died: hockey player J.P. Parise, football star Jethro Pugh and baseball pitcher Stu Miller …. plus the only Jewish Miss America, Bess Myerson (who had a noted later career as a consumer advocate), Ray McFall, the former owner of the Cavern Club in Liverpool, England who helped launch the careers of The Beatles … and finally, film star Anita Ekberg – who starred in Federico Fellini's "La Dolce Vita" – who has died at the age of 83.
HAVING BEEN the first outpost of the "Arab Spring", the first president chosen in an open, democratic election in Tunisia will be an 88-year-old former minister, Beji Caid Sebsi.
THE OTHER NIGHT yours truly hosted the Top Comments diary with a second look at the heroes from the Rupert Murdoch phone-hacking scandal ….. with some updates since the first report (from two years ago).
THURSDAY's CHILD is a Maine kitteh who was stuck in a stormwater grate, with only its head above ground (and its body dangling below) … and yet was rescued by police, the head of public works and a veterinarian … all on a cold New Year's Eve … and has now been adopted.
IN TODAY'S EXCELLENT front-page story by Denise Oliver Velez about how being a newly-elected female black conservative will offer Mia Love a platform (that white conservatives hope she'll use): two months ago, there was an interesting essay in Slate from staff writer Jamelle Bouie – who sees a difference in South Carolina's Tim Scott as compared to many other black conservatives who seem to revel in lashing-out at liberals … and are regularly featured on Fox (in general) and Hannity (in particular):
He (Scott) is not a firebrand. He doesn't denounce President Obama or indulge the harsh rhetoric of other black conservatives, who win huge applause with attacks on the so-called "big government plantation" of the Democratic Party.

That's not to say Scott can't employ the language of Sen. Ted Cruz and other more dogmatic conservatives. He just tends to avoid it. That is a genuine contrast with other black conservatives, like Allen West, who traffic in a movement conservatism untethered from the black community.
Bouie went on to say that Tim Scott will be a reliable GOP vote down-the-line; that party leaders need not worry about him at all. He just may have decided to avoid doing what Mia Love (and other black conservatives) seem determined to do.
FRIDAY's CHILD is Ted the Hero Cat – an English kitteh whose meowing awoke a woman to smoke entering her home (that was emanating from the house on fire next door) … and who was then able to summon firefighters.
FOR YEARS many in London celebrated its gritty Soho district – which contained everything from its Tin Pan Alley to its red-light section to specialty food shops – but now is becoming gentrified, with complaints ranging from Rupert Everett to Pete Townshend (whose Pinball Wizard lyrics famously said, "From Soho down to Brighton … I must have played them all").
BRAIN TEASER – try this Quiz of the Week's News from the BBC.
IT'S a LENGTHY READ – but try it: as it tells-the-tale of an experienced woman hiker, having completed most of the Appalachian Trail northward into Maine, one morning going out on a section of trail (with her husband waiting for her twenty-two miles away, at the end of this section) …. who then disappeared last year, without a trace … and which is dumbfounding the Maine Warden Service to no end.
FATHER-SON? – the late comic and actor Buddy Hackett as well as Ashton Carter – President Obama's choice for the next Secretary of Defense.
…… and finally, for a song of the week ………………………… of all of the tunes in the Motown songbook – and there are dozens worthy of a profile – my favorite is Tears of a Clown – with music by Stevie Wonder and Motown producer Hank Cosby. That is what appealed to me as a child; the driving rhythm underneath made it an early favorite of mine.
Later, it was the lyrics that cemented my appreciation – I mean, what pop song would reference the opera figure Pagliacci (a sad clown)? Well, it would ….. if it were penned by the lyricist William 'Smokey' Robinson – who also became a noted performer (and it was he who brought this song to life on record). I have always thought that in terms of rock music's early singer-songwriters: Chuck Berry's lyrics were the best for many years, and other than Brian Wilson (whose music I felt was more imposing than his lyrics) Chuck had little competition until Bob Dylan and Smokey Robinson came along. Indeed, there is a tape of Bob Dylan being asked about his favorite poets … and listing Smokey Robinson as being one of them.
The song was recorded on a 1967 Smokey Robinson & the Miracles Make It Happen album, but was not released as a single …. as the label thought it was 'too odd' for any chart success. For example: besides the legendary Funk Brothers back-up band performing the music, it also featured …. a bassoon, performed by Charles Sirard of the Detroit Symphony Orchestra.
Then, it hit the big time …. three years later …. in Britain, with an interesting back-story:
Karen Spreadbury was a 21-year-old secretary at EMI Records in London and was also the head of the British fan club for Motown (as EMI was Motown's distributor in the UK). She was asked by John Reid, the label's marketing head in the UK (and later Elton John's manager) to find a hit single on the 1967 album.
That request came because Smokey Robinson and the Miracles had a difficult time gaining chart success in Britain (relative to other Motown performers), hence the label's "What have we got to lose?" decision to turn to Karen Spreadbury for help:


"I thought: you're the product managers, that's your job" she said. "But I said OK, and they tossed me the Make It Happen album." She was puzzled; the LP was three years old and there had been four(!) Miracles albums released since.

But Spreadbury immediately zeroed in on the LP's last cut. "It stuck out, it was so different. I actually said, 'That's a #1 record.'"

Skeptical, but needing product: EMI scheduled the song as the Miracles' next single, with "Who's Gonna Take The Blame," the most recent U.S. hit, on the B-side. "Tears" entered the UK charts on August 1, 1970 and stayed there for more than three months, reaching number one. Karen Spreadbury telephoned the Motown office in Detroit with the news and the receiver was passed to Smokey. "You've got a No. 1!" she shrieked into the line.

Smokey was taken aback for not-so-obvious reasons: he had planned to get off the road and leave the group. Instead they were met with a rush of offers-and growing sales for the song back home.
The song was then re-released as a single on Motown in the USA … and it, too, reached #1 in late 1970. The rest is history, as Smokey Robinson has enjoyed a steady (if not always major) performing career ever since. That is in addition to his responsibilities as a songwriter, producer and VP at Motown from the early 1960's to its demise in the 1980's.
Smokey Robinson was inducted in the Rock & Roll Hall of Fame in 1987 as well as the Songwriters Hall of Fame in 1990. Just last September he released Smokey and Friends – an album of duets of his most familiar songs, performed with singers as diverse as James Taylor, Mary J. Blige, Randy Jackson, Elton John, John Legend and even Aerosmith's Steven Tyler.
His current tour includes a stop in Indio, California next week, and at shows in the US, Canada and the UK later this year.
As much as I loved the original song: it did end all-too-quickly, as it was meant for AM radio of the time. I would have like to have heard an extended Motown version, but had forgotten about the song for years until I stumbled upon this duet version … not from Smokey's most recent album, but from a relaxed TV get-together.
Another member of both the Songwriters Hall of Fame and Rock & Roll Hall of Fame is Daryl Hall – who as a member of Hall & Oates was part of the most successful performing duo in rock history: with over 60 million albums sold and dozens of hits (including eight #1 hit singles) throughout the 70's/80's/90's, and most recently 2002's "Do It For Love."
Over the past few years, Daryl Hall began a web-only TV show (that later spread to VH-1) called Live from Daryl's House recorded in the Hudson Valley of New York – which was renewed for the 2014-15 season. It's a show where Daryl Hall and his house band welcome famous guest artists for some discussion (as well as performing classic tunes).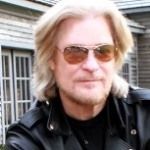 And when Smokey Robinson came-to-town … well, here is the version of "Tears of a Clown" they came up with. No bassoon, nor did it sound like the old Motown Funk Brothers …. and yet: they produced a compelling version, I felt. Have a listen below and judge for yourself.
Now, if there's a smile on my face

It's only there trying to fool the public

But when it comes down to fooling you

Now honey, that's quite a different subject

But don't let my glad expression

Give you the wrong impression

Now if I appear to be carefree

It's only to camouflage my sadness

And honey to shield my pride I try

To cover this hurt with a show of gladness

Just like Pagliacci did

I try to keep my sadness hid

Smiling in the crowd I try

But in a lonely room I cry

Well there are some sad things known to man

But ain't too much sadder than

The tears of a clown

When there's no one around