Good morning to the herd.
As many of you know, blue jersey dad and I have been on the road doing archaeological field and lab work since the middle of May. We were in Hawai'i for a bit over three weeks working with the Native Hawaiian community and doing some archaeological survey of the Na Wai 'Eha (the four waters) area. The regions has been the subject of long-term litigation over water rights, and recently a portion of the area has been preserved from development. In early historic times this would have been a rich agricultural region with irrigated taro patches, many of which were reserved for royalty. Here is a view of the coastline nearly: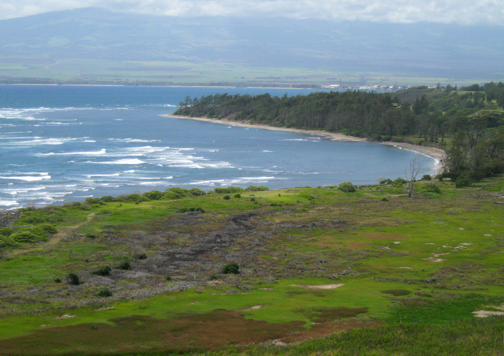 While we were in Hawai'i. we learned that we had received a grant to do some archaeological work in the Middle East. We had three days at home after the Hawaiian project before we had to leave home again–just long enough to do our laundry, cut the grass, buy cat food, and pick up our Turkish research visas. We were able to combine the Turkish field work with a couple of conferences in Ukraine and Israel and an ongoing project in Armenia. We were gone for just over 6 weeks, and here was our itinerary:
JFK to Dnepropetrovsk (via Frankfort and Vienna); Dnepropetrovsk to Istanbul; Istanbul to Tel Aviv and back; Istanbul to Kayseri (Turkey) and back; Istanbul to Yerevan, Armenia (via Kiev); Yerevan to Dnepropetrovsk (via Moscow); and Dnepropetrovsk to JFK (via Vienna). We made it back in one piece.
We had the a few mishaps along the way, but nothing too major. Atlasjet (now I understand why the price was so cheap) lost blue jersey dad's luggage for a week in Turkey. Kiev is the most boring airport in the world. It has 5 smoking rooms, 2 bars, and a single sandwich shop. You can buy all the cigarettes and vodka you want from the duty free shop. We were stuck there for about 7 hours on a lay-over. Someone needs to open a Starbucks there; he or she could make a fortune. Moscow airport, on the other hand, has TGIFriday's. As someone who grew up during the Cold War, I am often stunned by how much the world has changed in my lifetime.
We started our trip at the nature preserve at Kamennaya Mogila in Ukraine. Our Ukrainian colleagues have been working there with the Swiss for the past three years. I gave a paper on animal domestication at the conference, and I had to opportunity to look at some of the animal bones that were recovered from the excavations. This is a geological feature at the nature preserve. It includes a number of caves and rockshelters that have painted images and signs:
This is a view of Montfort Castle, a Crusader-period castle in northern Israel: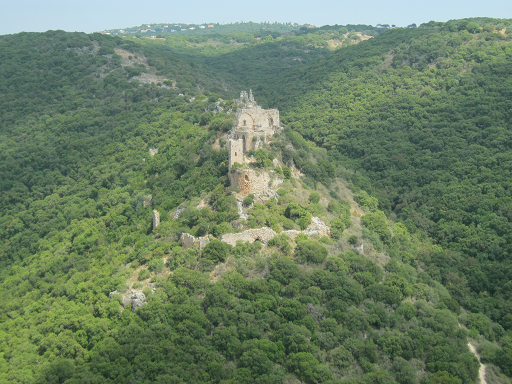 Here is a sunset over the Mediterranean. The picture was taken from the archaeological site of Tel Dor in northern Israel.
We had a couple of days or R&R in Tel Aviv. This is a view along the beach looking toward Yafo (Jaffa).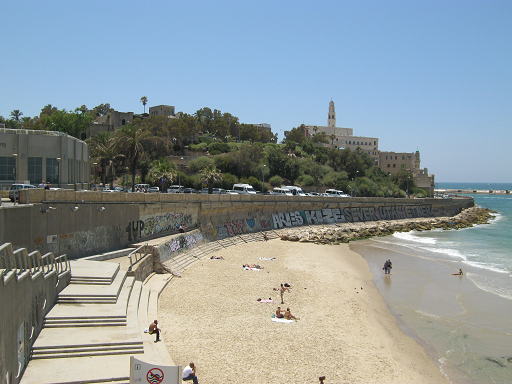 This is a view of the Greek Orthodox Church of the Nativity In Nazareth. We visited this as part of one of the field trip from the ASWA (Archaeozoology of Southwest Asia and Adjacent Areas) conference.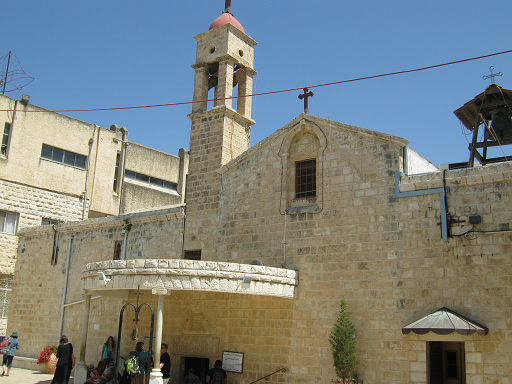 This is a picture of Lake Kinneret (Sea of Galilee) taken on our final day in Israel:
This is a picture of dad and me in the lab at Kinik in Turkey. I am identifying the animal bones, and dad is recording them on the PC.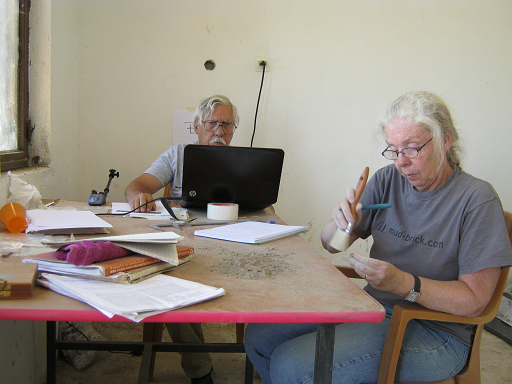 While we were in Turkey, we had a chance to visit Gordion, the most important Iron Age site in Turkey. Here is the entrance to the "Midas tomb". The tomb is a bit too old to be the actual tomb of the historical King Midas: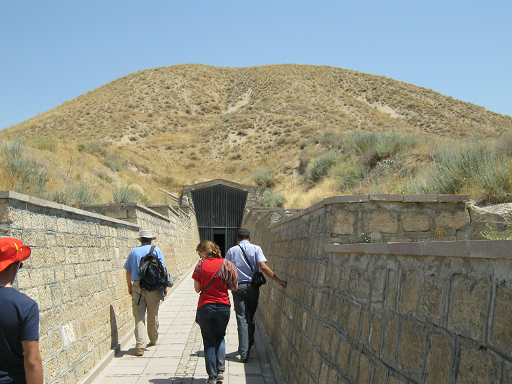 We had a chance to take a tour of the Lake Sevan region on our last day in Armenia. This is a view of the town of Dilijan, near the border with Georgia and Armenia: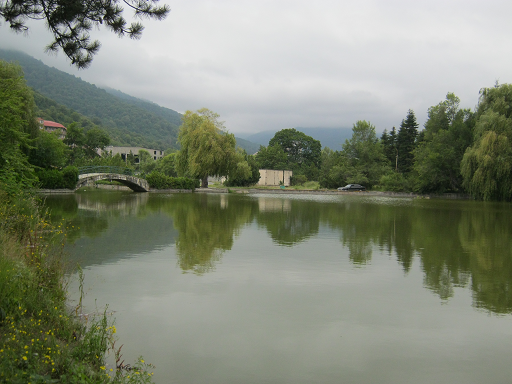 Here is the 13th-century monastic complex at Goshavank in Armenia.
And this is the medieval monastic complex at Haghartsin. It is the one active monastery in Armenia.
This is the 9th-century monastery at Sevanavank. It was originally situated on an island in Lake Sevan, but, due to lower late levels, it now sits on a peninsula. You can see the remains of some on the monastic buildings to the left of the church.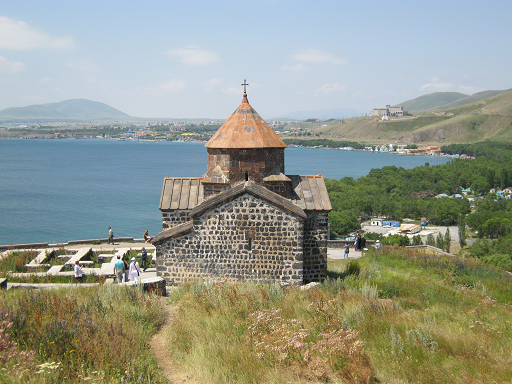 We left Armenia on Wednesday, and had a long trip home via Dnepropetrovsk and Vienna. We arrived home Friday afternoon, and we are still trying to catch up on our sleep. We collected enough data to keep us going for months. We looked at about 15,000 animal bones and fragments in Turkey, including Iron Age, Hellenistic, and lots of medieval material. The medieval assemblage is especially interesting since it appears to be an Islamic assemblage. During the Middle Ages, there were both Islamic and Christian communities in the Kinik area. Dad and I also managed to finish identifying all the well-dated material from the Early Bronze Age site of Shengavit. We even identified a couple more fragments of bear bone.
I hope that you enjoy the pictures. I would be delighted to answer any questions that you might have.