Hello, it's me again with another diary about the Hill Country Ride for AIDS. Here's a picture of me & my friend David the year I was top fundraiser: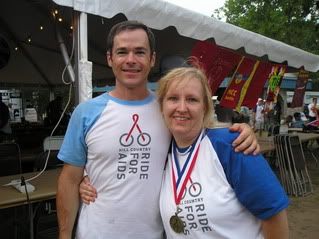 I haven't done as many of these as I'd like, February wasn't the best month for me. But this is important so I wanted to squeeze this in. If you want to cut to the chase, here's my Hill Country Ride for AIDS page, but I hope you'll come with into the extended diary for a good story. And of course music.
The Hill Country Ride for AIDS has been going on for a while now & I've been at every one. Never ridden every mile of any one, but I'm there every year. I haven't been training nearly enough this year, so I'll have to ride one of the short routes. But once again, I'll be there. We have a new director this year, but it is the same Ride, with the same heart. My friend David Smith, was the executive for many years, and the Ride took on some of his character. David is the sweetest, kindest person I have ever met. No, seriously. When David looks at you, he sees the best possible you – I don't know how to describe what a joy it is to know someone like him. Fourteen (omg, how can it possibly have been that long) years ago, I was a mid-30s, substantially overweight woman who was all worn out from just crossing the finish line at the annual AIDS Walk, held in October. Just a 5K stroll, not a race, and not any great distance. David is standing past the finish, walks up to me with a flyer, looks my 200+ lb self in the eye & says "You can do this". I look at the flyer & it is for a 2 day, 125 mile bike ride. "You can do this" – is he kidding? I'm worn out from walking a 5K. But he looked right at me & said that. I was so in & have been ever since. I'm telling you this story so you know how really important it is to me to raise a lot of money for the Ride. Not just the people involved in the Ride, bit the people who work at the agencies who benefit – all these people come together to help people. So I want to raise a lot more than I have done – yes, in this economy & with the elections just past & everything. So, please help me do that by donating at my Hill Country Ride for AIDS page.
I have never experienced anything but kindness, generosity & warmth from any HCRA function – from the kick off party through the training rides, to the day itself. So I'm an old, fat chick who can barely ride up even the smallest hill – no one cares, no one says I don't belong with all these real bike riders. Everyone is helpful, everyone is kind. We're all raising money and riding for a great cause, to help people with HIV & AIDS. Which brings me to the music. I know you thought there was going to be a U2 video, that's the band I usually use. But I had to use this, because even though it was written decades before the Ride started & they knew nothing about it, this song is exactly about the Hill Country Ride:
Everyone is lucky, everyone is kind

On the road to Shambala

Everyone is happy, everyone is so kind

On the road to Shambala
Yes, I know it is corny & goofy, but I'm trying to tell you this is really (no, really) what this ride is like. This is why I really need to be the top fundraiser. Not because I get anything, because I don't – except recognition – and I want to use that to tell people about how fantastic this ride is. Here's my Hill Country Ride for AIDS page.
Here's a Ride video from a previous year, it has people talking about why they do the Ride – and some adorable kids who rode. It has David, our previous director, speaking at the dinner, about what the Ride is like (and a glimpse of me around 4:15, I wave at the camera). Anyway, I want everyone to know how important this cause is, and how wonderful this community is:
And one more time, here's my Hill Country Ride for AIDS page – please donate if you can.