This is the last part in a series of posts examining how to create super-packed districts of one race. The other posts in this series pack Asians, blacks, Hispanics, and whites.
Packing Native Americans
Alone out of all the ethnicities examined, there are not enough Native Americans in the United States to form a majority Native American congressional district. Indeed, Native Americans compose a mere 0.9% of America's total population.
More below.
Native American living patterns tend to be extremely segregated. Native American reservations tend to be 90-100% Native American; outside the reservation their numbers drop to nearly zero. There are not enough reservations in any state to make a congressional district merely by joining together all the reservations.
The five states with the highest percentage of Native Americans are Alaska, New Mexico, South Dakota, Oklahoma, and finally Montana. Unfortunately, all these states – with the exception of Oklahoma – have extremely small population sizes. This makes it very difficult to pack Native Americans. Oklahoma is the exception, but its Native American population is too integrated to effectively pack.
As it turns out, the most Native American district possible is found in Arizona. Take a look at Arizona's racial demographics. Native Americans are black in this picture (so the darker-colored precincts tend to be more Native American).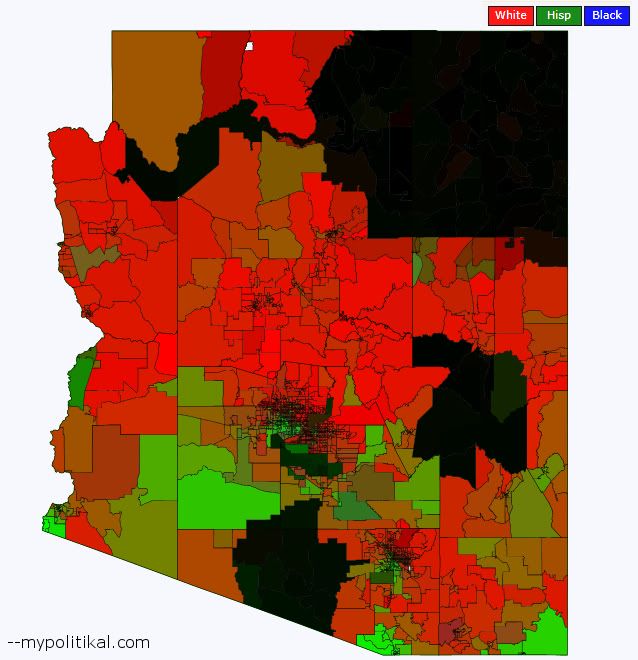 From this, it is possible to draw this district: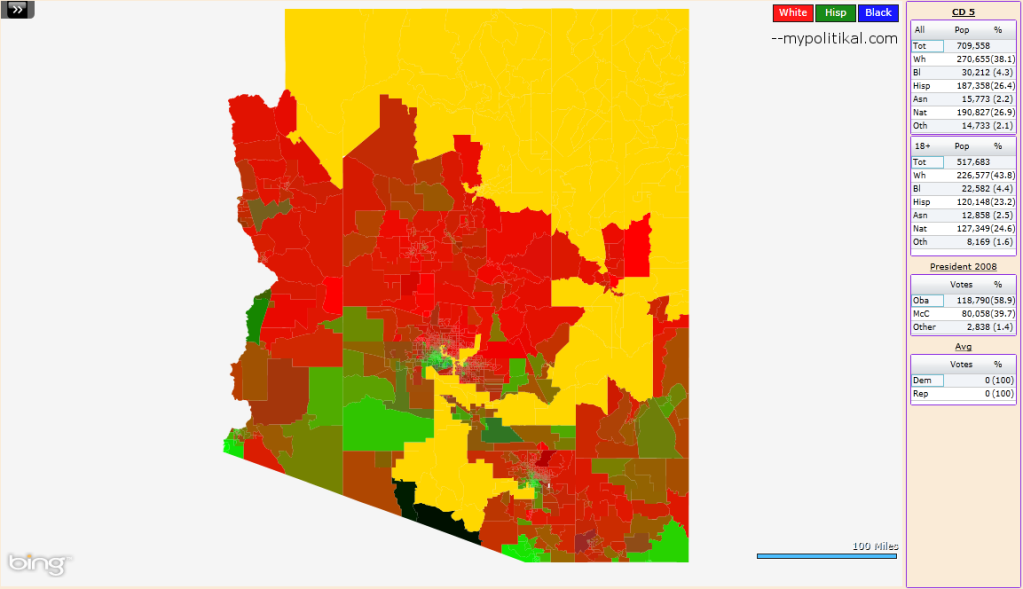 This is a 26.9% Native American district. There are in fact more Native Americans in this district than Hispanics.
The district goes into several cities which have respectable Native American populations. Here is Flagstaff: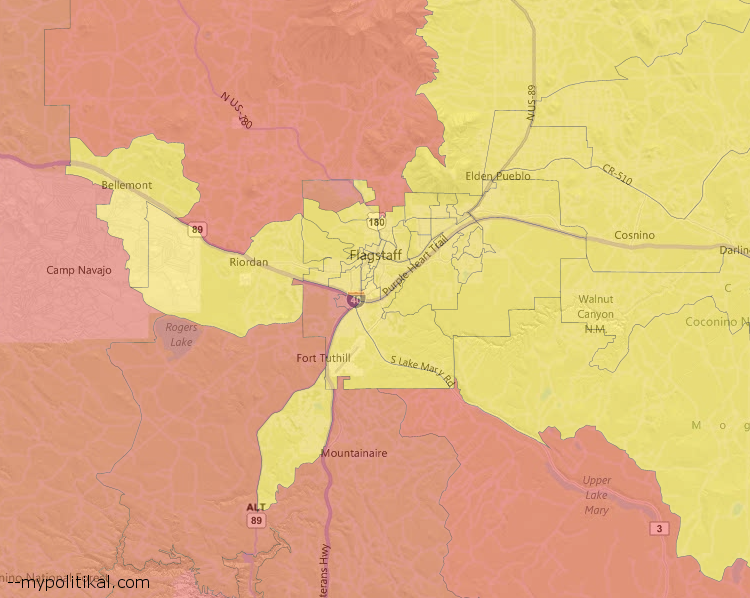 This city, located in northern Arizona, has enough Native Americans that the entire city was put into the district.
Here is Phoenix: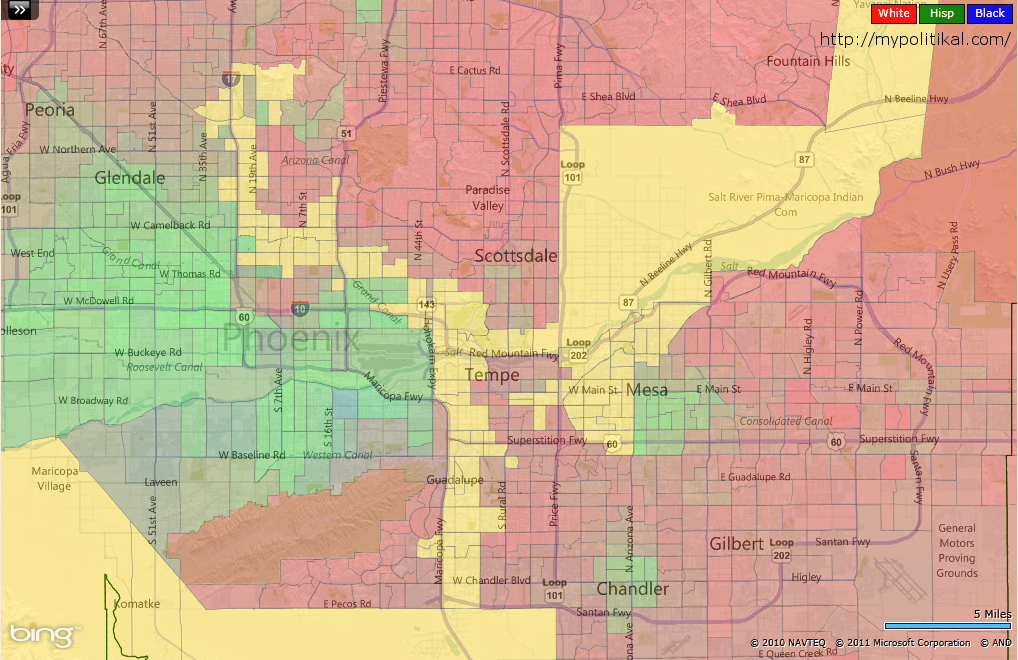 Phoenix is the key to this district. Surprisingly, it has a decent Native American population. It also composes more than half of Arizona's population. Phoenix thus provides the population padding necessary to create this district.
Finally, here is Tucson: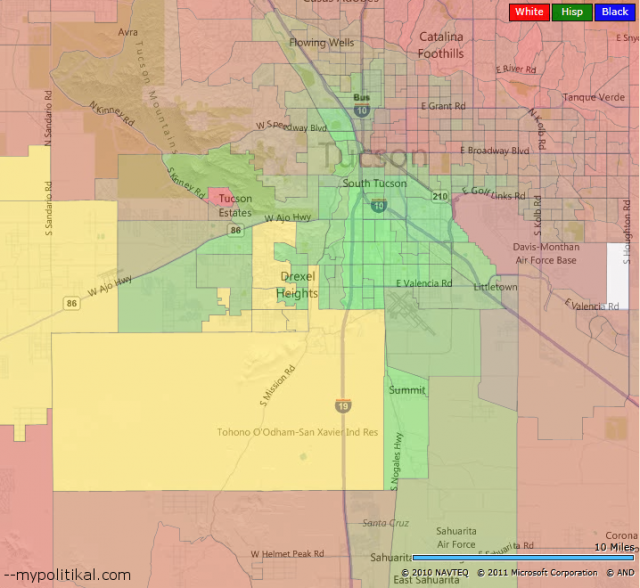 Overall, this district is quite liberal; it gave President Barack Obama 58.9% of the vote in the 2008 presidential election. Given the fact that Arizona is both a fairly conservative state and Senator John McCain's home state at the same time, this is quite a good performance for the Democrats. It is all the more impressive considering that the district is barely one-fourth Hispanic.
It does appear that Native Americans voted Democratic, in Arizona at least. But there may be another factor at work here. In many of the Phoenix precincts Native Americans were less than 10% of the population; their voting power was not very great. Nor was the Hispanic population especially great, and Hispanics were certainly not a majority of the electorate. Yet these precincts still voted fairly Democratic. It may be – and this is just a hypothesis – that Native Americans tend to live in areas in which white voters are more liberal.
–inoljt