Hillary Clinton is no stranger to Republican animosity. She has arguably endured harsher and more frequent criticism from the Right, over a lengthier period of time, than any other modern public figure. She is also no amateur when it comes to navigating her way through Congressional hearings. She has always been proficient at holding her head high in the face of controversy, whether or not any of the "fault" for such turmoil truly rested on her shoulders. After months of vilifying the Obama administration and demonizing Clinton over the Benghazi terror attacks, Republicans have been eagerly awaiting the opportunity to theatrically grill her in front of plenty of cameras. When her testimony on Benghazi was briefly delayed due to illness, she was accused of faking it to avoid facing Congress. One can't help but wonder whether these buffoons are suffering from concussions of their own.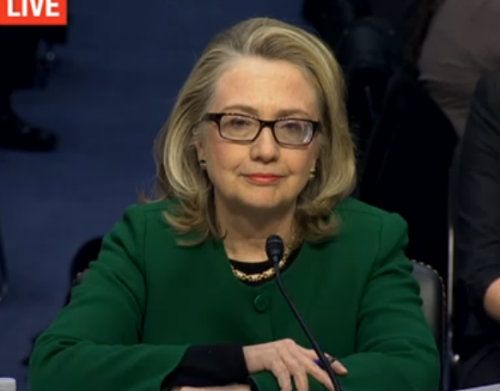 Yesterday Congressional Republicans finally got their chance to gleefully interrogate the Secretary of State on the Benghazi tragedy, and Clinton fired back as only a Clinton can.
House Republicans slammed Secretary of State Hillary Clinton today for her lack of awareness of State Department cables warning of security threats in Benghazi, Libya, prior to the Sept. 11 attack that killed four Americans, including Amb. Chris Stevens.

In the second congressional hearing of the day reviewing a report by the Accountability Review Board on the State Department's security failures, Rep. Michael McCaul, R-Texas, asked Clinton this afternoon why her office had not responded to a notification from Stevens about potential dangers in Libya.

"Congressman, that cable did not come to my attention," Clinton calmly told the House Foreign Affairs Committee hours after her Senate testimony this morning. "I'm not aware of anyone within my office, within the secretary's office having seen that cable."

She added that "1.43 million cables come to my office. They're all addressed to me."

ABC, emphasis added
Several of her detractors really showed their rears, heedless of the extent to which they came across as petulant, belligerent bullies. Republicans used the opportunity to desperately attempt to bruise and bloody a key figure of the Obama administration and a potential 2016 Democratic candidate. But there is no more seasoned political veteran than Hillary, and she showed no signs of buckling under the pressure.
Hillary Clinton faced accusations of incompetence, evasion and obfuscation by angry members of Congress at two hearing into the deaths of the US ambassador to Libya and three other Americans in Benghazi last year. Although the US secretary of state was roundly praised for her "extraordinary" work as she prepares to leave office, she came under strong criticism over her handling of the attack on the US consulate in Benghazi on September 11.

Some of the strongest criticism came at the Senate foreign relations committee from John McCain, who has been at the forefront of challenging the Obama administration's account of the assault. He was particularly critical of Susan Rice, the US ambassador to the United Nations, who was initially put up by the White House to say that the attack on the consulate followed a demonstration outside over an anti-Muslim video made by a California resident, which prompted protests in Cairo and other cities.

. . .

Senator Ron Johnson riled Clinton by repeatedly challenging her account of the events leading up to the attack. He said that "we were misled that there were supposedly protests" before the assault and wanted to know why the secretary of state hadn't made "a simple phone call" to ascertain the truth.

. . .

Other senators weighed in. Bob Corker described the Obama administration's handling of the Benghazi crisis as the "worst of Washington", and said that a "bizarre" briefing he was given at the time was "worse than nothing".
The degree to which Clinton has accepted responsibility for the tragic events which occurred has been mature, honorable, and frankly, incredibly generous. She stated:
Let's also remember that administrations of both parties, in partnership with Congress, have made concerted and good faith efforts to learn from the tragedies that have occurred, to implement recommendations from the Review Boards, to seek necessary resources, and to better protect our people from constantly evolving threats. That's what the men and women who serve our country deserve. And it's what we are doing again now, with your help. As Secretary, I have had no higher priority, and no greater responsibility.

As I have said many times since September 11, I take responsibility. Nobody is more committed to getting this right. I am determined to leave the State Department and our country safer, stronger, and more secure.

Taking responsibility meant moving quickly in those first uncertain hours and days to respond to the immediate crisis and further protect our people and posts in high-threat areas across the region and the world. It meant launching an independent investigation to determine exactly what happened in Benghazi and to recommend steps for improvement. And it meant intensifying our efforts to combat terrorism and support emerging democracies in North Africa and beyond.

Transcript via ABC
It was perhaps Rand Paul who got in the biggest GOP sound bite of the day when he called the Benghazi attacks the "worst tragedy since 9/11" and told Hillary that he would have "relieved" her of her position if he had been president. Nevermind all of the other equally devastating tragedies which have occurred overseas as well as here at home over the past decade. Sounds a lot like Rand Paul is suffering from some alarmingly severe cognitive deficits if he has truly forgotten all of these incidents. Fortunately for us all, Rand Paul will never be president (nor will his father, regardless of what thousands of internet fanatics may want to believe). The publicity he is receiving now and the kudos being heaped upon him from the Right will fade. The dust will settle, and he will go back to just being that Senator from Kentucky with the really sad toupee-fro.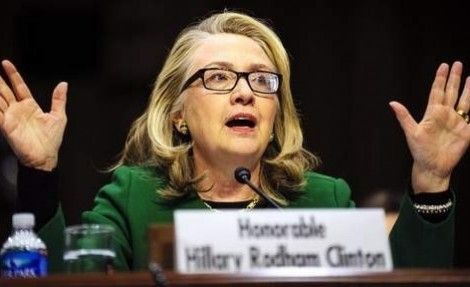 For any Hillary enthusiast, yesterday was both exhilarating and infuriating. Clinton brought her A-game and once again proved herself a fiery, intelligent, courageous, compassionate, and skilled woman, who is infinitely worthy of her post and of the success she has experienced over the years. Now Republicans are looking for any way to tear her down after her astonishing demonstration of professionalism and competence. Some are now accusing her of "faking" her impassioned outburst about the deaths of four Americans.
On Wednesday morning, Secretary of State Hillary Clinton gave an emotional testimony before the Senate Foreign Relations Committee on the Benghazi terror attacks, tearing up as she described the "flag draped coffins" of the victims. Clinton lost patience when Sen. Ron Johnson (R-WI) pushed her on whether or not she had immediately determined the motivation of the attacks, leading the
senator to accuse her of ducking questions with "theatrics."

In an instantly viral outburst, Clinton shot back, "The fact is we had four dead Americans. Was it because of a protest? Or was it because of guys out for a walk one night who decided they'd go kill some Americans? What difference, at this point, does it make?"

After the hearing, Johnson complained to Buzzfeed that Clinton had planned to become emotional as a way to avoid answering questions:

I'm not sure she had rehearsed for that type of question. I think she just decided before she was going to describe emotionally the four dead Americans, the heroes, and use that as her trump card to get out of the questions. It was a good way of getting out of really having to respond to me.
They can grumble and cry "foul" and "fake" and whatever else pleases them, but none of it will stick. No one who wasn't already a GOP devotee will be swayed by this sort of petty nonsense.
And my guess? Most Congressional Republicans likely just have a bit of a complex about women faking things in general.
But quite frankly? That's really not Hillary's problem.
And the whole of the GOP is no match for her.