Happy Monday, Bombers. Call me superficial, but I am recovering from Golden Globe Mania from last night (and I haven't seen any of the films and few of the TV shows). What I found most amusing was everyone in my Twitter feed who tweets nonstop about football being amazed that anyone could care about an awards show! To tell the truth, I had little intention of watching the show, but the best hosts ever turned out to be Amy Poehler and Tina Fey. And Bill Clinton presented "Lincoln" and Jodie Foster came out officially. Interesting night!
So pardon me if all the questions relate to the show. ;-P
What's worse, pale white girls in flesh toned dresses or should-be pale white girls with spray on Boehner tans? Do you secretly wish that one of the actresses wearing a fishtail dress will topple over while going up to get her award? Is Quentin Tarantino an asshole or a talented asshole? For those who watched, what was the worst dress? Should men feel cheated for having to wear the same uniform at all these shows? What was the best dress? What was the best joke?
Almost all of the tweets relate to the show, too:
Lucy Liu looks like a fairytale exploded on her dress. #GoldenGlobes

— Kristen (@abba_ks) January 14, 2013
If Lincoln were alive he wouldn't go to Golden Globes no matter how nominations he got because he has a thing about theaters.

— pourmecoffee (@pourmecoffee) January 14, 2013
What colour is that Taylor?You should break up with it.Then write a song about it. #goldenglobes

— D. B. (@RevDaniel) January 14, 2013
Taylor Swift on the red carpet. She will personally present her Best Ex-Boyfriend award later.

— pourmecoffee (@pourmecoffee) January 14, 2013
Richard Gere just doesn't age. But to be fair, he's looked old forever. #GoldenGlobes

— Matt Binder (@MattBinder) January 14, 2013
I'm wearing Jockey tonight. Thanks for asking.

— Mark Knoller (@markknoller) January 14, 2013
Oh look. Sofia Vergara in a skin tight dress with her tits hoisted up. Stop the presses. #GoldenGlobes

— Tom + Lorenzo® (@tomandlorenzo) January 14, 2013
Not sure why the CIA had torture to try to get bin Laden–could have justmade prisoners watch Golden Globe red carpet in a 24-hour loop.

— Greg Mitchell (@GregMitch) January 14, 2013
I fear the Golden Globe for "Game Change" will make Mark Halperin smug and insufferable.

— Simon Maloy (@SimonMaloy) January 14, 2013
The fake Sarah Palin has now won more stuff than the real Sarah Palin.

— Ben Greenman (@bengreenman) January 14, 2013
Since the advent of Twitter, you're never REALLY drinking alone anymore.

— Miss Anthropy (@crazylikeanox) January 14, 2013
I hope the awards shows thank Twitter mightily for making them relevant yet again. #goldenglobes

— Callie Schweitzer (@cschweitz) January 14, 2013
Now for the history lesson!
On This Day
In 1784, the United States ratified a peace treaty with England that ended the Revolutionary War.
In 1954, Baseball player Joe Dimaggio and actress Marilyn Monroe were married at San Francisco City Hall.
In 1963, George Wallace was sworn in as governor of Alabama with a pledge of "segregation forever."
In 1952, The Today Show debuted on NBC with host Dave Garroway.
In 1967, an event called The Human Be-In took place in San Francisco's Golden Gate Park, which is said by some to have been the start of the Summer of Love.
In 1978, British punk band The Sex Pistols played their final gig (at Winterland in San Francisco) and broke up. I witnessed the show, but not the break up. 😉
In 2005, Army Specialist Charles Graner Jr., the reputed ringleader of the rogue guards at the Abu Ghraib prison, was convicted at Fort Hood, Texas, of abusing Iraqi detainees. He was later sentenced to 10 years in prison.
Born on This Day
1684 – Jean-Baptiste van Loo, French painter (d. 1745)
1741 – Benedict Arnold, American/British general (d. 1801)
1780 – Henry Baldwin, U.S. Supreme Court Justice (d. 1844)
1836 – Henri Fantin-Latour, French painter (d. 1904)
1841 – Berthe Morisot, French painter (d. 1895)
1875 – Albert Schweitzer, Alsatian physician, Nobel laureate (d. 1965)
1883 – Nina Ricci, Italian-born French fashion designer (d. 1970)
1892 – Hal Roach, American film producer (d. 1992)
1896 – John Dos Passos, American author (d. 1970)
1901 – Bebe Daniels, American actress (d. 1971)
1904 – Sir Cecil Beaton, English photographer (d. 1980)
1906 – William Bendix, American actor (d. 1964)
1924 – Guy Williams, American actor (d. 1989)
1938 – Allen Toussaint, American singer
1940 – Julian Bond, American civil rights activist
1941 – Faye Dunaway, American actress
1945 – Einar Hakonarson, Icelandic painter
1948 – T-Bone Burnett, American producer
1948 – Carl Weathers, American actor
1952 – Maureen Dowd, American writer
1964 – Mark Addy, British actor
1964 – Shepard Smith, American news anchor
1968 – LL Cool J, American rapper and actor
1969 – Jason Bateman, American actor
1969 – David Grohl, American drummer and composer (Nirvana, Foo Fighters, Them Crooked Vultures)
1982 – Caleb Followill, American singer (Kings of Leon)
Died on This Day
1742 – Edmond Halley, English scientist (b. 1656)
1819 – Peter Pindar, English satirist (b. 1738)
1887 – Friedrich von Amerling, Austro-Hungarian painter (b. 1803)
1898 – Lewis Carroll, English writer and mathematician (b. 1832)
1957 – Humphrey Bogart, American actor (b. 1899)
1961 – Barry Fitzgerald, Irish actor (b. 1888)
1965 – Jeanette MacDonald, American actress and singer (b. 1903)
1977 – Peter Finch, English-born actor (b. 1916)
1977 – Anaïs Nin, French author (b. 1903)
1986 – Donna Reed, American actress (b. 1921)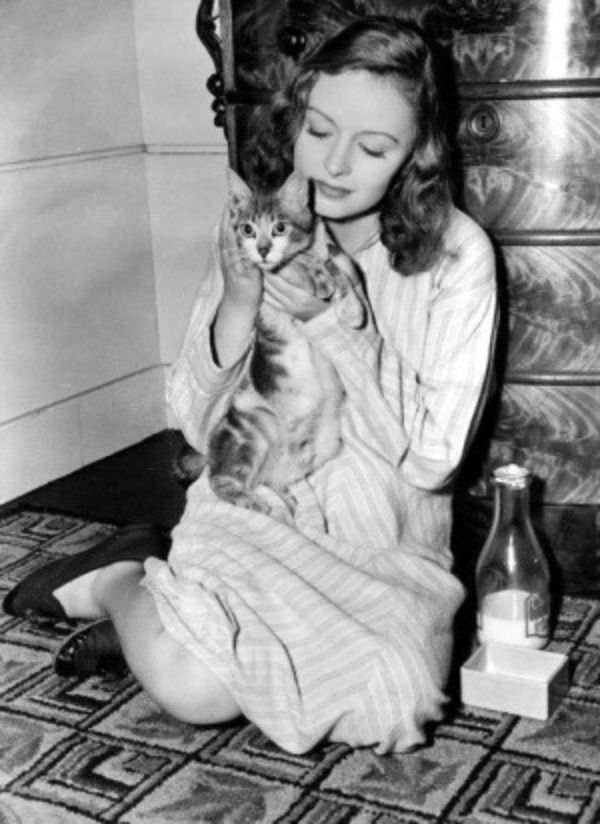 1991 – Jerry Nolan, American rock drummer (The New York Dolls) (b. 1946)
2003 – Koloman Sokol, Slovak painter (b. 1902)
2004 – Uta Hagen, American actress (b. 1919)
2004 – Ron O'Neal, American actor (b. 1937)
2006 – Shelley Winters, American actress (b. 1920)
2009 – Ricardo Montalbán, Mexican actor (b. 1920)
Today is
Ratification Day

National Hot Pastrami Sandwich Day

Dress Up Your Pet Day

Organize Your Home Day
This Week is
National Pizza Week