As a Federal employee, I was paying pretty close attention to the looming shutdown of the Federal government. Don't get me wrong, I love free time as much as the next lazy 'gubmint Delta Bravo', but my family can't really afford to go without my meager paycheck, dig?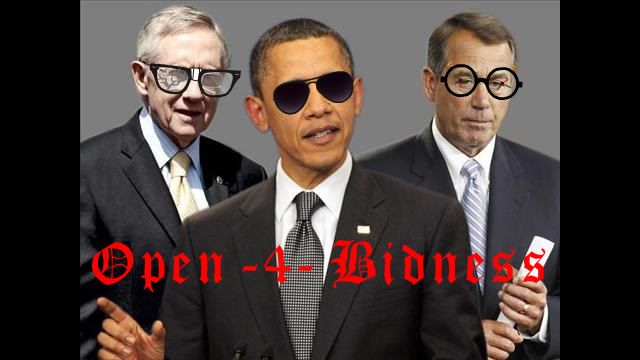 Fortunately for me (for others not so much), an 11th hour deal was struck to ensure that I have the ability to continue to provide for my kiddies — at least for the time being. Was the deal a bad one?
Well, seems Booman and I have landed in the same square on this one:
I am not impressed with the interpretation many progressives are taking on these negotiations.

I respect David Dayen, but reading his piece on this I have to shake my head. He confirms a lot of stereotypes by taking the position that government spending is "dollar-for-dollar" equal to economic stimulus. He says "I think you'll find that the failure to put the 2011 budget to bed in the last Congress cost the economy $60 billion." That assumes that the $60 billion in cuts would have actually been spent. A lot of it wouldn't have been spent, or would have only been spent unwisely on projects or programs that were no longer needed or were not wanted. For just one example, $1.74 billion was cut from the Census Bureau, which won't be needing the money until 2020. Just because money has been appropriated doesn't mean it will, or should, be spent. And this process did a very efficient job of trimming all that kind of fat off the bone of our federal budget. It's a complete stretch to say that every dollar cut was a dollar "removed from our economy."

There is a problem with the assumption that government spending is good and stimulative and that government cuts are bad and hurt the economy. It's the flip-side of the Republicans' absolutism over tax cuts. I'd like to see less analysis along those lines on the progressive side.

It's true that the government can and should spend money to create jobs while the private sector recovers its strength, but any possibility that it would do so during this Congress was ended on election night last November. No amount of rhetoric or pressure by the president, by members of Congress, or by progressive media can change that basic fact, so blaming the government for not injecting new stimulus is pointless. The president's job is to do the best he can with the cards on the table, not to try to manufacture ponies and unicorns out of his ass.
Maybe I'm just selfish for wanting to pay the electricity bill on time, but that's about where I am with the 'deal'. How about ya'll?