Tea Partying Far-Right-Loonistan (AKA: GOP v.2010) has been having identity crises left and, er, right recently. On the one hand we have Florida Republican congressman Stephen Precourt loyally pushing to remove tax breaks from film shoots featuring gay characters: apparently part of the "No Job Left Behind" effort Florida's Republican lawmakers have been pursuing, which so-far has successfully pushed the Sunshine State from third to below-tenth in movie-making. In the other hand California Republican state congressman Roy "God-Fearing Paragon of Heterosexual Manliness" Ashburn – who never met a piece of anti-gay legislation he couldn't fiercely defend – tearfully announced his insatiable desire for other God-Fearing Paragons of Heterosexual Manliness, like the passenger in his official state vehicle whom he picked up in a gay bar before getting busted for driving drunk.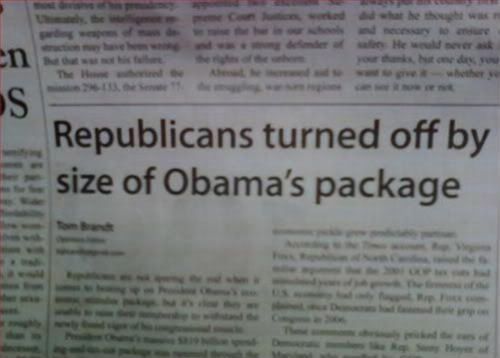 Courtesy Probably Bad News
Perhaps they aren't turned off. Maybe they're just terrified of being caught looking.
Consider this an Open Thread.
On Rep. Precourt's "We-uns jest want rigular folks in hour movy pichers" proposal:
"Precourt says he's not targeting the gay community but that shows with gay characters would not be something he'd want 'to invest public dollars in,' " reports the Associated Press.
On Rep. Ashburn's recent realization that he's been successfully beating himself throughout his political career:
My votes reflect the wishes of the people in my district. And I have always felt that my faith and allegiance was to the people there in the district, my constituents.

…

I would ask people to pray for me. My faith is very clear and very firm.
Hint, Congressman? You can stop sucking up to the homophobes in your district. Homophobes don't ever really like people, because they don't like themselves. If that sounds too familiar, just be glad you can begin to stop being one.