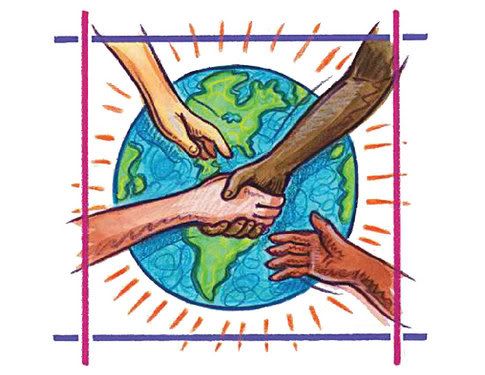 In light of the recent quake-wrought devastation, we think it might be helpful to pull together a list of relief organizations and charitable groups working to aid the people of Haiti. Our hearts and thoughts go out to those who are suffering in this tumultuous atmosphere, and their friends and family in the US and around the world who are hoping and praying for the safety of their loved ones.
If any corrections need to be made in the list below, please let us know in the comments. This is a hastily thrown-together list because we'd like to get the info out quickly. Thanks to all Moose who have submitted links and information. If you find anything else, please submit below.
Cheryl Mills serves, Counselor and Chief of Staff to Secretary of State Hillary Clinton, writes:
Reports continue to pour in from all over and we are extending all our thoughts and prayers to those who have been affected.

As Secretary Clinton said earlier, the U.S. government will offer assistance to Haiti and others in the region in the form of civilian and military disaster relief and humanitarian assistance.

For those interested in helping immediately, simply text "HAITI" to "90999" and a donation of $10 will be given automatically to the Red Cross to help with relief efforts, charged to your cell phone bill.
Big h/t to Shaun for bringing us this info from the Huffington Post:
U.S. President Barack Obama said on Tuesday that his "thoughts and prayers" were with the people of Haiti. "We are closely monitoring the situation and we stand ready to assist the people of Haiti," Obama said in a statement. The Obama administration said that the State Department, USAID and the U.S. military were working to coordinate an assessment of the situation and any possible assistance.

The American Red Cross is pledging an initial $200,000 to assist communities impacted by this earthquake. They expect to provide immediate needs for food, water, temporary shelter, medical services and emotional support. They are accepting donations through their

International Response Fund.

UNICEF has issued a statement that "Children are always the most vulnerable population in any natural disaster, and UNICEF is there for them." UNICEF requests donations for relief for children in Haiti via their Haiti Earthquake Fund. You can also call 1-800-4UNICEF.

Operation USA is appealing for donations of funds from the public and corporate donations in bulk of health care materials, water purification supplies and food supplements which it will ship to the region from its base in the Port of Los Angeles. Donate online at www.opusa.org, by phone at 1-800-678-7255 or, by check made out to Operation USA, 3617 Hayden Ave, Suite A, Culver City, CA 90232.

Victoria Fine – Haiti Earthquake Relief: How You Can Help Huffington Post 12 Jan 10
This frequently updated dKos diary by Dallasdoc has compiled an excellent list. Check it regularly for updates. An excerpt from the diary:
Direct Relief International has already sent a 40-foot container of ongoing aid to arrive today (if it can be unloaded.) As Relief Web states:

Direct Relief's partners in Haiti include Partners in Health, St. Damian's Children's Hospital, the Visitation Hospital, Christian Aid Ministries, and Feed the Children. St. Damian's and Partners in Health are particularly active in emergency response and have received pre-positioned materials for hurricane season, which ended November 30, and are designed to support ongoing patient care if needed. Since 2000, Direct Relief has provided more than $60 million in medical material aid to Haiti.

Oxfam International provides assistance to victims of emergencies and ongoing disasters throughout the world. They are mobilizing to provide emergency assistance to victims in Haiti, and your donations will also help people in places like Darfur as well. I haven't been able to find a link to direct your donation specifically to Haiti on their website. UPDATE: tbird contributes a direct link to support Oxfam's Haiti relief effort.

Doctors Without Borders (aka Medecins Sans Frontieres or MSF) is an international group of medical professionals who work in chronically underserved countries, emergency sites and refugee camps around the world. They have not yet announced plans to go to Haiti, from what I can find, but they certainly will. With the collapse of the hospital in Port-au-Prince, their help will be especially needed.
American Friends Service Committee, 215-241-7000

Portlight Strategies, 843-817-265
Shelter Box, 941-907-6036
United Methodist Committee On Relief, 800-554-8583


Yele Haiti

, 212-352-0552 (Wyclef Jean's grassroots org- Text Yele to 501 501 to donate $5 via your cellphone)