At a time when many foundations have cut back funding, even to the big prestigious groups and institutions that normally look to them for sustenance, the Union Square Awards were given out last week in NYC, to local grass roots organizations that are doing progressive work in their communities.
These awards are not just a plaque and a pat on the back. They provide sorely needed funds for small grassroots groups doing important work in the diverse communities that make up the rich cultural melange that is New York City.
I have had an interest in the awards for a number of years. Having worked most of my life in the not-for-profit world, as an organizer and on the funding side, I realize how difficult it is for groups with a progressive agenda to receive financial support. Few foundations are dedicated to progressive causes, and some sources that used to be dependable have dried up, given pressure from an increasingly vocal right wing agenda that has tightened the purse strings of funding agencies.
What are the Union Square awards?

The Union Square Awards are named for the park on 14th Street, a historic gathering place, where since the nineteenth century New Yorkers have organized and spoken out about major social issues. Known as a forum for the poor and disenfranchised, Union Square is identified with strong commitments and highlights the essential qualities embodied in the Award.

The Union Square Awards was established by an anonymous donor in 1998 to support grassroots activism in New York City. His vision was to bring attention and recognition to emerging organizations that address social justice issues by mobilizing New Yorkers to take action. He believed that their efforts build local neighborhoods, contribute to the vitality of the City, and serve as an inspiration to others. Today, the Union Square Awards continues to advance the donor's dream and commitment to social justice through the generosity of the Union Square Fund.
One of the important things to note about these awards is that they
are made to emerging organizations that have not yet received substantial funding and public recognition. It consists of a general operating support grant of $50,000 and the opportunity to participate in the technical assistance program to help build long-term organizational sustainability and community engagement.
Anyone who has ever tried to found a grassroots group knows that general operating funds are hard to come by when one is starting up, and often if there is a progressive agenda, you are out of the running from jump-street.
The recipients, this year, and in the past cover a wide spectrum of groups and communities, and funds are not limited to one issue only, as are many other grants from other agencies. The Union square awards also recognizes the importance of the arts, along with other organizing efforts, making it one the few sources that crosses the artificial funding divide between "social issues" and "art".
The Social Justice Award

recipients have distinguished themselves locally and nationally, changed public policies, litigated landmark cases, created innovative models of service and built important community institutions. Award recipients are visionaries responding to society's most pressing social, political and economic issues. Motivated by a passion for human rights awardees join with others to address concerns and build organizations that bring diverse communities into public discourse. Specifically, the Union Square Award supports work in the following six areas:

Conflict Resolution

Economic Self-Sufficiency

Family and Community Development

HIV/AIDS Prevention, Education, and Prevention

Homelessness and Hunger

Youth Leadership and Organizing
The Arts Award


recognizes the central leadership role played by arts and culture in providing educational opportunities for young people, building collaboration and promoting social change. It identifies emerging and innovative organizations that benefit youth and families in low-income communities across New York City in all artistic disciplines:

Creative Writing

Dance

Music

Theater

Visual / Media Arts

Arts Award recipients are innovators and risk takers motivated by a passion for the arts and social justice. They have created new possibilities for young people, built groundbreaking programs, and revitalized communities. Each Arts Award consists of a grant up to $35,000 and the opportunity to participate in the technical assistance program to help build long-term organizational sustainability and community engagement. It is made to organizations less than ten-years-old with annual operating budgets of less than $1 million.
This years awards went to, as usual, a group of organizations drawn from working class communities, many of color, from around the city.
Social Justice Awardees:

Brandworkers International
The economies of the Global North are undergoing a profound transformation towards service jobs including a large number in retail and food. Yet, workers in the sector have been largely without a voice in this process. Despite working for some of the most profitable enterprises in the world, retail and food employees typically face wages too low to live on, insecure work schedules, and unaffordable health care. At the same time, workers in the Global South are subjected to exploitative conditions to satisfy the production demands of the large chains. The world's most dazzling brands all too often preside over sweatshops once thought relegated to the 19th Century.

The time is now for workers and community members to make dramatic change and hold the multinational retailers accountable.
Cidadão Global

is the first Brazilian community-based organization in New York City. Located in Long Island City, CG works with Brazilian immigrants and the larger immigrant community to advance human rights.
The purpose of the Garifuna Coalition USA, Inc. is to serve as a resource, a forum, and advocate for Garifuna issues and a united voice for the Garifuna community
Many of you may know little about the Garifuna people, descendants of Carib Arawaks and escaped African slaves who were forcibly displaced from the Caribbean, and settled on the shores of Central America.
ABOUT RIGHTRIDES

Rig
htRides organizes volunteers to operate a fleet of up to 6 cars that are donated by Zipcar. Driving Teams can only drive women and LGBTQ individuals home.

We started RightRides in 2004 in direct response to an increase in assaults on women walking home by themselves. Our motto is, "Because Getting Home Safely Shouldn't Be A Luxury" and we recognize that many women and LGBTQ people do not have the extra funds to take a taxi and walking home from public transportation late at night can increase one's risk of sexual harassment and gender-based assault.

Since 2004, RightRides has driven 2,000 Riders safely home.

You do not need to feel threatened to call RightRides.
Washington Heights CORNER Project
The Washington Heights CORNER Project, Community Outreach and Resources, Needle Exchange and Harm Reduction (WHCP) was founded in 2005 as a activist-run street-based educational outreach and syringe access endeavor aimed at reducing the spread of blood-borne diseases among intravenous drug users in the Washington Heights homeless community.

Launched by a social worker in the community, WHCP began outreach efforts two nights a week near the George Washington Bridge Port Authority Bus Terminal, a location frequented by intravenous drug users, sex workers, and other high-risk community members. Harm reduction supplies and educational literature were provided out of a nylon knapsack and service included mental health support, motivational interviewing and wellness and recovery counseling. The severity of commonplace high-risk behavior paired with participants' enthusiastic utilization of outreach services, made it obvious that swift organizational capacity building would be needed to expand hours and service scope and actively work with Community Based Organizations, local, and state institutions to connect participants with appropriate service and treatment referrals.

WHCP has evolved to become the first not-for-profit social service organization of its kind in Washington Heights, a community dramatically underserved and under-resourced. WHCP seeks to decimate the transmission of blood-born disease and infections, injection-related medical problems, and related transmission to drug using associates, family members, sexual partners, and sexual employers. By focusing on those who have been turned off from traditional service provision models, WHCP meets participants where they are at and provides competent targeted interventions, aimed towards small improvements and steps towards individualized goals with the overall goal of reconnecting participants to primary and preventative care, offering mental health support, encouragement, and the means to make positive change in their lives.
Arts Awardees:

Center for Urban Pedagogy


believes that the power of imagination is central to the practice of democracy and that the work of governing must engage the dreams and visions of citizens. Its pioneering model brings together a diverse cross section of New Yorkers to engage in rich discussions about social equality and urban living.
is dedicated to presenting and preserving the rich folkloric art of Puerto Rican and Latin American theatrical dance. Through educational programs and dance-based programming that uses live music and theatre, it educates audiences about Puerto Rican traditions and history.
Diversity in Arts and Nations for Cultural Education (DANCE)
cultivates, supports and promotes the work of artists and arts organizations in the Washington Heights-Inwood neighborhoods. NoMAA provides education, advocacy, financial and technical support and connects the Upper Manhattan arts community to the cultural life of New York City.
The Northern Manhattan Arts Alliance (NoMAA)
cultivates, supports and promotes the work of artists and arts organizations in the Washington Heights-Inwood neighborhoods. NoMAA provides education, advocacy, financial and technical support and connects the Upper Manhattan arts community to the cultural life of New York City.
aims to provide New York City public school students a space where they can participate in performing arts and develop leadership through artistic achievement. The organization offers free programs to schools with graduation rates below 50% that have no theatre programming.
Kudos to the Director Iris Morales , and her staff at The Union Square awards, who work throughout the year visiting hundreds of grassroots groups, providing support and encouragement. Blessing to the original anonymous donor, whose gift has keep on giving.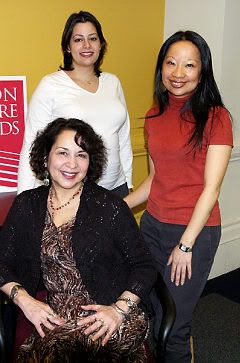 Iris Morales (seated), Irini Neofotistos (l.) and Cynthia Wong of Union Square Awards, which has provided no-strings grants to fledgling organizations since 1998.
I would love to hear from those of you who are not in the NYC area, about other grassroots groups who are sorely in need of support, and please post information about funding sources that support progressive causes as well.
Support, give and volunteer.

(cross-posted at Daily Kos)