Anchorage Daily News reports that an amorphous blob of unknown biological matter stretching across miles of open ocean is threatening the Alaskan coast. North Slope Borough Planning and Community Services Department officials, joined by the U.S. Coast Guard, flew out to Wainwright to investigate. The agencies found "globs" of the stuff floating miles offshore Friday and collected samples for testing.
One state official, on condition of anonymity, noted that there have yet to be any sightings of the blob and Sarah Palin in the same place at the same time. "I'm not suggesting that there is any connection between the two – like a Secret Identity of anything", the well-connected source was heard to comment, "I'm just sayin'."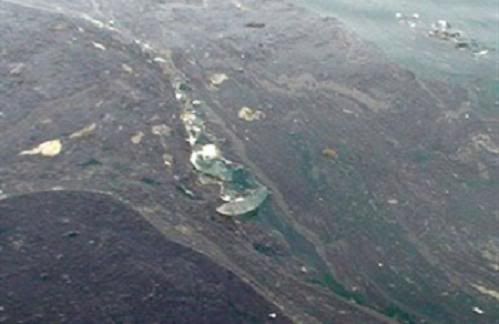 Rant Rave has this:
The scanty "Alaska goo" news reports say the substance is sticky, smells rotten, and even has "hairy strands" on it. It has trapped jellyfish and sea birds in its gluey strands (while preparing for human-sized prey?) and confused the heck out of scientists in Alaska. Blob movies mock the idea of a super-sized Alaska goo creature, but I'm a little scared.
I'm a little scared, too. What is even more frightening is that there are unconfirmed reports that the blob is resigning it's position in the northern Pacific and is rumored to be in talks with FOX News about establishing a nation-wide presence in the Lower 48.
Valdis Kletnieks, a well known exobiologist and expert in ancient prophecy at Virginia Tech issued this somewhat cryptic and disturbing statement earlier today before smiling obscurely and sauntering happily away from reporters:
"The chaos is coming, the haunter of universe, and the blind creator bless the dragon who sleeps. Cthulhu awakens like a storm from beyond as the crimson opens, howling from a distant space. A string of light from his house in R'lyeh… Behold! Hear the thunder roar as he enters the world. His world…"
Reports of firelight vigils have begun to trickle in and at least one group of locals has been stopped while making their way to the blob with burnt offerings. "We've been through enough sh*t in the last year," their leader was heard shouting at the police who blocked their efforts to perform the ritual sacrifice. "I'll gnaw my leg off to get that horrible creature out of my state, and the same goes for this nasty blob."