The Guardian is claiming today, through unnamed 'sources' that, Obama will open some kind of dialogue with Hamas.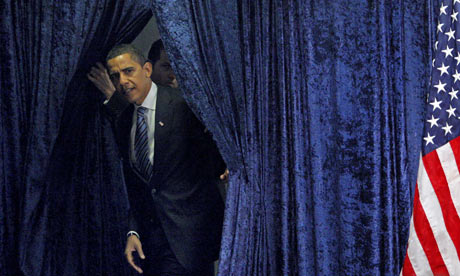 The Guardian has spoken to three people with knowledge of the discussions in the Obama camp. There is no talk of Obama approving direct diplomatic negotiations with Hamas early on, but he is being urged by advisers to initiate low-level or clandestine approaches, and there is growing recognition in Washington that the policy of ostracising Hamas is counter-productive. A tested course would be to start contacts through Hamas and the US intelligence services, similar to the secret process through which the US engaged with the PLO in the 1970s. Israel did not become aware of the contacts until much later.
One doesn't want to pre-empt or handicap any diplomatic lee-way for the incoming administration, but as Obama stressed during the whole of last year (to some criticism) he is willingly to talk the head of any state to further American interests, and Hamas – though representing no official state – is not far off.
What do my fellow bloggers here think about this?



My own pennysworth: I spent my childhood and teens with the constant threat of Republican terrorism. People rightly talk about the terror of living in Sderot during Hamas rocket attacks, but apart from the Harrods bomb which nearly killed a friend of mine, there were two real IRA bombs in the last 90s, one huge car bomb a quarter of a mile of where my kids live, and another one outside my ex wife's workplace.
Throughout the 80s we were told by Thatcher "We don't talk to Terrorists". She apparently refused to talk to PIRA or their electoral wing Sinn Fein, and even banned their spokespersons from 'speaking' on TV to deny them the 'oxygen of publicity'. For about two years we were subject to the ridiculous sight of Gerry Adams and Martin McGuinness talking, not with their own voices, but actors imitating their words in lip synch.
However, for all this hard line approach, it turns out that the most senior cabinet member, Willie Whitelaw, did meet for talks with the IRA leadership, and there were many more intelligence and political contacts made, which eventually led to the Good Friday Agreement and then the Peace Process.
The answer to this analogy could well be; Hamas is not PIRA. Hamas wants the destruction of Israel, and has that written into its constitution.
My answer would be this: there are political manifestos, and there is reality. Though they elected Hamas and its virulent platform, 70% of Palestinians actually favour peace with Israel.
In the 1980s, the Provisional IRA's main platform was a United Ireland governed by Marxist Principles. It's main backer and provider of arms was Gadaffi's Libya. They were prised away from pursuing the goal of a United Ireland through violence, they dropped their Marxist posturing, and McGuinnes and Adams now occupy senior posts in the Northern Ireland Government.
Twenty years ago, Fatah was deemed a 'terrorist organisation'; ten years later Rabin was shaking hands with Arafat. Do people believe that destroying Hamas (including its civil wing) is the real option, or is the main plan – including the current Gaza invasion – merely a way of drawing them to the negotiating table?